Here's more fun to share from our booth at International Quilt Market spring. We had a great time showing off what's new and sharing our inspiration!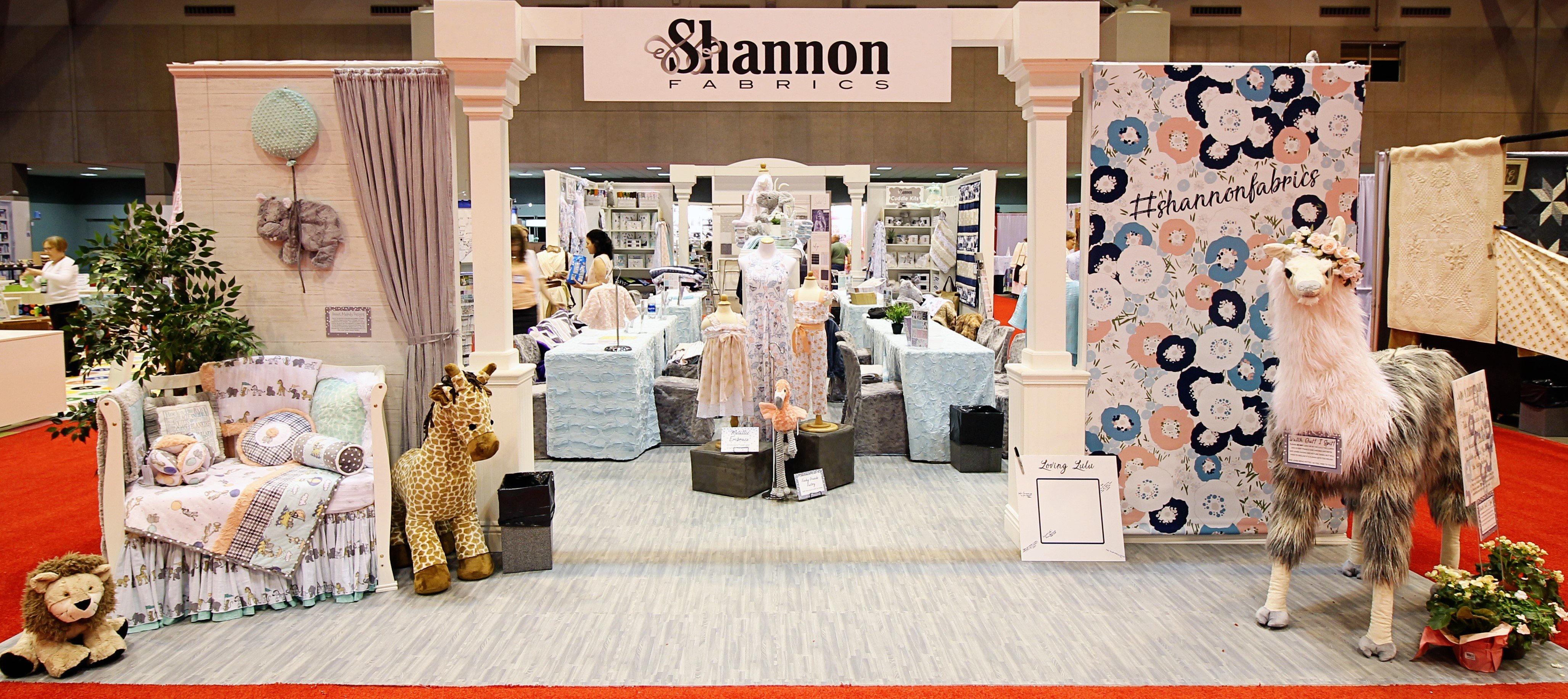 This was a busy show! We started with three educational Schoolhouses and partnered with lots of friends to make this all happen. We launched new fabrics and kits and our new Cuddle® Sweet Strips packs (coming soon). We showed off our beautiful Embrace™ Double Gauze Metallics prints and we enjoyed wearing garments made out of our Embrace™ double gauze. We even had a fun contest with Lulu the Llama to win the new Sensational Strips Cuddle Kit English Garden (To find out more about the Lulu the Llama Contest, click here.)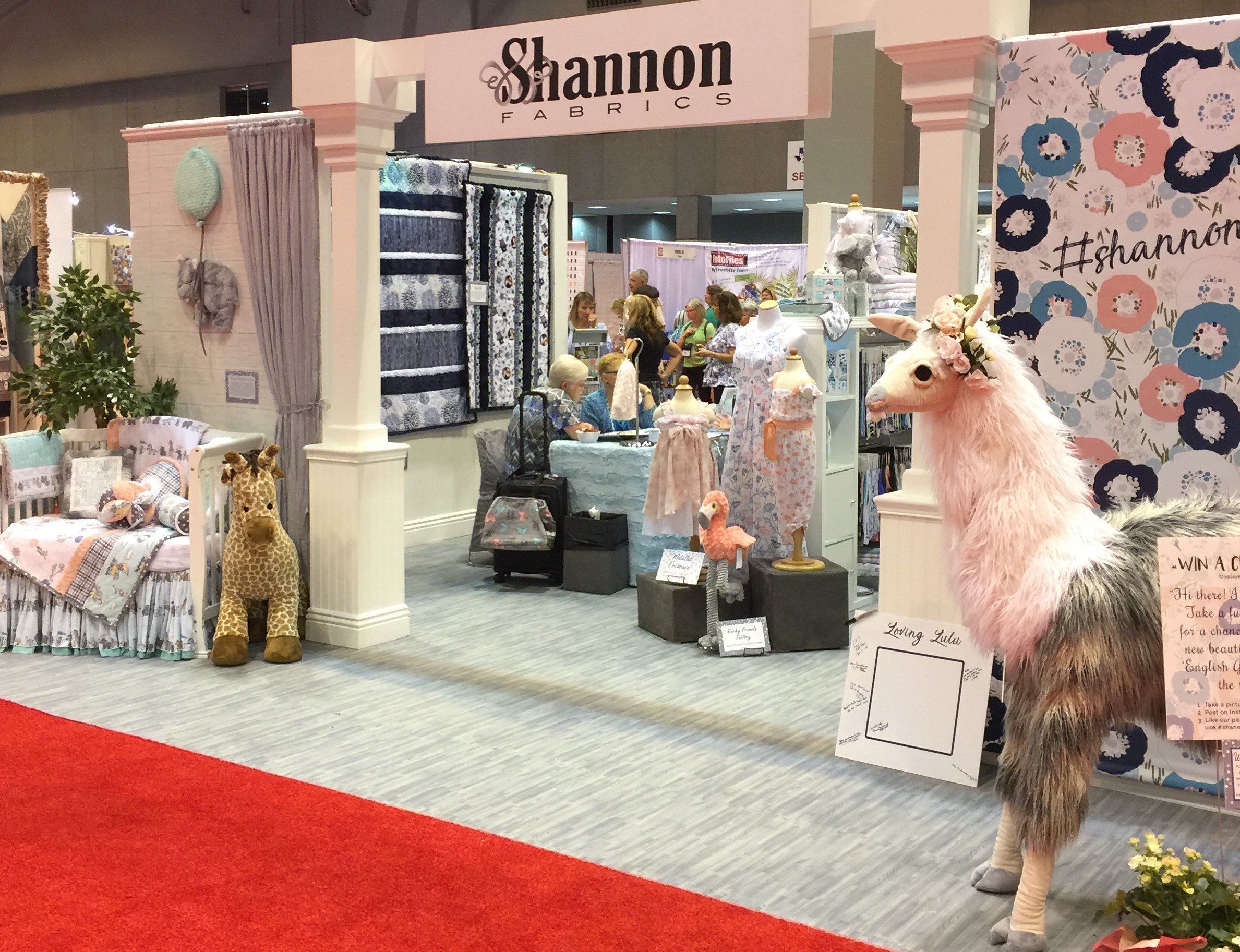 We had a super team at market (and even more help from back home). Go team! Left to right, back row: Jayme, Annette, Julie, Sheryl, Renee, Arvin, Ellen, Melissa, Teresa. Middle row: Debra, Bryant. Front row: Peter.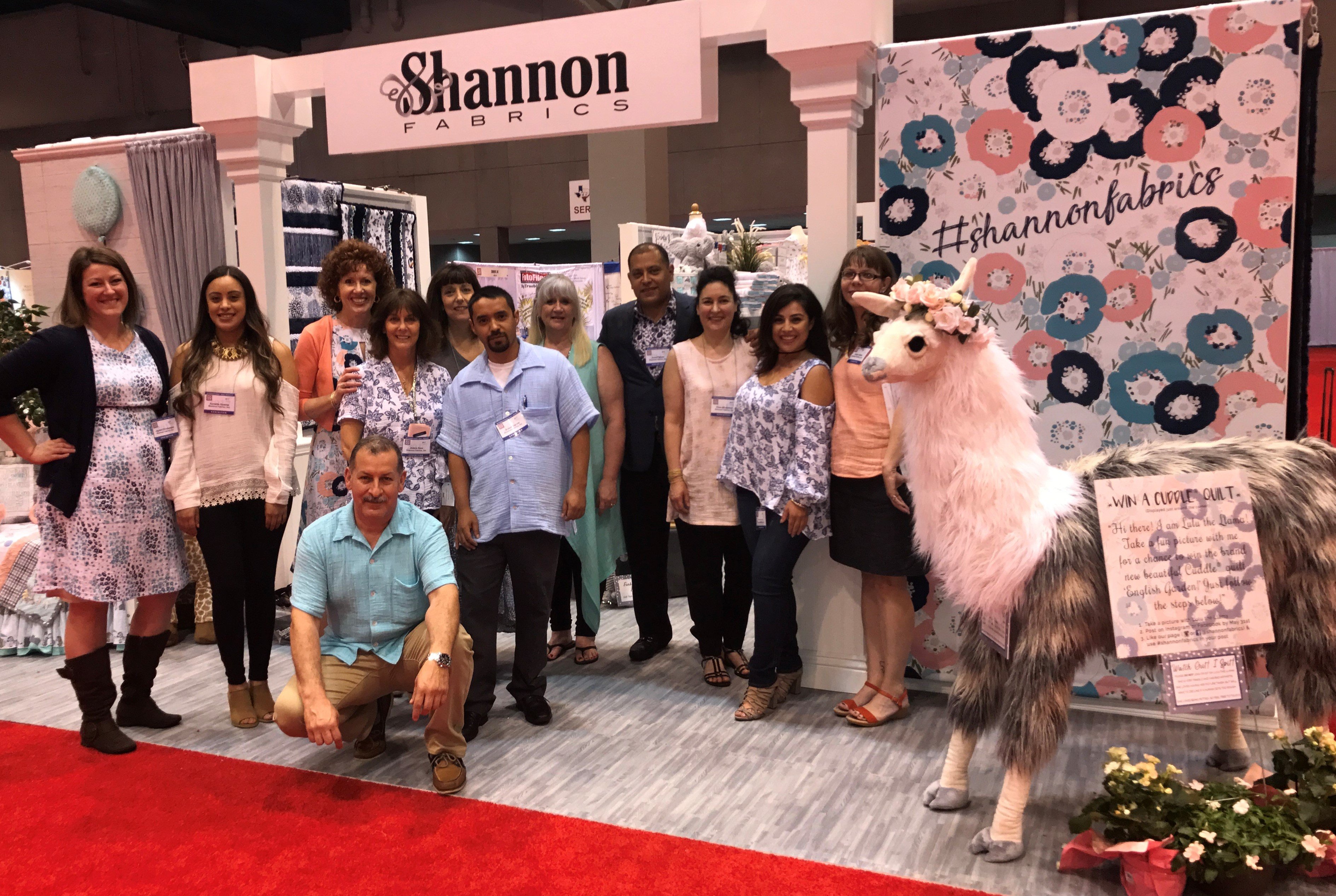 Our booth in action. We were always busy!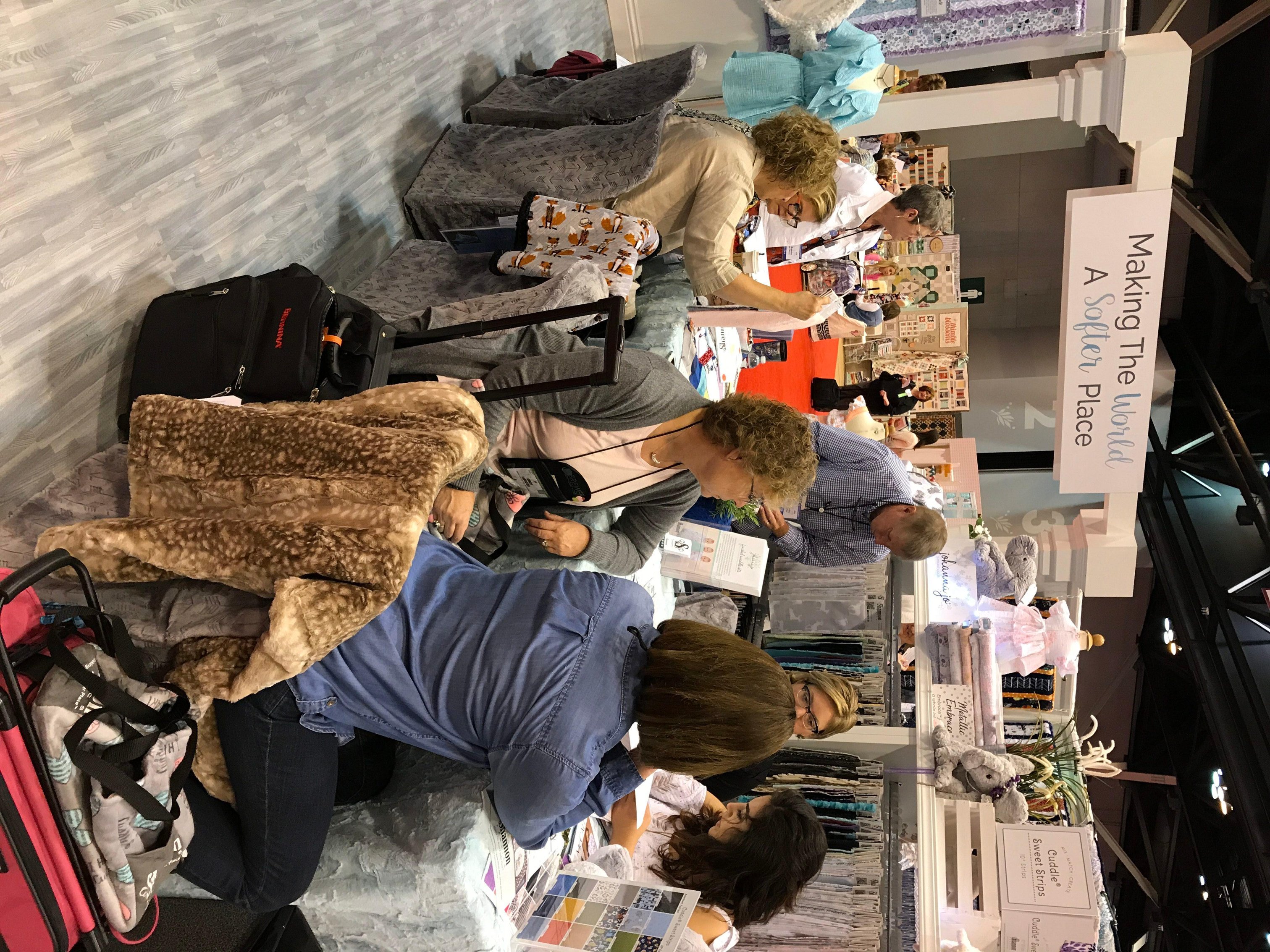 Now for a bit of eye candy (Note- the convention center did not have the best lighting ;) The back of our booth - highlighting our newest Embrace double gauze prints (coming soon): Left wall is full of sweet baby girls' dresses. Pattern M7307 Infants' Ruffled Dresses and Panties by McCall's. Right wall shows adorable baby boy rompers. Pattern #K0214 Infant Romper from Kwik Sew by McCall's.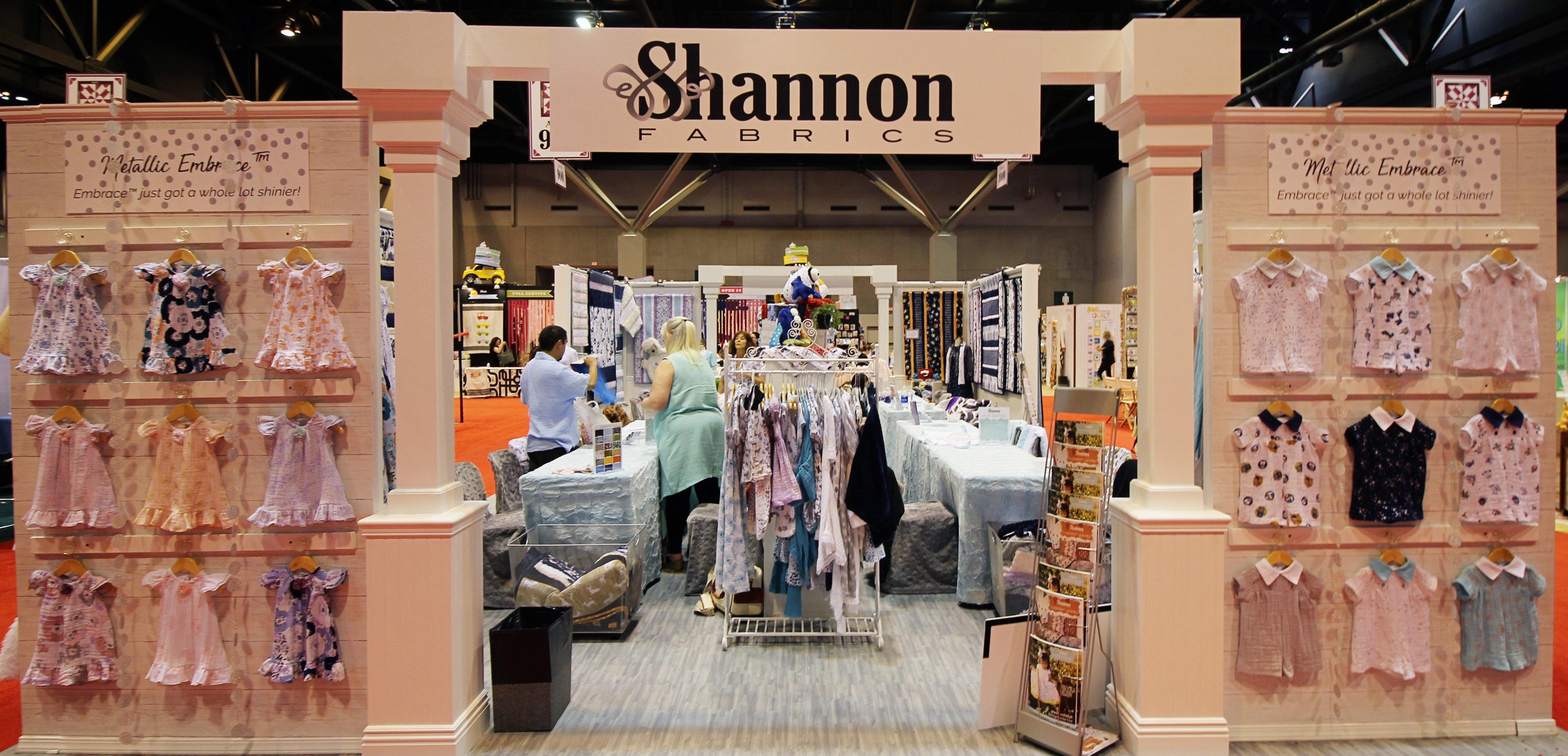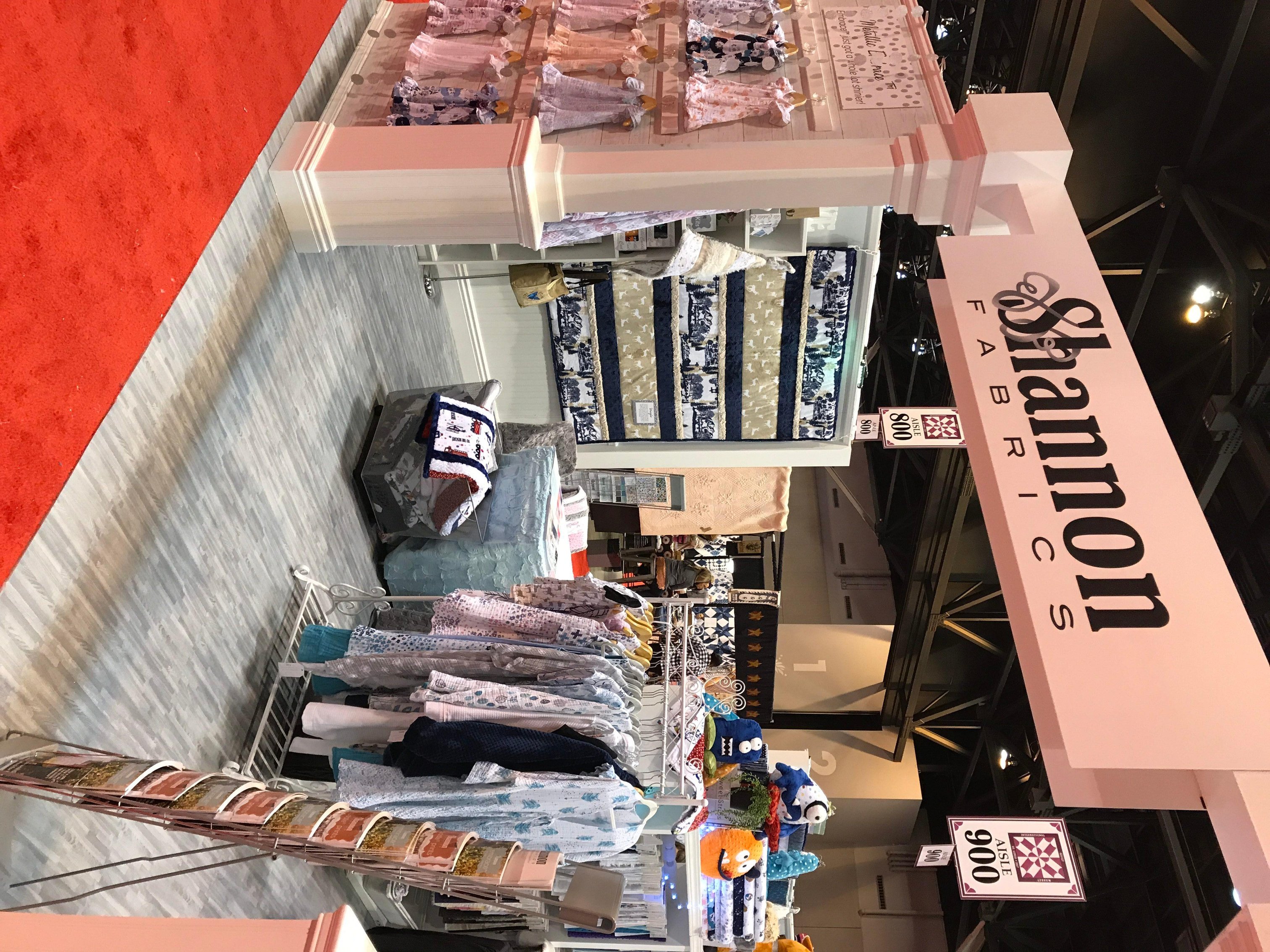 Some whimsical stuffed animals and toys in Cuddle. Kooky Mix & Match Monster and Fifi Fox patterns by Funky Friends Factory. Silly Cuddle® Monster Pillow (face) pattern by Gayle Camargo.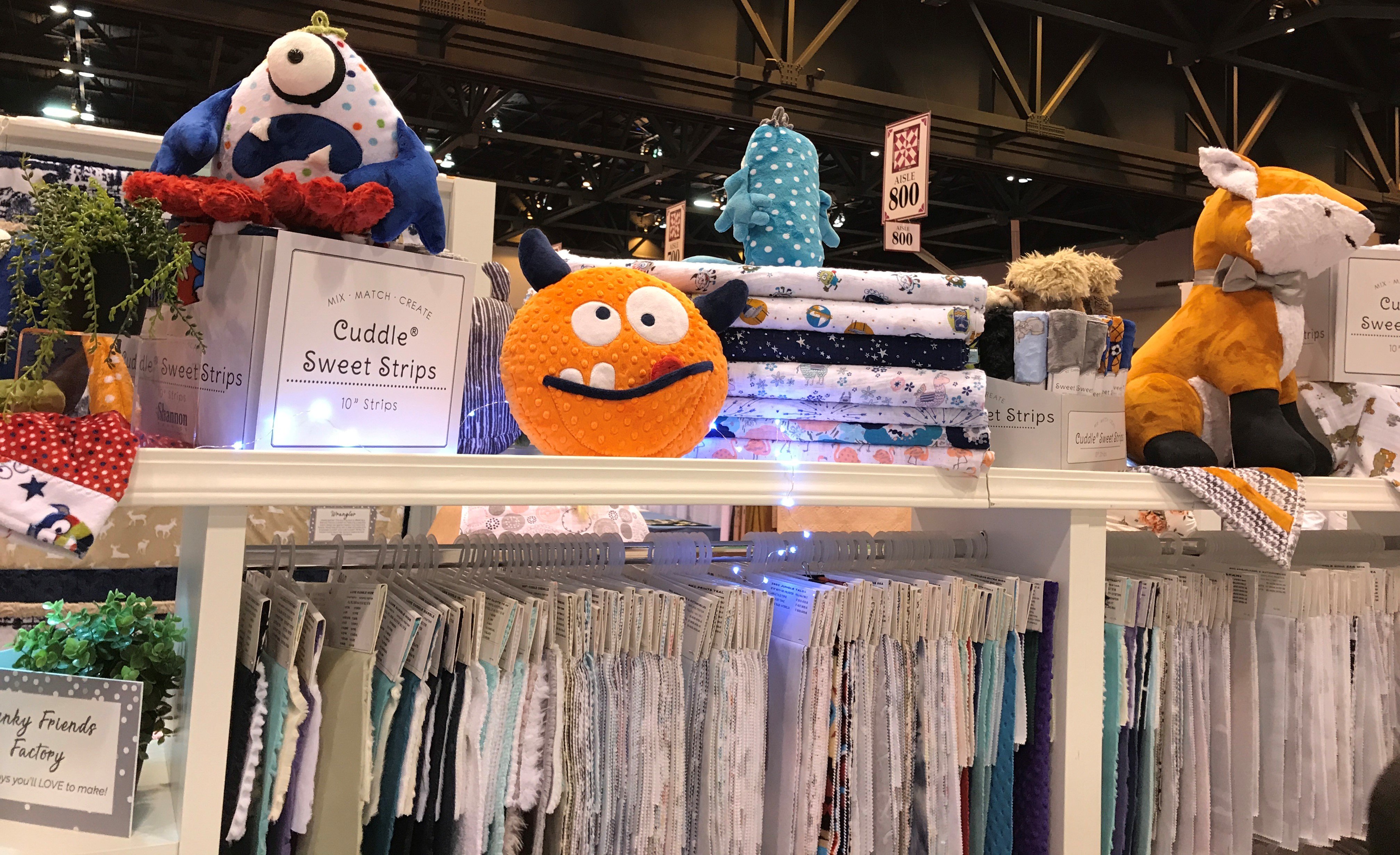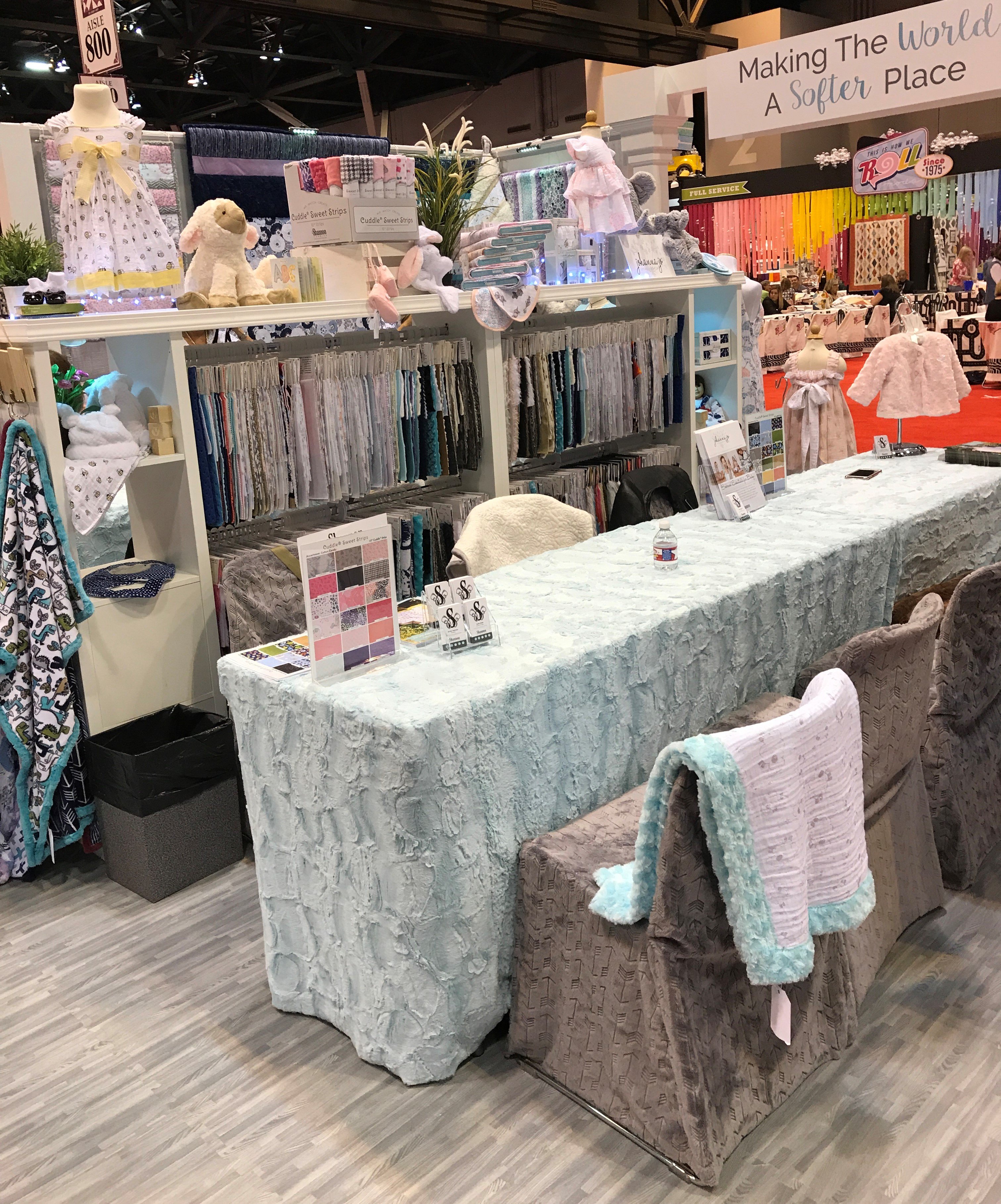 More eye candy and our new Cuddle® Sweet Strips Packs (coming soon). Little Girls' Dress in Embrace Bees a Buzz and Embrace Banana Solid, pattern is Simplicity Patterns 1331 Toddlers' Dress and Bolero. Lamkins Lamb by Funky Friends Factory in Cuddle® and Rose Cuddle®.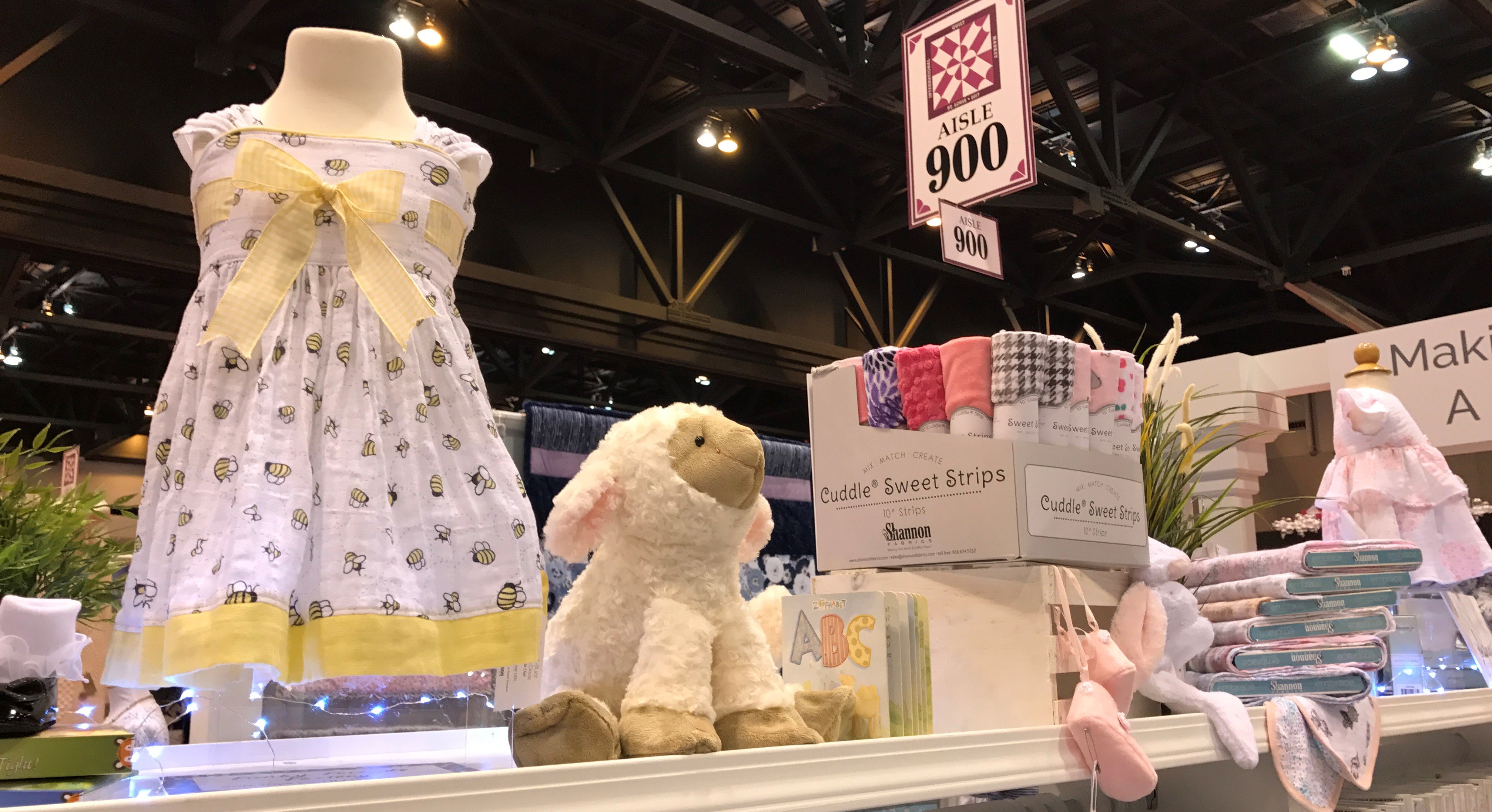 Our Sweet Melody Designs themed nursery with designer and owner Carrie Tomaschko of Sweet Melody Designs. Also shown - adorable Raff Giraffe by Funky Friends Factory (pattern enlarged with permission).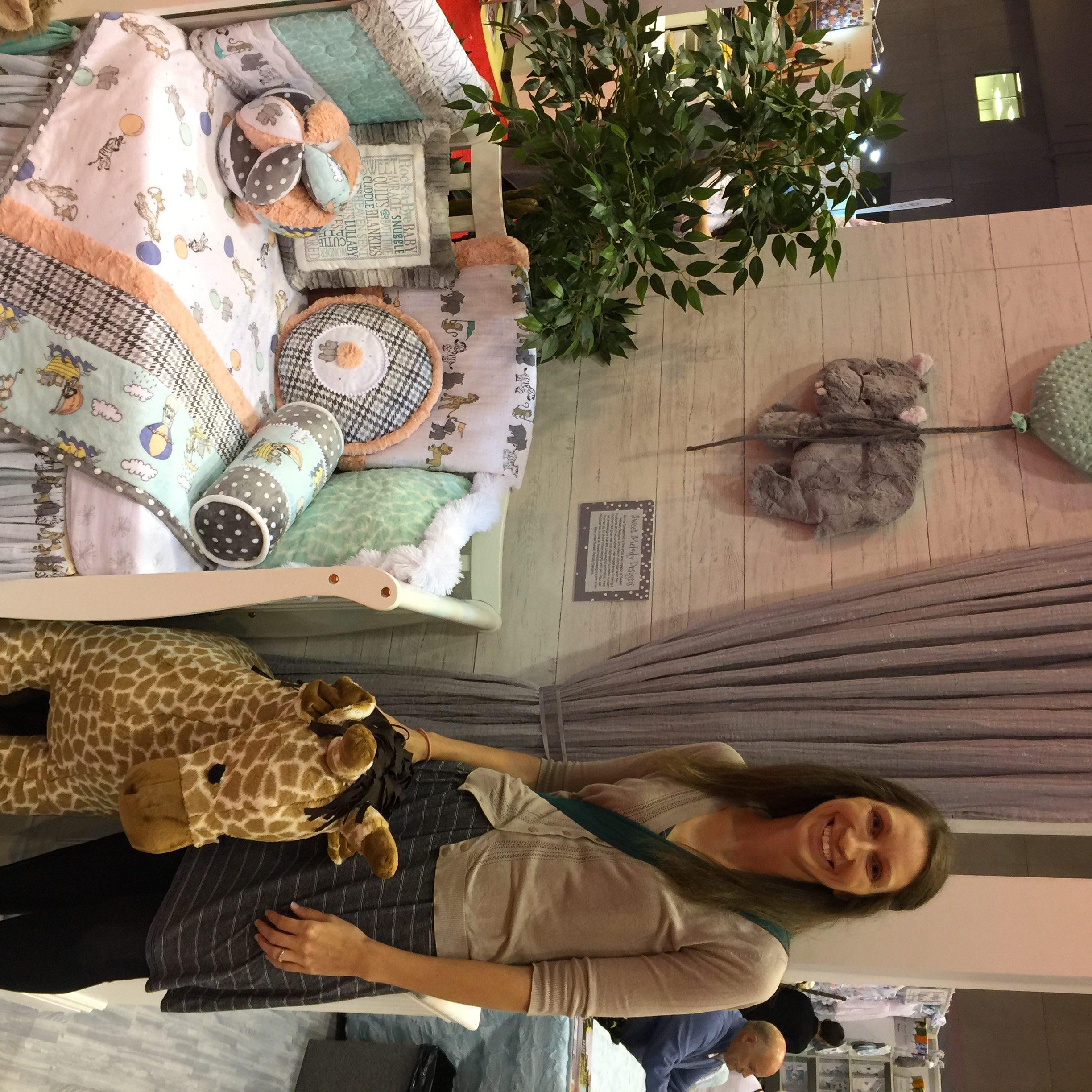 Lulu the Llama created by our very talented Gayle Camargo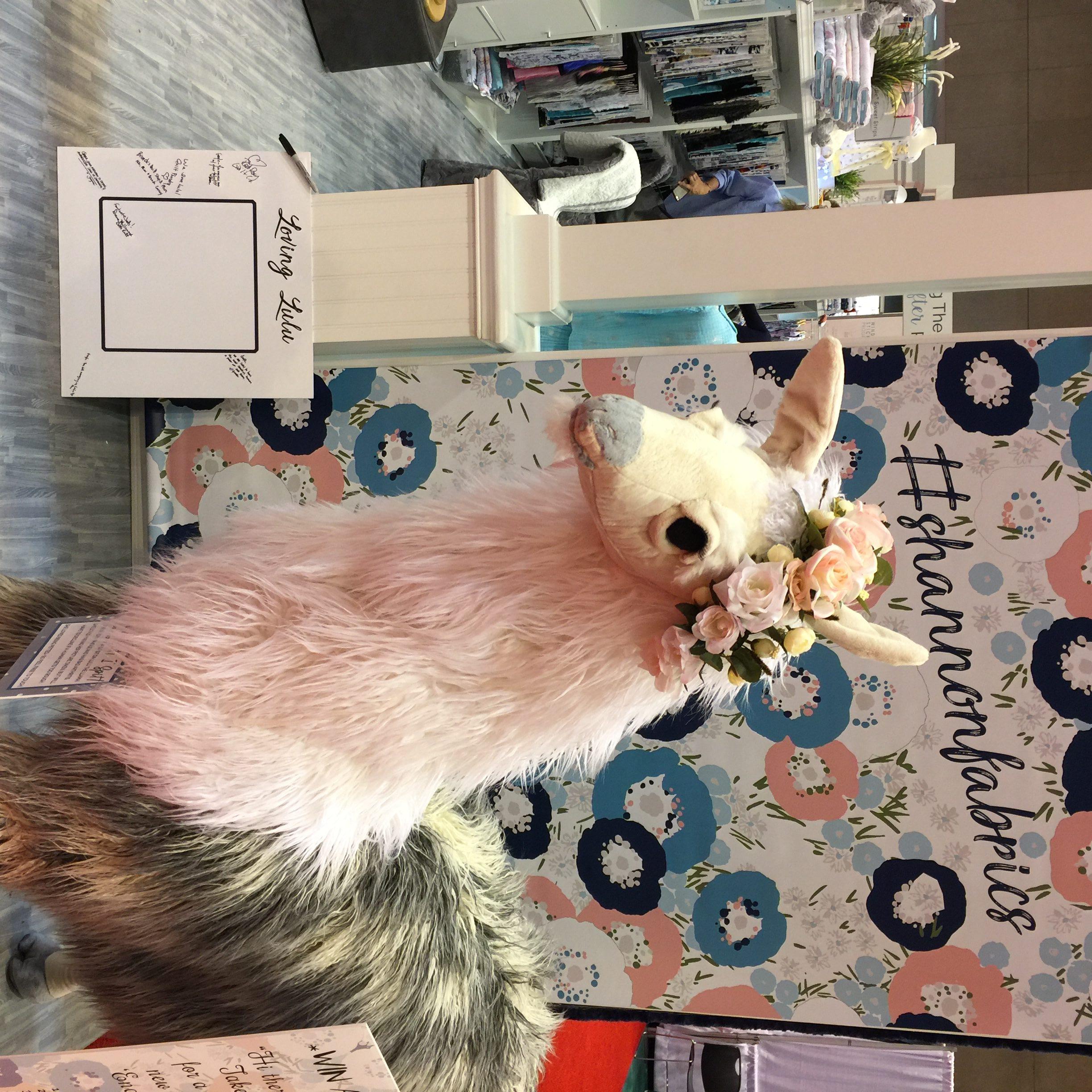 Pretty garments in Embrace double gauze and NEW Embrace double gauze Metallics! Left to right: Ava Tie Top dress by Izzy & Ivy Designs in Embrace Metallics Make A Wish Metallic Embrace® Blush/Gold and Starry Night Metallic Embrace® Gold, V8574 Misses' Very Easy Vogue Keyhole dress in Queen Anne's Lace Embrace® Coral, and K0233 Ellie Mae Designs from Kwik Sew by McCall's Girls' Ruffled Jumpsuit, Romper and Sash in Tickled Pink Embrace® Coral. Fleur Flamingo by Funky Friends Factory.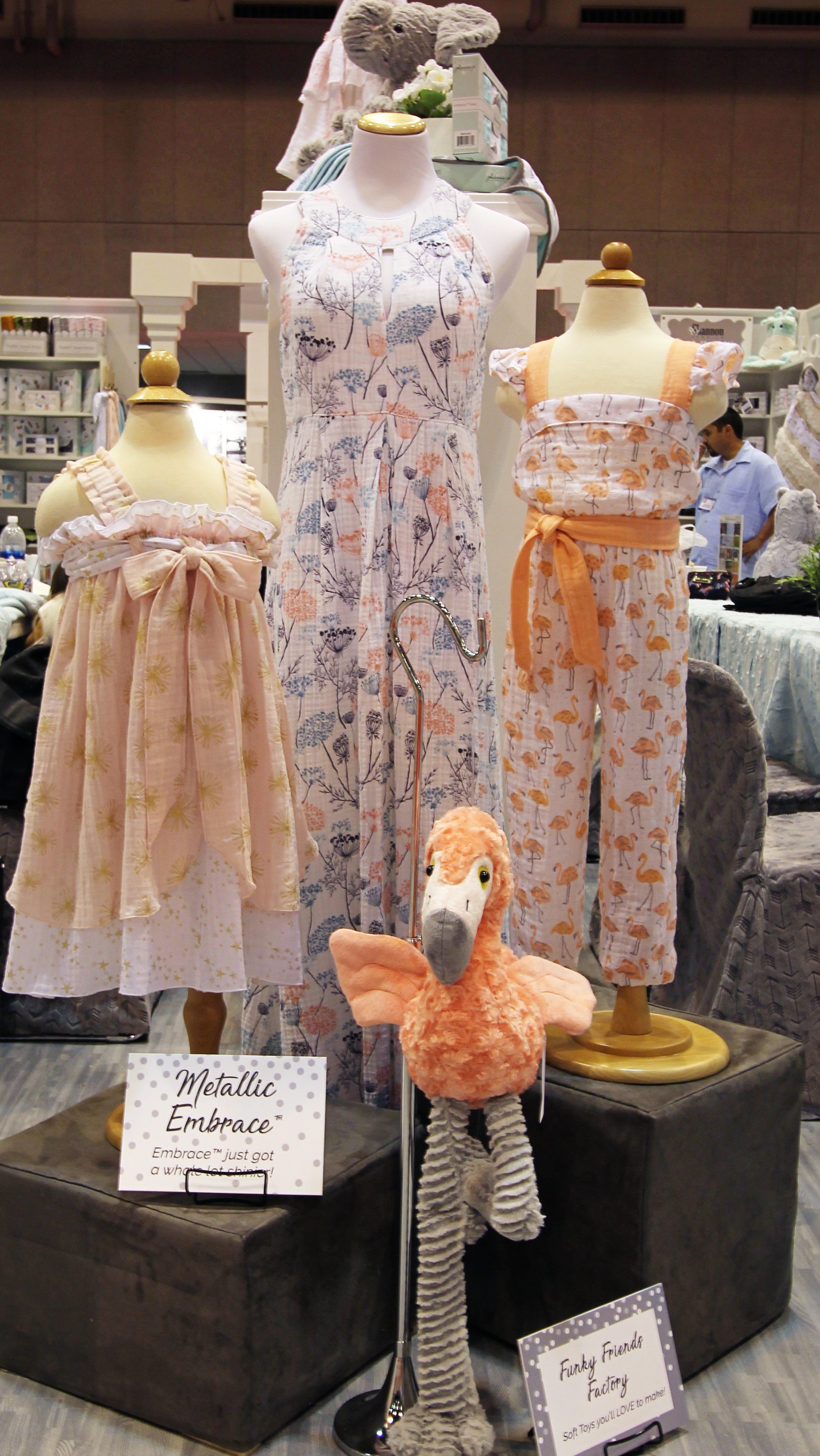 We displayed lots and lots of garments and more sewn up in our Embrace. Aren't they pretty? Clockwise: 8172 Misses' Kimono Top Simplicity Patterns, Ava Tie Top dress by Izzy & Ivy Designs, Ella's Party dress by Fig Tree & Company, ruffle blanket- free pattern coming soon, K0214 Kwik Sew Infant Romper by McCall Pattern Company, Sew Easy Adult Pajama Pants by Taylor Made Designs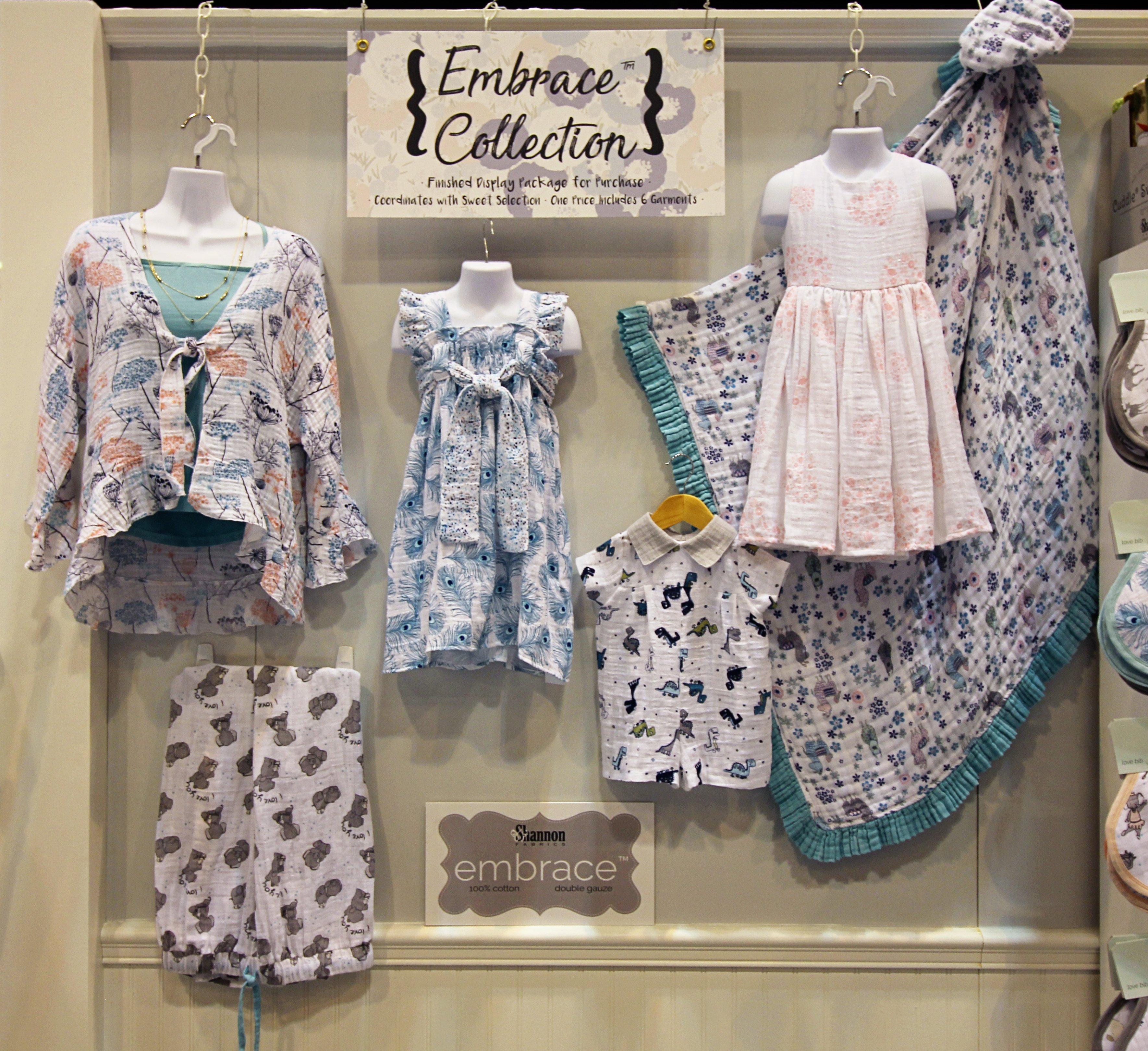 Some of our new fabrics and New kits - Wee Ones, Bambinos and My Lambie play mat– coming soon! You have to touch and feel these!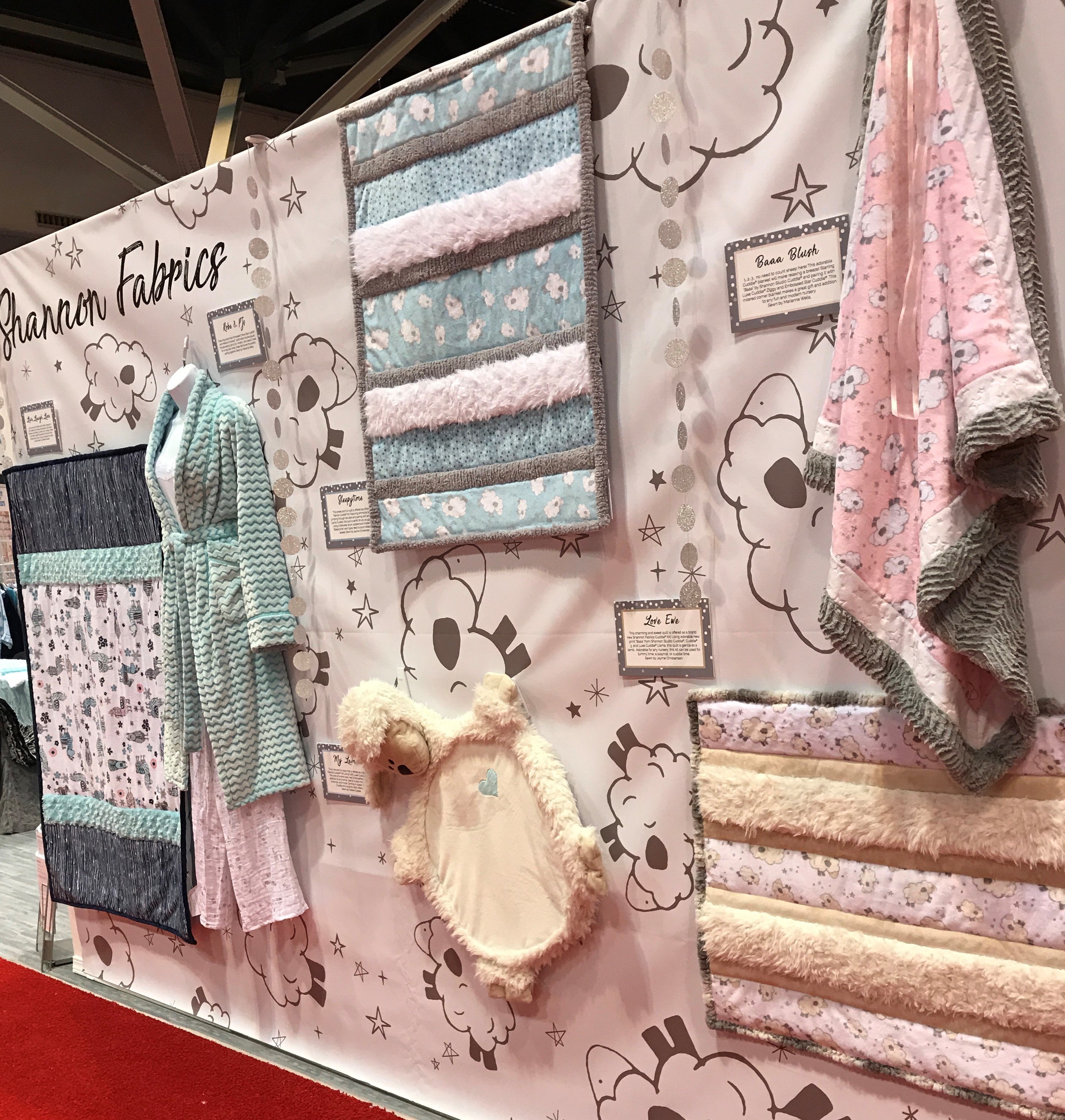 More new kits… Fabulous 5's and Crazy 8's.
and more...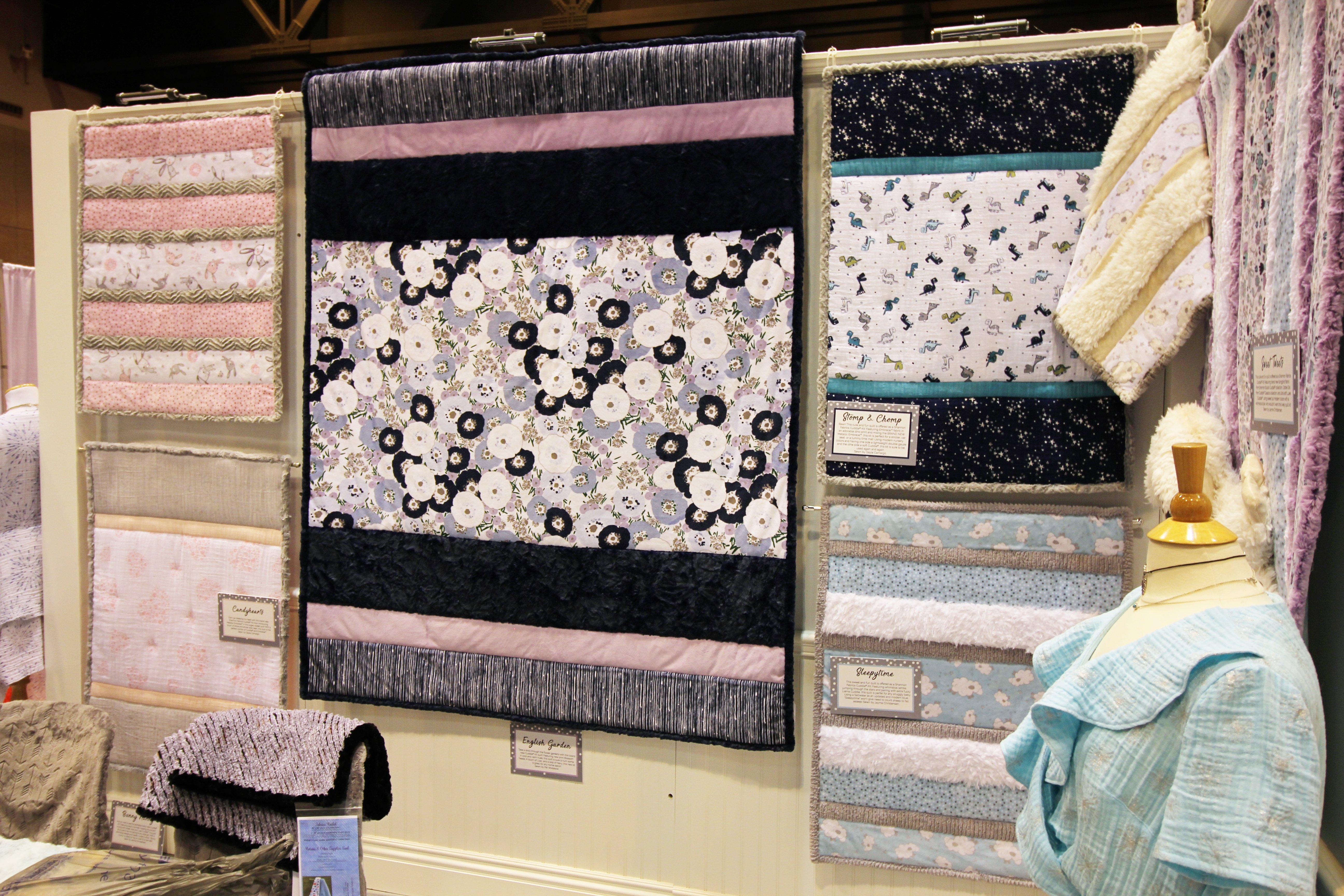 Look at all the garments we sewed up in Embrace™ double gauze!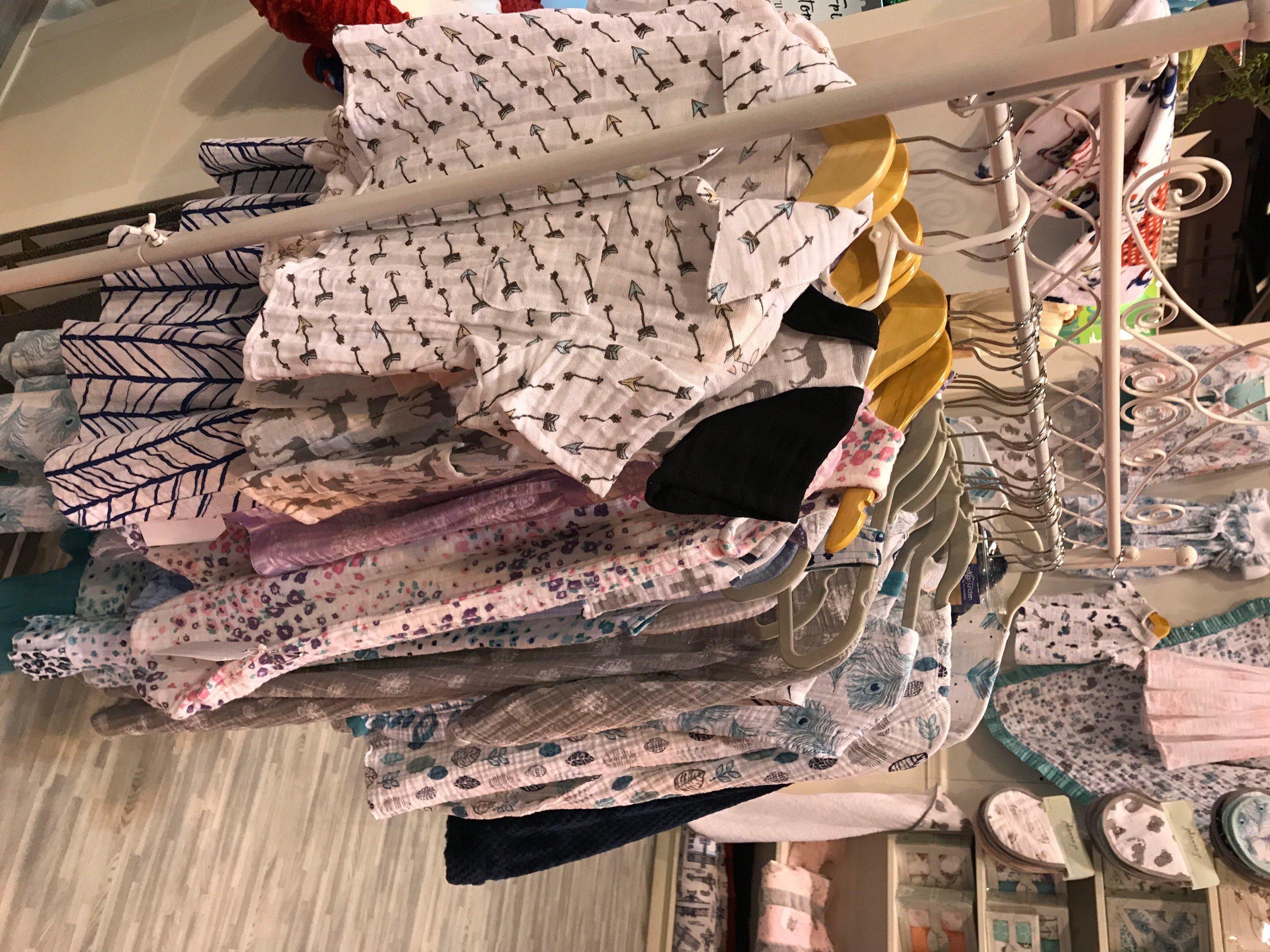 We used one of our new Embrace™ Metallics prints Sweetheart Metallic Embrace® Blush/Silver in this precious baby girls' dress.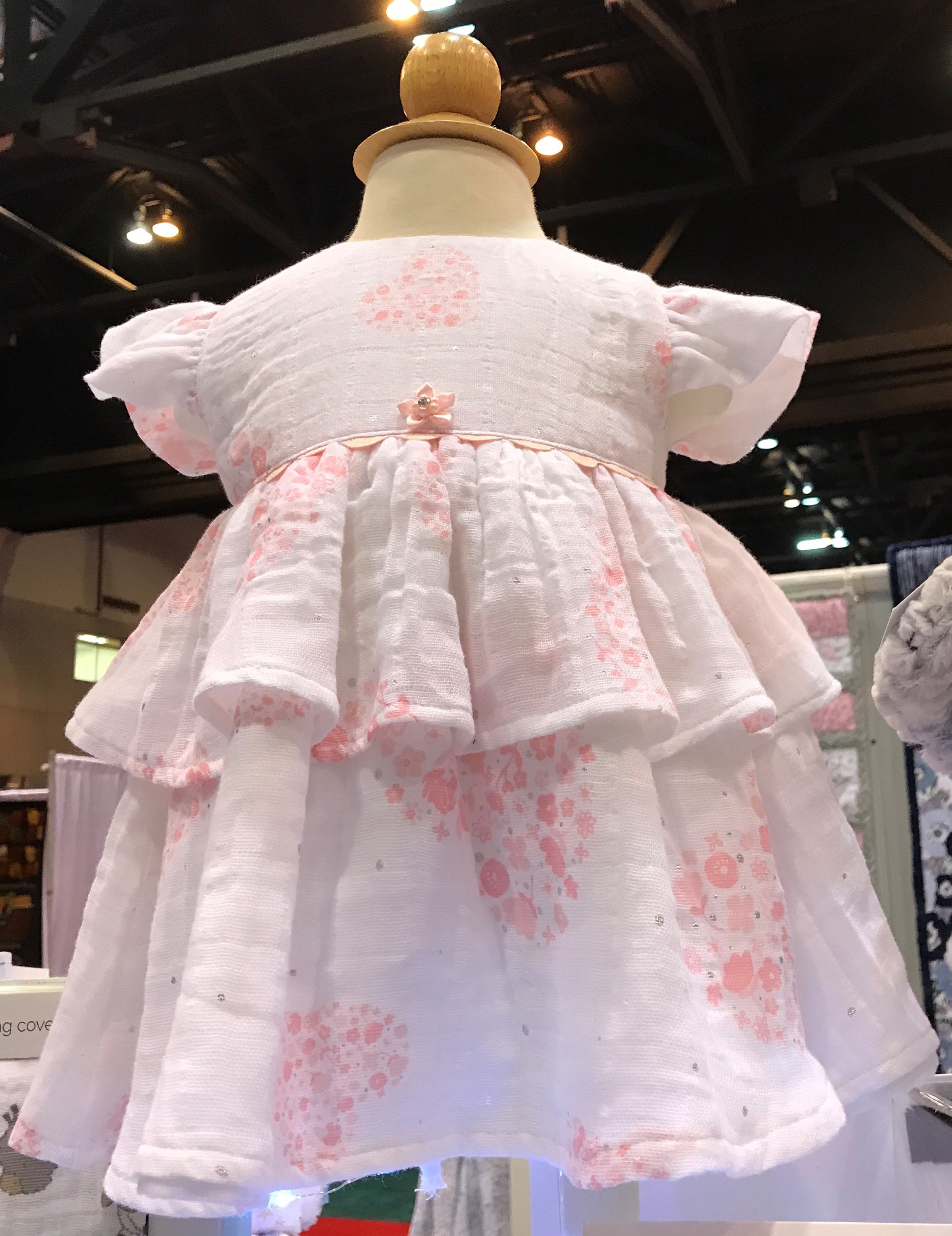 And, have you heard of how popular Cosplay is?! Check out this costume in Embrace™ double gauze made solids by Cheryl Sleboda of Sew Much Cosplay (Simplicity Patterns 8074 Women's Warrior Costumes).

And, last but not least, we couldn't have done it all without the support of a few of our trusted vendor partners: Baby Lock, Bernina, Clover, Dritz®, Fairfield World, Famore Cutlery, Kai Scissors, Mettler®, Odif, Olfa®, Onmigrid®, Quilters Dream® Batting, SCHMETZ, Superior® Threads and more...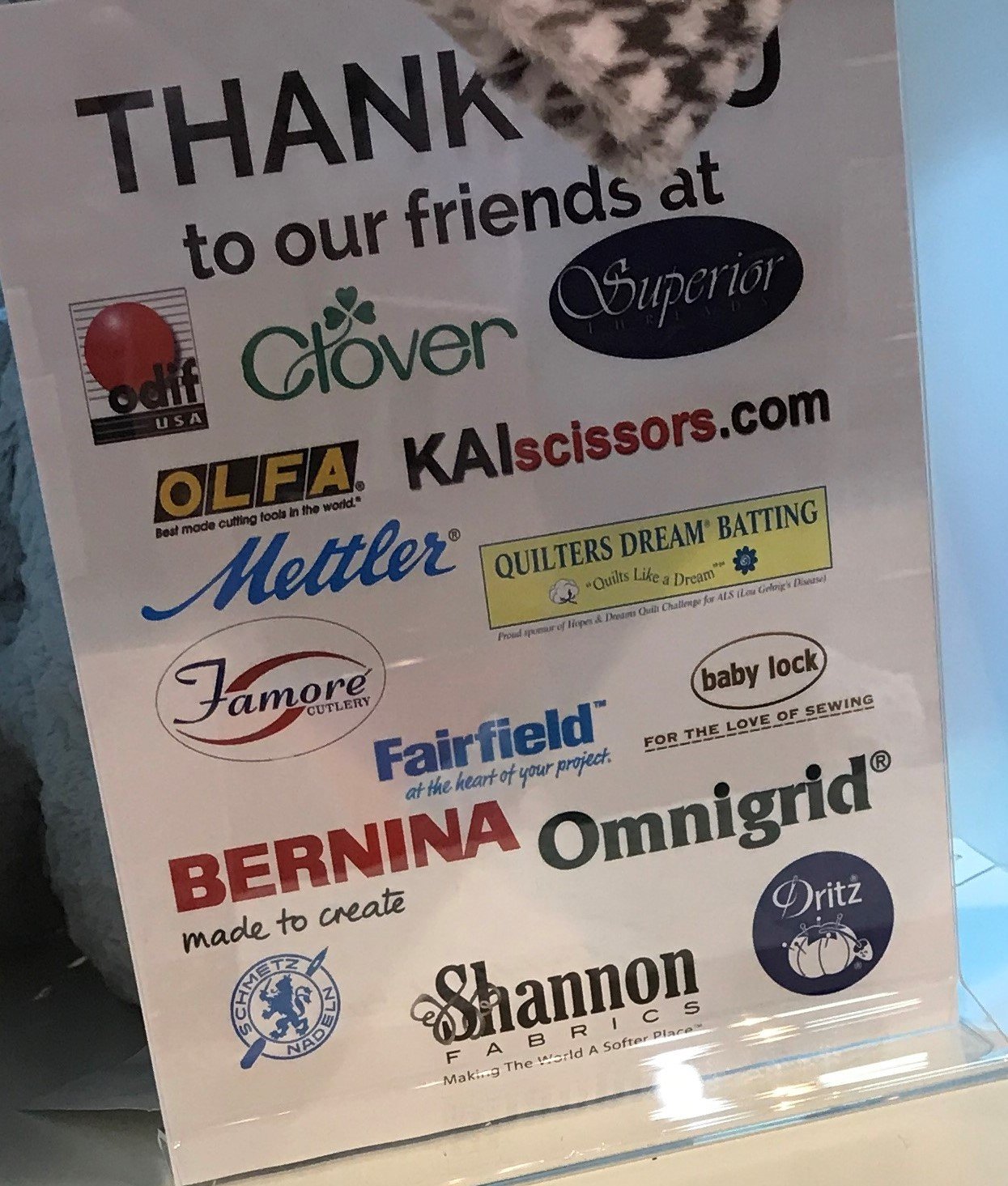 For more images of our time at market, check out our albums on Facebook Spring Quilt Market 2017, Spring Quilt Market - new kits and Spring Quilt Market 2017 - Lulu The Llama Contest. You can also search on Facebook and Instagram for #shannonfabrics and/or #luluthellama. Enjoy and we'll be sharing more from quilt market soon…
Thanks for visiting our blog and for helping to Make The World a Softer Place™
-Ellen
You can find Shannon Fabrics at many local quilt shops and fabric stores. A few online shops with a large selection of our fabrics include fabric.com, fabricdepot.com, fatquartershop.com, missouristarquiltco.com and theminkyboutique.com. You can also view our Store Locator to find more online shops and shops near you.
Stay up-to-date on what's happening! Join our mailing list. Subscribe to our blog, Sewciety, and connect with us on social media: Facebook, Pinterest, Twitter, YouTube, Instagram, Google +, and Flickr