We're back from St Louis where we exhibited at the International Quilt Market spring show. We had a blast showing off our new fabrics and kits, talking with customers and taking photos of everyone hanging out with Lulu the Llama! Attendees could pose with Lulu and snap a pic for a chance to win a gorgeous finished Cuddle® quilt! Read on to find out more…and to see who won!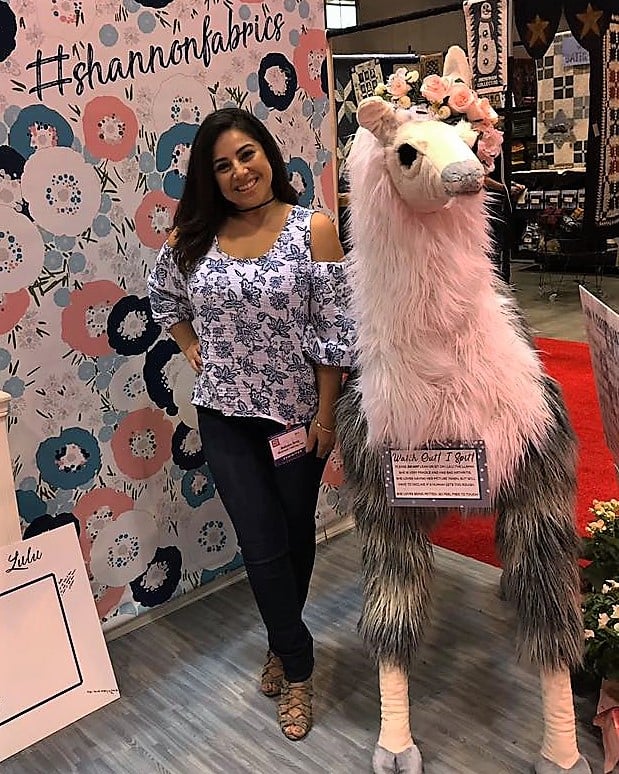 At Market, it is always so much fun sharing our new fabrics, projects, kits and inspiration with everyone. We enjoyed reconnecting with old friends and making new ones too! We'll be sharing more about quilt market soon, but today we're focusing on Lulu the Llama!
Lulu was created by the very talented Gayle Camargo, one of our Cuddle® Specialists. Gayle has an amazing eye for detail and can make just about anything! She searched high and low for llama images online. In addition, for more information, and to make sure Lulu was as lifelike as possible, Gayle even contacted quilter Kay England as Kay raises llamas! Gayle created Lulu with our fabrics, of course (a variety of Cuddle® and Faux Fur). The fabrics include Arctic Mongolian Fur Ivory/Gray, Curly Alpaca Fur White (for chin and eyebrows) and Curly Llama Fur. She also used Cuddle® 3 for face, nose, legs, feet and eyes.
Since Lulu is life-size we needed a lot to fill her! We used notions such as Poly-Fil® and Craft Pellets from Fairfield World, and puffy batting from Hobbs Bonded Fibers. We also used PVC pipe, Sono tube, stuffed yo-yo fabric eyes, large sewing machine needles from SCHMETZ, and my favorite-- fake eyelashes (I may have to get a pair. Hehe)
Market attendees were invited to take a photo with Lulu, like our Facebook and/or Instagram page (@shannonfabrics), tag the photo with #shannonfabrics and post it by May 31 on Instagram and/or Facebook for a chance to win a FREE finished English Garden Cuddle quilt!!!
English Garden is a brand new beautiful Cuddle® quilt kit and it's coming soon!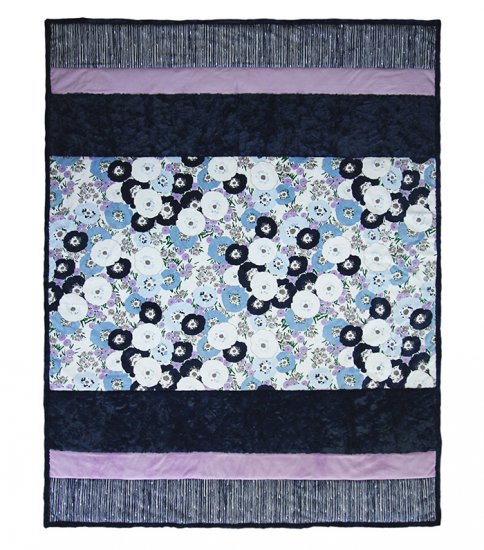 Find it here on our website Sensational Strips Cuddle® Kit English Garden. This stunning kit includes strips for the quilt top and binding, as well as a free pattern. It finishes at approximately 58" x 73". The suggested backing for this kit is Navy, Lilac or Dusty Blue Cuddle® 3 or Cuddle® Dimple and 1 1/8 yards of backing fabric is needed.
Now for the winner!!! We chose a random winner and it's The Fabric Cobbler in Forsyth, IL! Congratulations!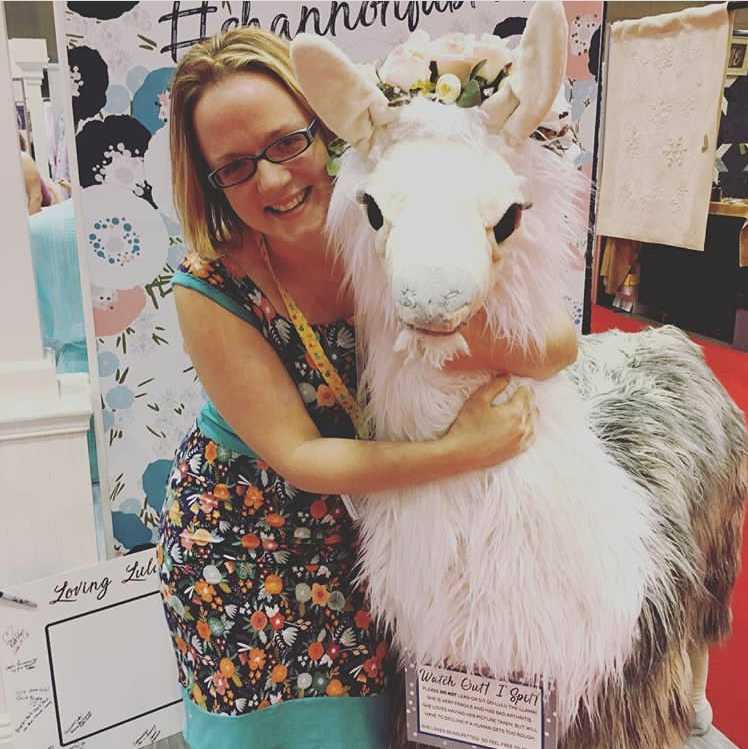 For more images of our friends and fans with Lulu, search on Facebook or Instagram for #shannonfabrics and/or #luluthellama. Or, check out our Lulu the Llama Contest Facebook album. Enjoy!
Thanks for visiting our blog and for helping to Make The World a Softer Place™
xoxo
Hugs from Ellen and Lulu, too
PS You can find Shannon Fabrics at many local quilt shops and fabric stores. A few online shops with a large selection of our fabrics include fabric.com, fabricdepot.com, fatquartershop.com, missouristarquiltco.com and theminkyboutique.com. You can also view our Store Locator to find more online shops and shops near you.
Stay up-to-date on what's happening! Join our mailing list. Subscribe to our blog, Sewciety. And, connect with us on social media: Facebook, Pinterest, Twitter, YouTube, Instagram, Google +, and Flickr