Hello! We're Megan and Heather from Quilt Story and we are so excited to share a couple of quilts with you. We are sisters who love to design and create. The best place to find us is on Instagram, Megan is @QuiltStoryMeg and Heather is @QuiltStory. We post regularly with quilty and sewing projects!
We decided to make each other quilts for Christmas last year. It was so much fun trying to come up with designs for each other, the idea was for the quilts to remind us of each other. We came up with some guidelines, larger size throw quilts, a moderate difficulty level, similar time commitment and CUDDLE FABRIC for backing!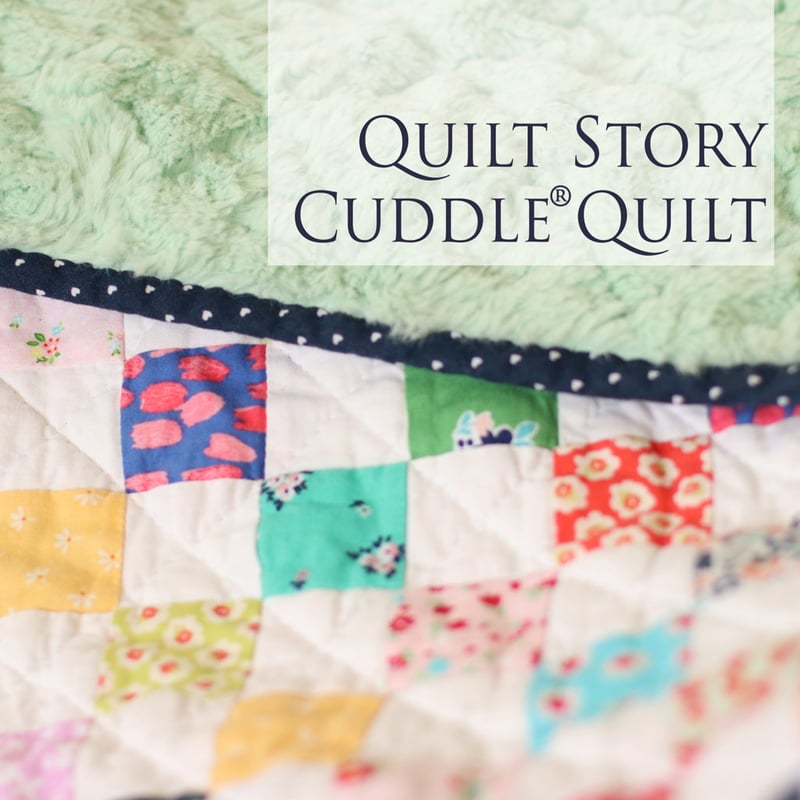 Seriously, after having made a lot of quilts, I almost always use Cuddle® for the backing, it is just so much more cozy. We use them in the summer plenty, and I've done quilts with Cuddle® and no batting so it's a little more lightweight.

This postage stamp quilt I (Megan) made for Heather. They are 2" finished squares and I used the postage stamp quilt tutorial from Red Pepper Quilts to give it the random feel, even though it is strip pieced.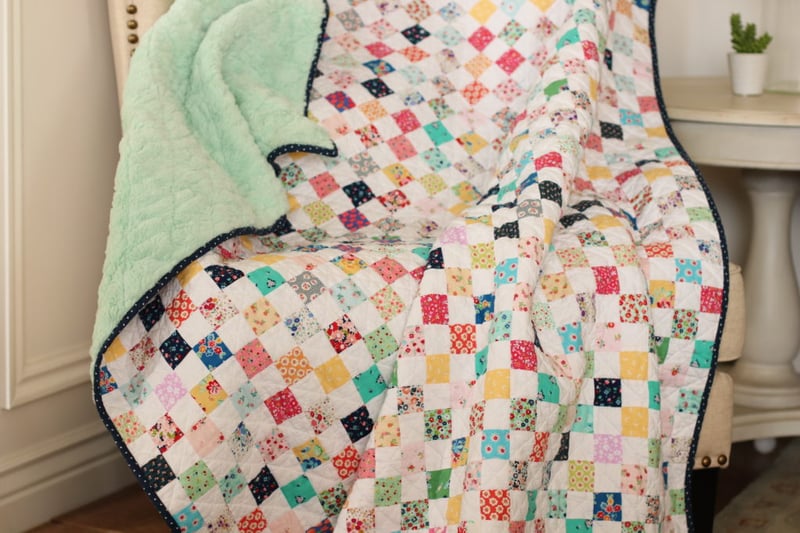 I used itty bitty floral prints with white, Bella 97, in-between. I have so many small floral prints I love so much, so this was such a fun project for me. I used The Good Life fabric hearts for binding. And I used Luxe Cuddle® Luna Honeydew for the backing. So incredibly soft, it has a soft wavy pattern to it that works wonderfully with my crosshatch quilting.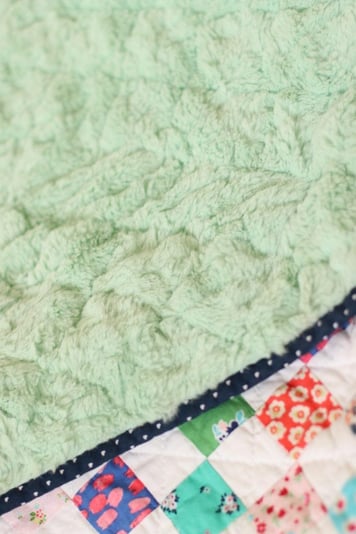 When I was hand binding I'd just constantly run my hands through it.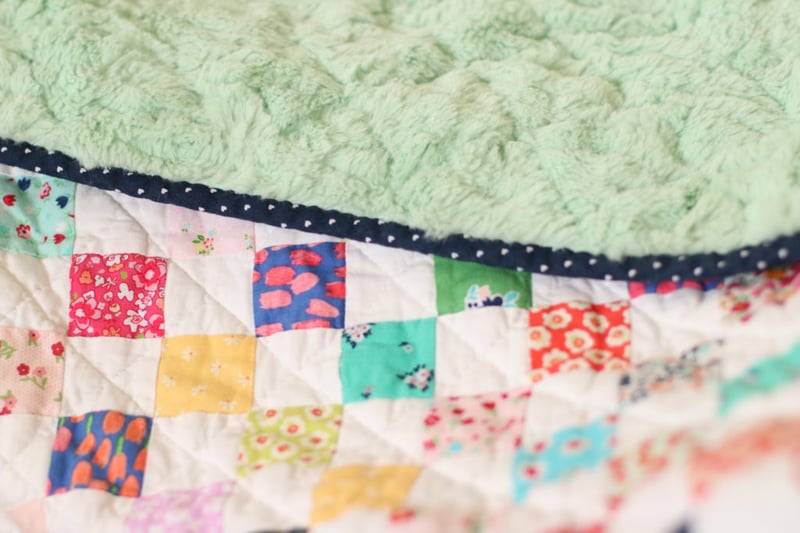 My husband was really sad we didn't keep this quilt!! But quickly happy when we got the replacement!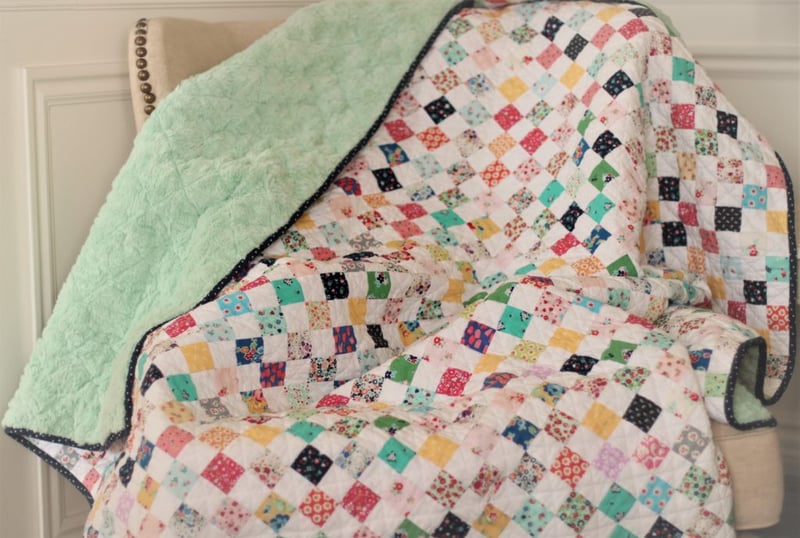 Heather made me the most gorgeous quilt!! She used mostly Coney Island by Fig Tree which I LOVE! It is her own pattern and the quilt is just perfection to me. I really love her main quilt block here, and so many of my favorite colors.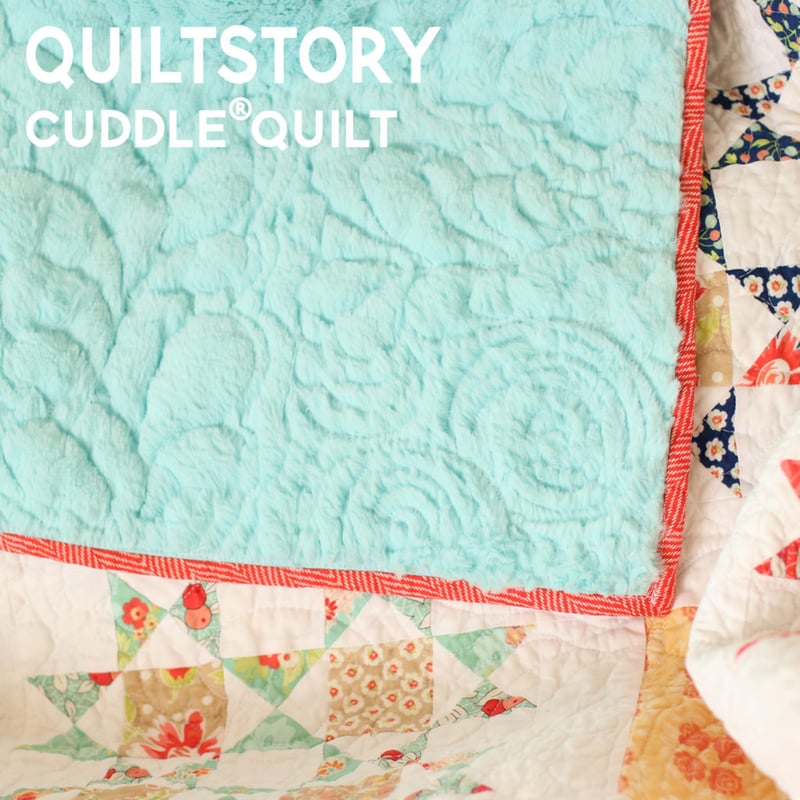 She used Luxe Cuddle® Velvet Saltwater and it is amazingly cozy!! So so soft as well.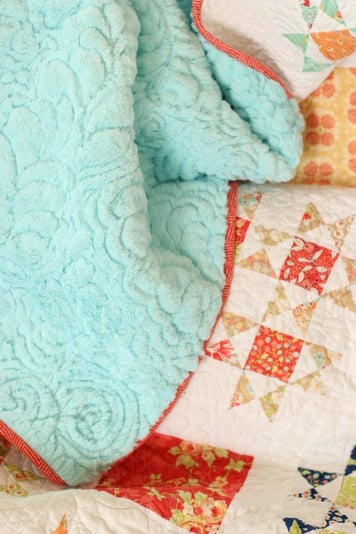 And look how amazing her quilting looks on this!! She free motion quilted this entire quilt on her domestic machine, she spent hours and hours.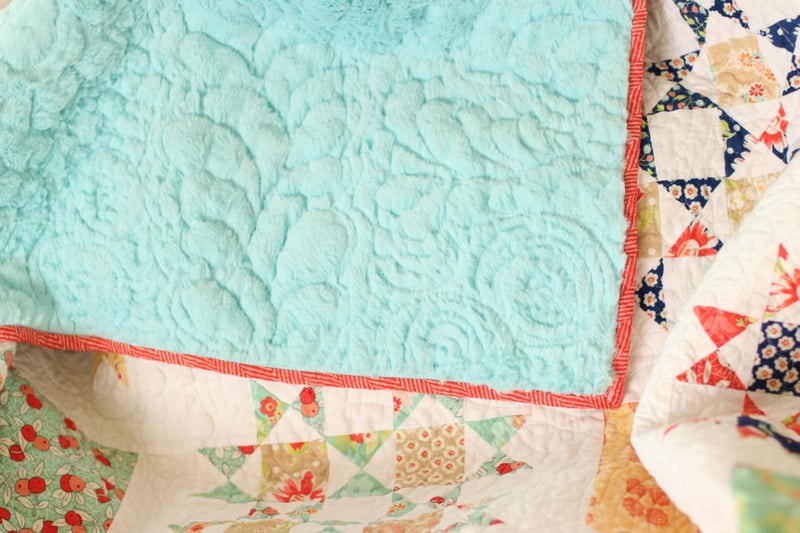 This is a fantastic Cuddle® to choose if you are planning on a more detailed design as it doesn't matt the Cuddle® funny and you can see it all so well.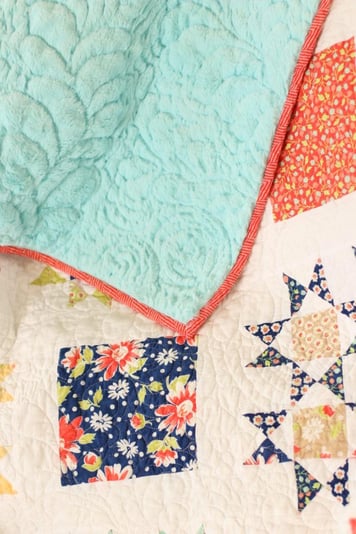 If you want to browse the super soft selection of Cuddle® and find out where to get some for yourself, visit the Shannon Fabrics website and their Store Locator.
Thank you so much to Shannon Fabrics for allowing us to talk with your friends! We hope you come say "hi" to us in Instagram or on our blog QuiltStory.blogspot.com.