This week's Sew Together Tuesday video tutorial series tackles what has quietly (but not surprisingly) become one of our most popular free patterns, the Tuscan Cuddle® Quilt! Our National Educator Teresa Coates will share her tips for sewing the quilt LIVE on the Shannon Fabrics Facebook page, and she's also given the free pattern a bit of a much-needed refresh.
READ MORE: How to Sew a Pajama Set (Slumber Party PJs Pattern & Video Tutorial)
The Tuscan Cuddle® Quilt (finishes 41" x 53") is based on the Tuscan Sun quilt pattern from Villa Rosa patterns (designed for quilting cottons) and with permission we revised it to work for Cuddle® minky fabric. It was first designed for our original Cuddle® precuts (now discontinued), so we're excited to announce our new Cuddle® Cuts relaunch that are currently in stores!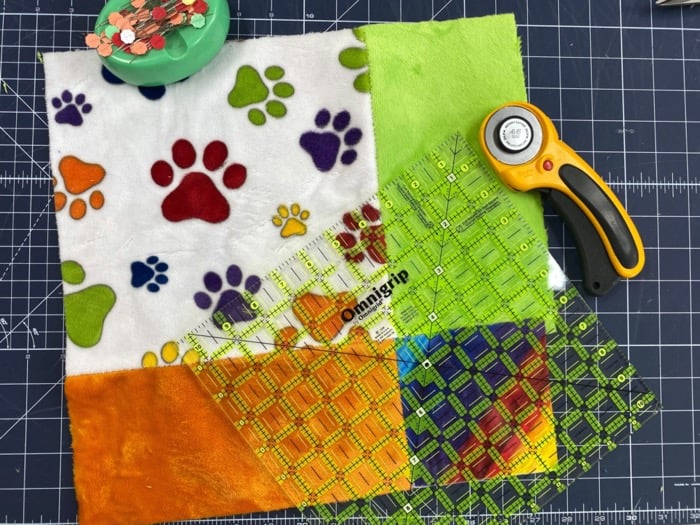 Fabrics, Notions & Supplies for the

Tuscan Cuddle® Quilt
24 10" squares of Cuddle® 3 in coordinating prints and solids
12 5" squares of Cuddle® 3 (use same prints and solids as 10" squares)
2 yards Cuddle® 3 or Luxe Cuddle® for backing and binding
3-5 yds woven fusible interfacing, optional (Pellon SF101 recommended)
45mm rotary cutter with new blade (OLFA recommended)
Long flower head pins (Clover recommended)
Fabric clips (Wonder Clips by Clover recommended)
90/14 Stretch needle (SCHMETZ recommended)
Polyester thread (Superior Threads or Mettler recommended)
Basting spray (ODIF 505 Spray and Fix Adhesive recommended)
Quilters Dream Poly Request batting (50" x 70")
How to sew the Tuscan Cuddle® Quilt
Part 1: How to sew the Tuscan Cuddle® Quilt
Part 2: How to sew the Tuscan Cuddle® Quilt
Download the FREE Tuscan Cuddle® Quilt Pattern

If you have any questions about Cuddle® minky plush fabrics or any of our Cuddle® Kits, feel free to contact our friendly, no-pressure customer service team at 866-624-5252.
Ready to start sewing? Use our store locator to find a selection of Cuddle® minky fabric online or near you.