I'm Liberty from Libby Dibby Quilts. I recently was given another opportunity to work with Embrace® Double Gauze by Shannon Fabrics. This time I made a top. This is the third garment I've made in the double gauze and I'm loving it.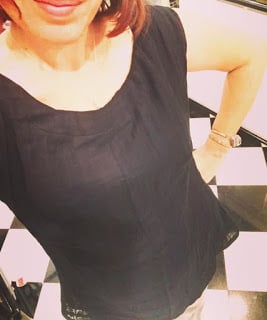 After the success of the Esme Tunic and the Kiomi Dress from Lotta Jansdotter's book Everyday Style, I knew I wanted to use my leftover black Embrace™ double gauze to make a super comfy shirt. I like the neckline of the Esme tunic, but the sleeveless look of the Kiomi, so I opted to use the cap sleeve variation and the Esme neckline. The double gauze did not have much structure with the cap sleeve shape, so I ended up hemming it by folding it in 3 times. This was finally enough to give the sleeves the structure they needed and the top now works perfectly. I basically get it out of the dryer and wear it again immediately every single time.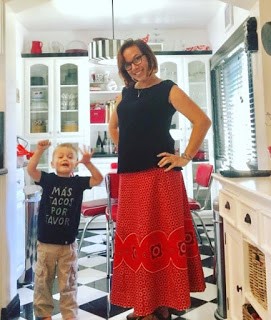 The new Esme top pictured here with my self made skirt with shwe shwe fabric I bought on my recent trip to South Africa. Also, little crazy toddler for laughs.
You can also find more pics of my process under my Instagram account - @libbydibby
oh, and if you are wondering where to find double gauze, you can find Shannon Fabrics at local quilt shops and fabric stores or check out their Store Locator
It's been fun doing this guest post on Shannon Fabrics Blog. See you online- Liberty