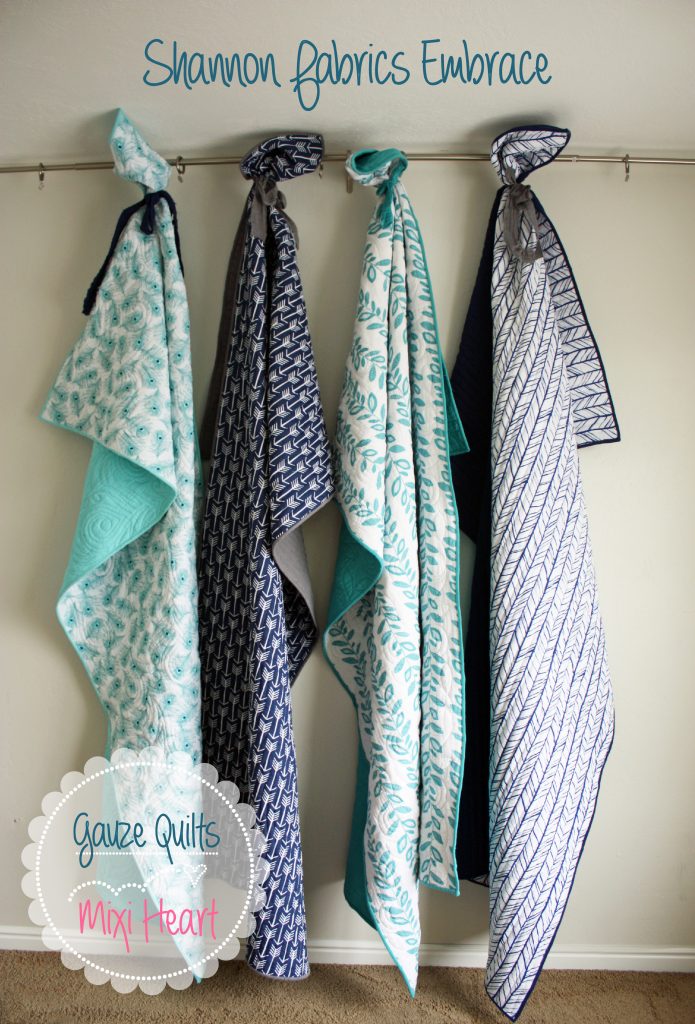 Hi there, I am Michelle from Mixi Heart and I am sharing why I just love double gauze quilts! I am a longarm quilter living in Utah. I know I am not going to have to do much work to convince you how nice these quilts are because the pictures do all the work!
A few months ago with a few girls I was visiting a local quilt shop. We happened upon a baby quilt made from two layers of double gauze and batting. We of course picked up the quilt and couldn't get over how light and amazing it felt. Shannon Fabrics Embrace double gauze is so soft to the touch and one can not wait to sew one up ASAP!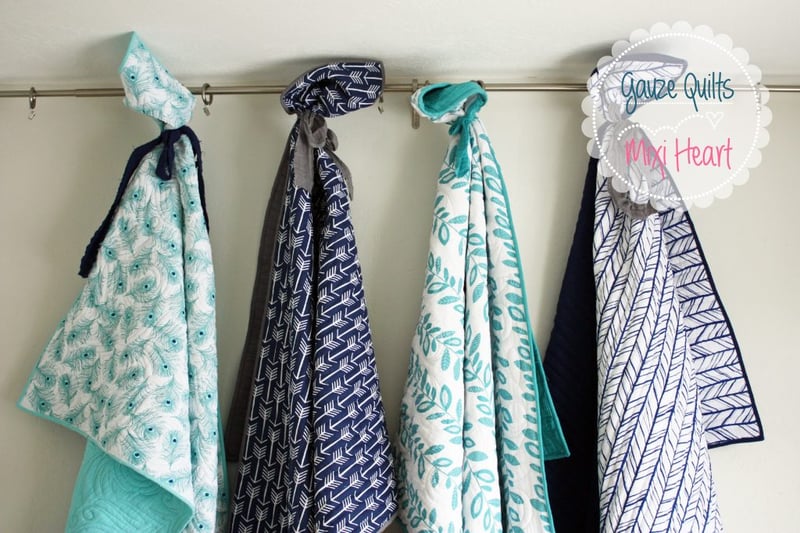 I chose these fabrics: For the fronts: Plumage Embrace Teal, Premier Archer Embrace Cobalt, Stem to Stem Embrace Teal, and Herringbone Embrace Royal.
For the backs: Aruba, Teal, Graphite and Cobalt.
So apart from the amazing way the Embrace feels these quilts are perfect to gift. All they need is quilting. And as a quilter, one of the funnest parts for me is to pick a quilting pattern!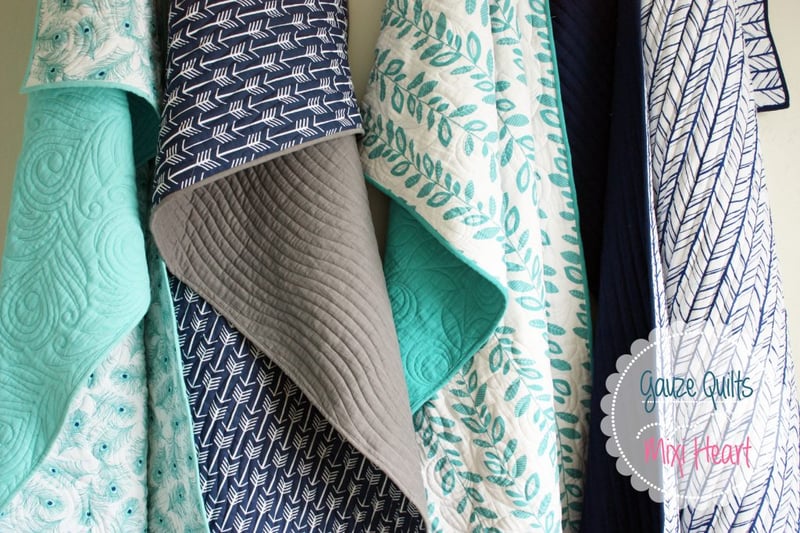 The batting I used to quilt with was Quilters Dream Batting's Quilters Dream Puff. It was LOVELY!! and truly quilted like a dream. It had such an amazing feel to it and the loft was so wonderful for the quilting. It complimented the double gauze perfectly. The wonderful thing about the batting is that it keeps that soft light feel that the double gauze quilt creates in the first place. It just feel like this combination was meant to be.
I prefer a lap quilt size to be a little longer. Our little family tucks up under our feet to stay nice and cozy. These quilts measure the WOF x 90". But they certainly could be made to fit any size from Baby to Adult to even a coverlet for a bed.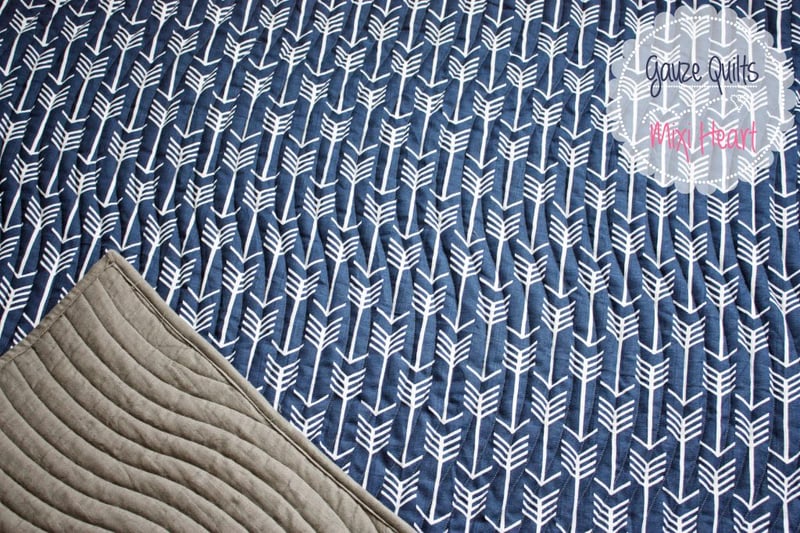 When picking a design I like to think of the recipient. For more modern tastes I tend to lean towards simple designs such as straight and slightly curved lines. And I like to take cues from the fabric. For example below shows a very simple floral design that relates to the leaf print. It also is very vertical as opposed to weaving. Of course truthfully speaking the sky is the limit. Wherever your imagination takes you is a great place to go.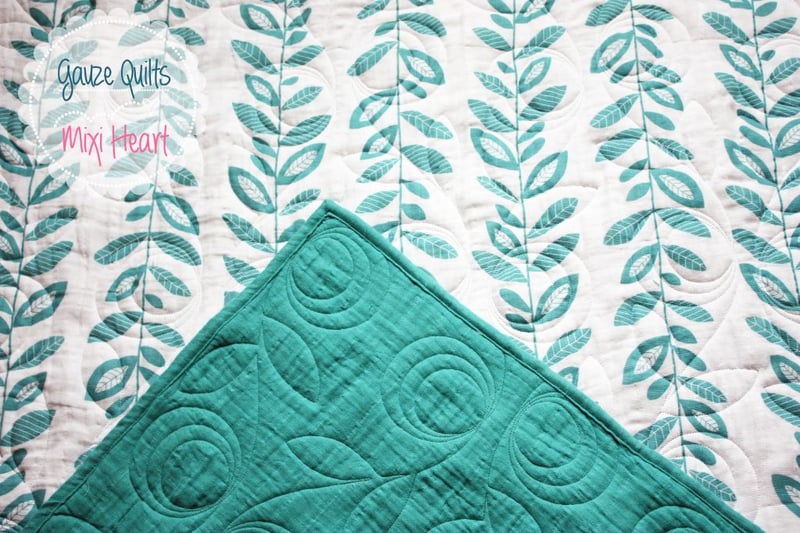 The last thing to tackle was binding. I have to admit I was a little worried about binding. I didn't know how the forgiving fabric would shift during the binding process. I decided to machine bind the quilts and it was a piece of cake! If you are worried, worry no more. One tip I would suggest would be to use thread that is closest to the fabric color as possible. This will allow for any missteps to be disguised. Also, keep in mind that double-gauze has a very organic feel and little imperfections will fit in nicely.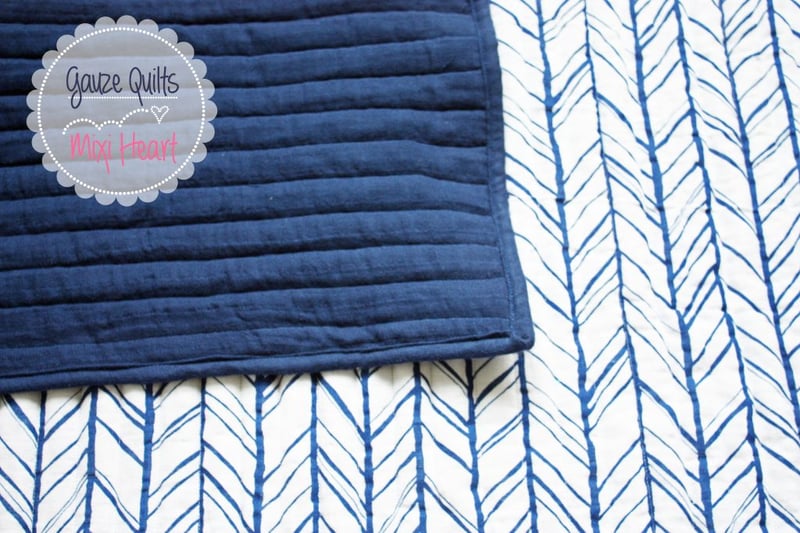 And that is that! Darling Double-Gauze Embrace Quilts are too cute not to make!
To find Shannon Fabrics, check out your LQS local quilt shop or fabric store. Or to find a shop, click on their Store Locator.