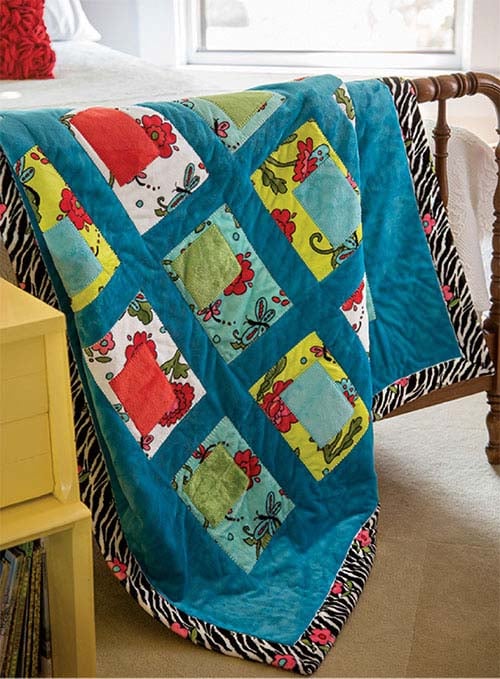 Who likes learning new tips for working with Cuddle™? You can learn great techniques for Cuddle, and at the same time, learn to make this fun Cuddle Wonky Tiles quilt. This easy lap quilt is featured in the Winter 2013 issue of Easy Quilts. Read more about it on the Fons & Porter's blog.
We have everything you need to master this quilt: a video, a digital pattern and a kit. The video, by teacher Jennifer Parks of Holly's Quilt Cabin, and Mary Kate Karr-Petras shows secrets to making this quilt. To watch it on DailyCraftTV, click here. The video is $9.99. After you purchase the video, you will get a a link to download the pattern for free. You can also get the kit at www.shopfonsandporter.com!

This whimsical quilt features Lagoona by Dana Brooks, combined with Cuddle 3 from Kozy Cuddle Solids. The pattern was designed by Christine Stainbrook of Project House 360.
Here is an image of the Easy Quilts Winter 2013 cover: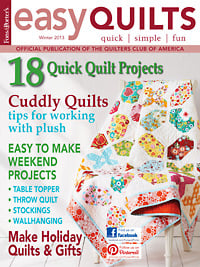 The issue is filled with more Cuddle projects!
Cuddle It's a Hoot Lap Quilt by Jennifer Parks
Cuddle Baby Car Seat Blankie by Liz Porter
Stay tuned for more posts coming featuring these projects. And, sign up to follow our blog by email so you will make sure to see the posts!
Cuddle Hugs,
Ellen