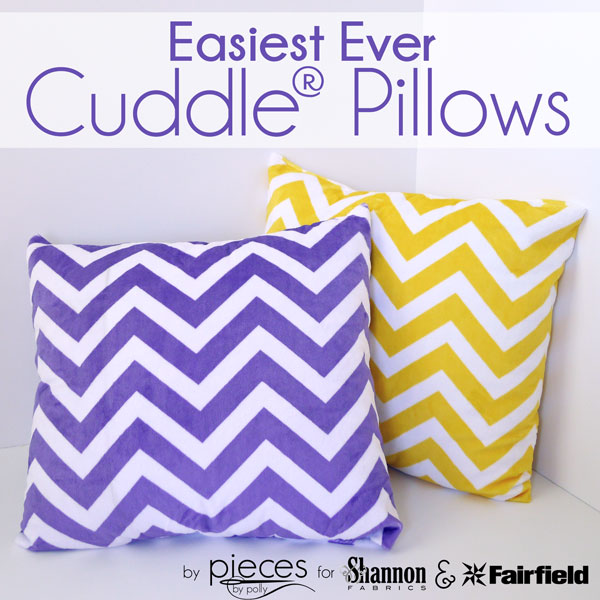 Polly here from Pieces by Polly. There are few things I LOVE more than encouraging kids to enjoy books...and sewing...so when my passions for sewing and encouraging kids to read combine, it's the perfect project for me. I've done lots of reading pillow/cushion projects over the years, but this one is a favorite. Shannon Fabrics generously donated Cuddle® fabric and Fairfield World donated the pillows and foam recently, so I could make this amazing reading corner for one of the new teachers at my kids' elementary school.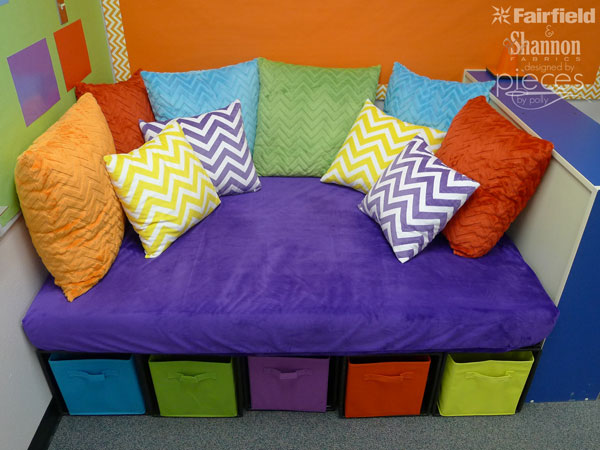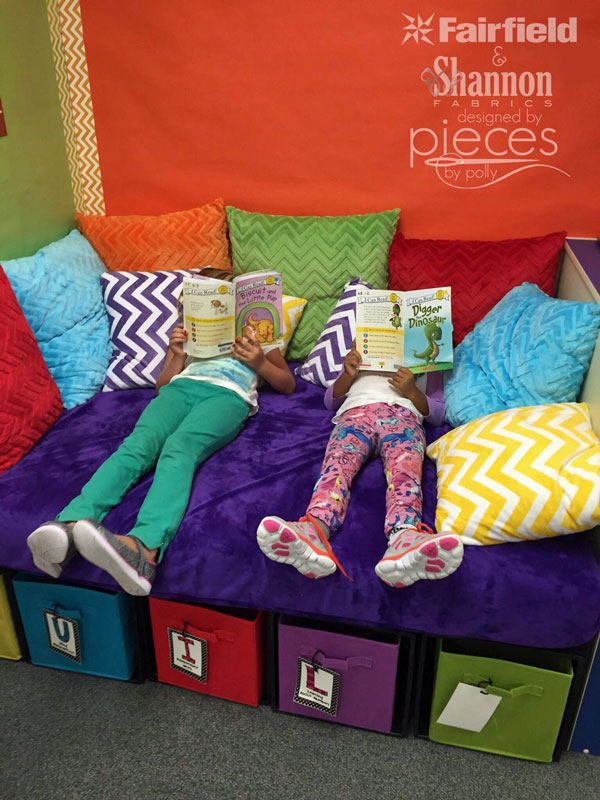 We wanted to get the project finished in time for the first day of school, so I tried a few tricks to help the sewing go quickly, and the Easiest Ever Cuddle® Pillow was born.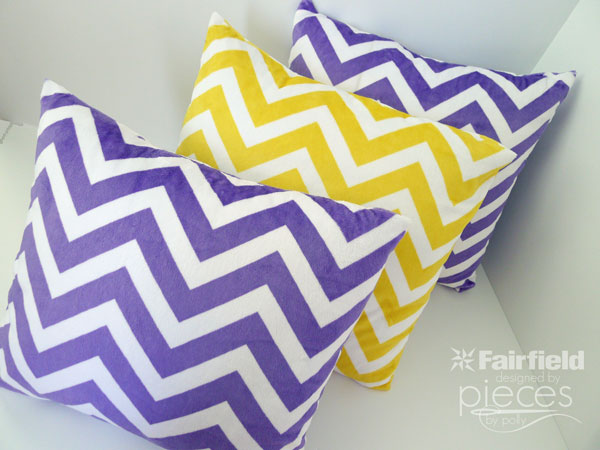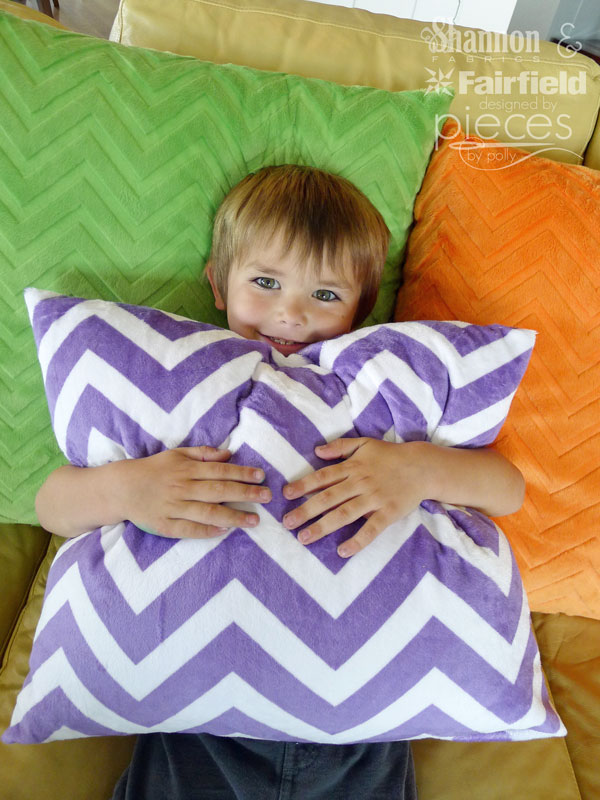 It's perfectly suited to Shannon Fabrics Chevron Cuddle® Prints because in the size we chose, the diagonal lines of the chevron print line up on the back.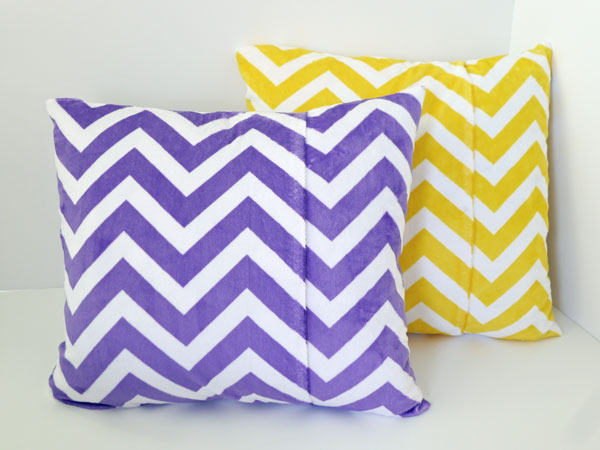 And Chevron Cuddle® comes in just about every color you could want.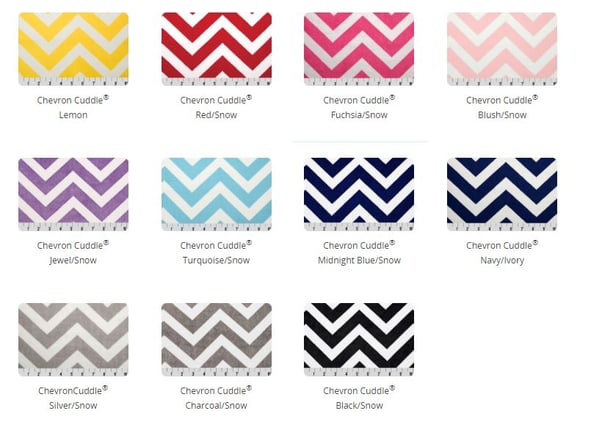 These pillows work well by themselves......or as accents for a grouping with Embossed Chevron Cuddle®, which also comes in lots of color options.
Here's what you'll need to make your own:
Time: About 15 Minutes
Materials:
Before you start, you may want to read this handy tip sheet on sewing with Cuddle, Cuddle 101.
Instructions:
One of the things that makes these pillows so easy, is that we're going to take advantage of the selvage edge of the Cuddle to avoid having to hem. Chevron Cuddle® comes with two selvage edges...one side where the print goes all the way to the edge, and one side with white on the edge. We want to be sure we're using the side where the printing goes all the way to the edge. (If you're not familiar with the term selvage edge, it's the finished edges on each side of a piece of fabric that's been cut from the bolt.)
Cut your Chevron Cuddle® so that you have a piece of fabric approximately 19 1/2" x 50". It's okay if the 50" length is a little bigger or smaller, but you'll want to be pretty precise with the 19 1/2 inch length. Lay your Cuddle face up in front of you and fold over the SELVAGE edge about 14". Fold the second side over so that the WHOLE THING is 18 1/2 inches. You can change the size and still have a great pillow, but if you want your chevrons to line up, you MUST have 18 1/2 inches between your two folds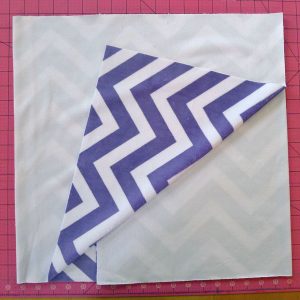 Pin along the top and bottom.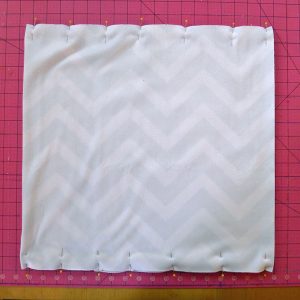 Sew with a 1/2 seam allowance. Clip corners.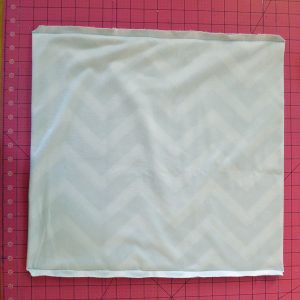 Turn half-way out.
Insert pillow and turn the rest of the way out.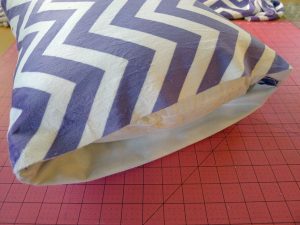 That's it! We don't have to worry about the raw fabric edge inside the pillow because Cuddle® fabrics don't fray.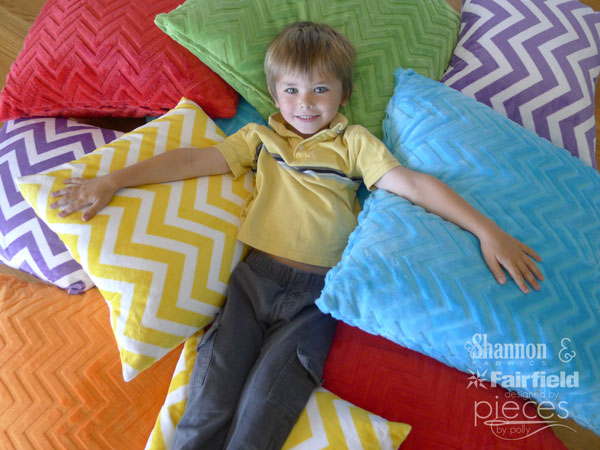 You can find the instructions for the Larger Embossed Chevron Cuddle® Tape-Basted Pillows here on the Fairfield World site.
Directions for the DIY Reading Corner can be found on my Pieces by Polly blog.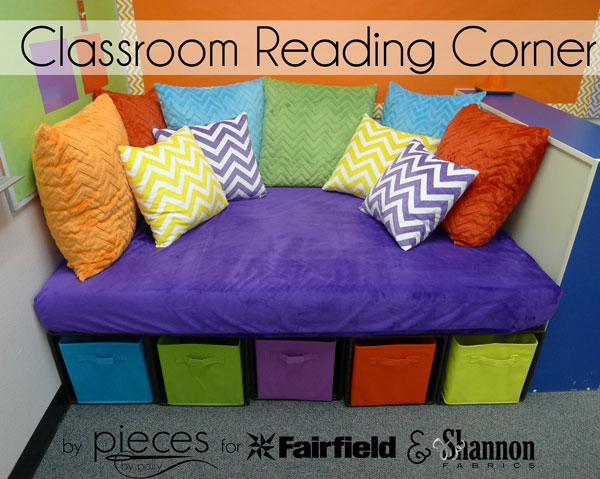 Connect with her on...






PS You can find Shannon Fabrics at many local quilt shops and fabric stores, and online at fabric.com, theminkyboutique.com, and fabricdepot.com. Or, view their Store Locator to find shops near you.
Stay up-to-date on what's happening! Join their mailing list. Subscribe to their blog, Sewciety. Connect with them on social media: Find us on Facebook, Pinterest, Twitter, YouTube, Instagram, Google +, and Flickr