Does your pet like a cozy place to snuggle and nap? We know our pets do! So, we wanted to share this easy project and kit for a Cuddle Cat Mat.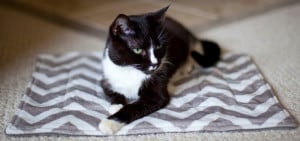 This simple project, by Debra Finan, was featured in the August/ September 2013 issue of Quilt Magazine.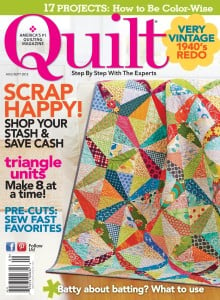 The project has directions to make a medium size 16" x 20" Cuddle Mat. Though the mat was designed especially for a cat, it would also be great for other pets too.
The mat shown here features two coordinating Cuddle fabrics. The top is Chevron - Silver/White from the Chevrons & ZigZags Collection. The bottom is Cuddle Fleece Charcoal from Kozy Cuddle Solids. There is also a thin layer of fusible batting in the center.
You can purchase a kit to make this project from CuddleSoftKits. The kit comes complete with fabric and batting and includes a small how-to project sheet. To purchase your kit, click here. Place your order by October 18 and take 10% off. Use Code #CatMat.
Your favorite pet will love his or her cozy Cuddle mat. Comment below and tell us the name of your favorite pet.
Cuddle Hugs,
Ellen