Hello Sewciety readers. I'm Andie Hanna, designer of the "Fabulous Foxes" fabrics and the following is a little bit about me and the story of how these cute Cuddle® foxes came to be.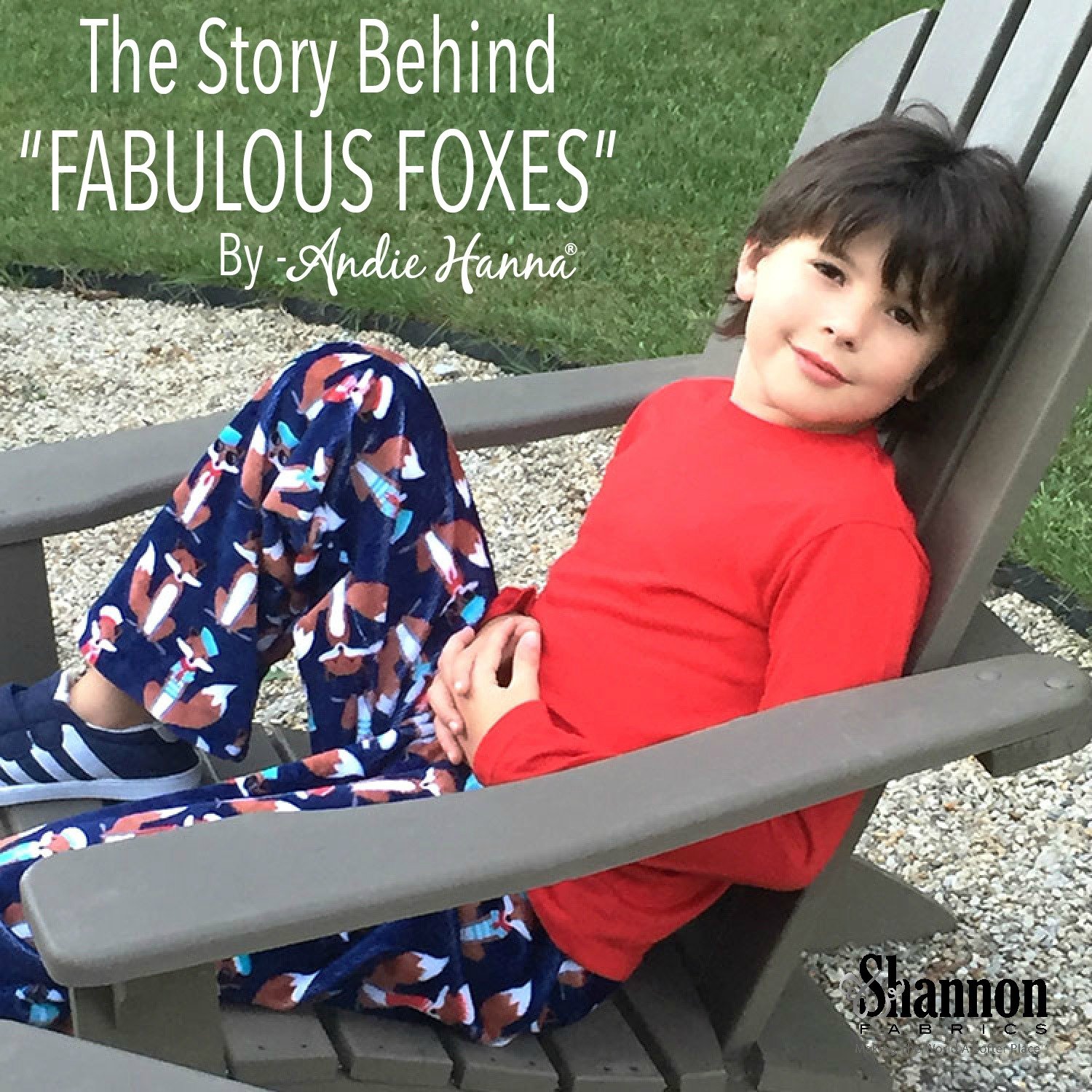 After more than 15 years as a fashion and product designer working for various companies and brands, I made the decision to pursue starting my own business. On my own, I'd be able to be home with my son, Emerson, try for another baby (my husband and I were blessed with a baby girl, Elle almost three years ago) and work from my home office on the projects that I'm most passionate about.
Much of my career was focused on apparel and accessories for women and girls which was fun, but out of necessity due to budget constraints and almost serendipitously during those years, I had to teach myself the art of print and pattern design which I truly enjoy. I started licensing my work to various companies in 2012 and it has been a great deal of fun. Being a seamstress myself, I was thrilled to have my artwork on fabric!
For the most part, the work I do is typically feminine, floral and sweet novelty prints more suited to girls. At least that was the case until just a few years ago and this is where the Fabulous Foxes come in.
My son Emerson (6 at the time) surprised me one day while we were out shopping. He insisted that I purchase a fedora for him and then begged for a neck tie and matching dress shirt. I asked him, 'Who are you and what have you done with my son?' He just grinned and said he really liked the look and would like to wear them for his upcoming school pictures. What child at the age of six plans their outfit for school pictures??? Anyway, as a fashion designer, I very proudly agreed to purchase the fedora, the tie and of course a matching dress shirt and will never forget standing at the register while my son, grinning ear to ear, bounced with excitement about his new outfit. How cool is that? I thought I'd have to drag him kicking and screaming if I ever wanted to buy him a tie, but this was 100% HIS idea and I couldn't be more proud! It was funny on picture day when I got a call from his teacher asking if he really was supposed to wear the fedora! I loved the way the picture turned out and it I think that is truly the inspiration for the collection.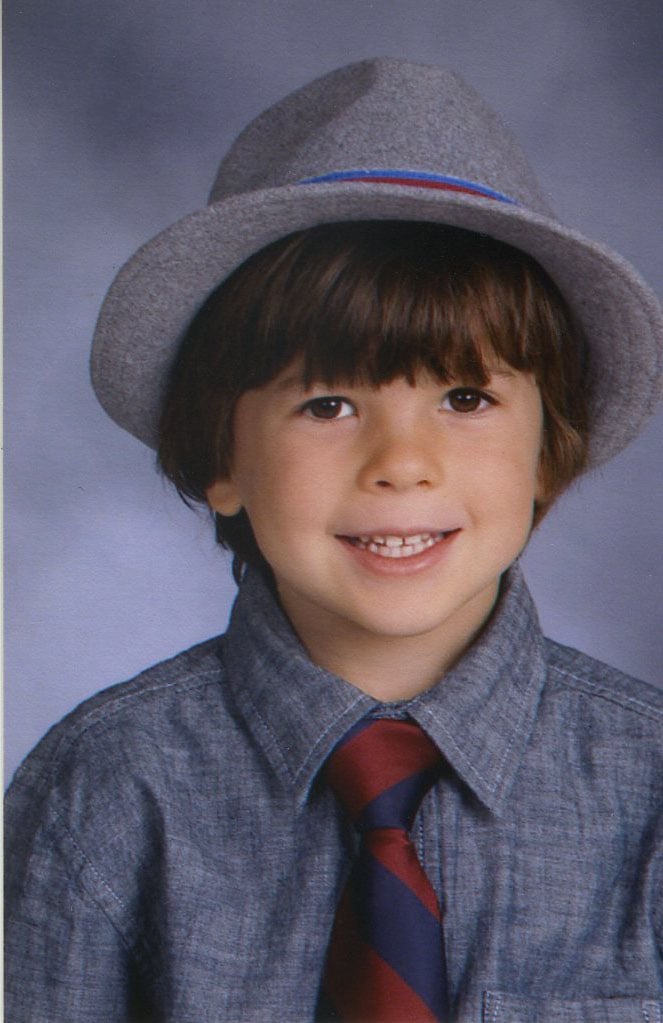 It wasn't long after picture day that I started dreaming up a collection of prints inspired by fedoras, bowties and neckties. I've always loved foxes and thought they would be the PERFECT dapper characters. I added spectacles, mustaches and vests with houndstooth, argyle, herringbone and pinstripes. Before I knew it, the 'Fox and the Houndstooth' collection was born.
The initial collection sold so well, that I decided to create more fun foxes. With nautical prints already trending and my son's LOVE of the beach, I developed the sailor foxes. The dapper and sailor foxes are part of my new 'Fabulous Foxes' collection and I am super EXCITED to see them in Shannon Fabric's Cuddle fabric!!! There's RKC Nifty Fox Cuddle® Steel and RKC Sailor Fox Cuddle® Navy, both licensed Cuddle from the Robert Kaufman Cuddle collection.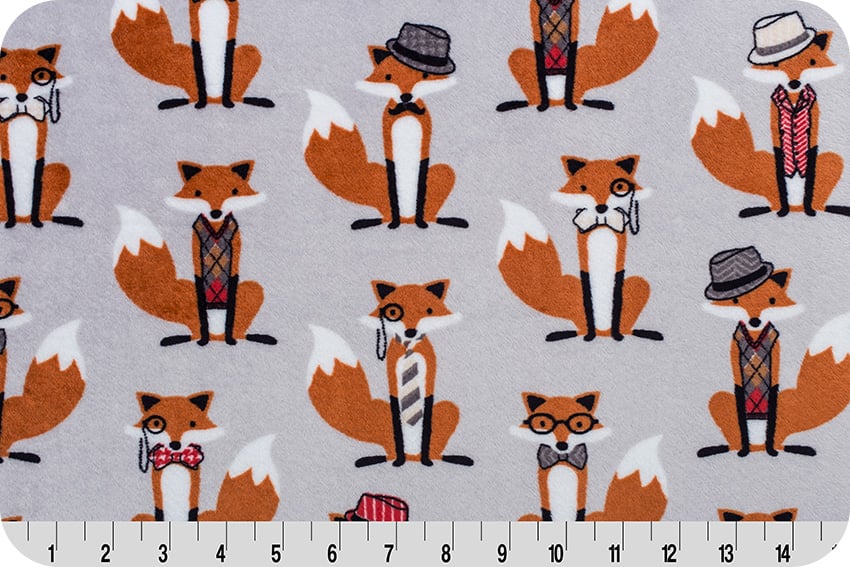 It is SO rewarding as an artist/designer to see your creations on products, especially on fabrics since the creativity just keeps going with all of the amazing and fun things people make with it! When my son saw the new sailor fox Cuddle fabric, he BEGGED me to make him some PJ pants right away. I figured it was the least I could do since he was the inspiration to begin with, so I whipped up a pattern based on one of his current PJ pants:) I did not use a pattern for these PJs - I "rubbed off" a pair of Emerson's PJ pants that fit him. (If you wanted to use a PJ pattern, there are many commercial patterns available and free online tutorials too. ) I think they turned out really cute! He's worn them to bed every night since I made them…might be time for another pair.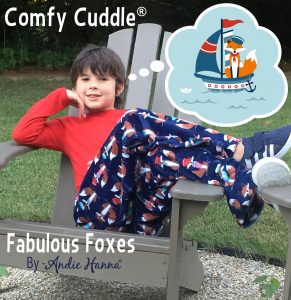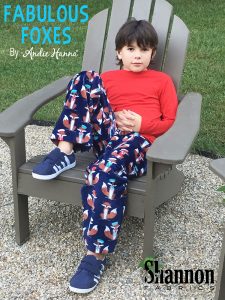 Thanks for spending some time getting to know more about the Fabulous Foxes collection!
You can find Fabulous Foxes in Cuddle® at local quilt shops and fabric stores, and online at fabric.com, theminkyboutique.com, and fabricdepot.com. You can also find more shops using the Shannon Fabrics Store Locator!
If you make anything fun with the "Fabulous Foxes" Cuddle fabrics, please share photos with hashtags: #shannonfabrics & #andiehanna
I would LOVE to see them!
Best,
-Andie