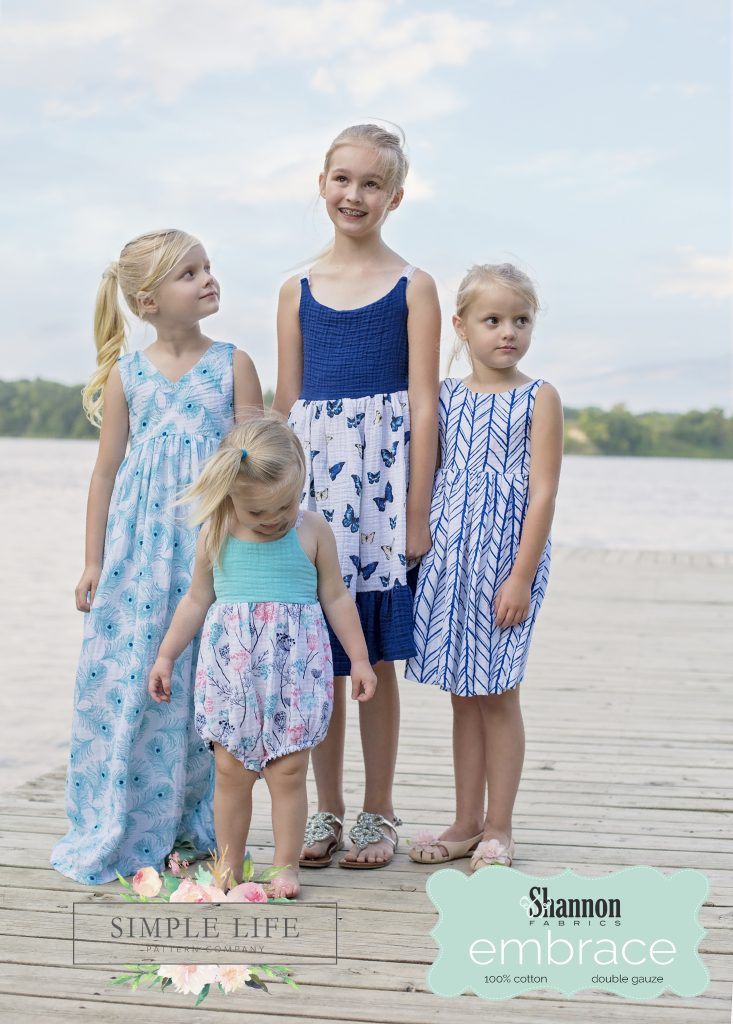 Hello!! I am Katie Skoog, owner of Simple Life Pattern Company and I design girls sewing patterns. I am very excited to be here today, sharing my creations FINALLY. For those of you that sew for your little ones, you usually go towards a knit or quilting woven but I am here to show you how gorgeous Shannon Fabrics Embrace™ double gauze is when used for clothing. One of the funnest parts of designing is sewing samples up in all sorts of different fabrics to achieve different looks.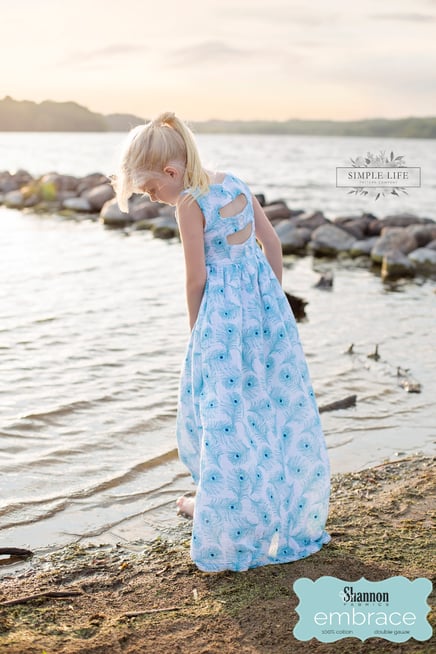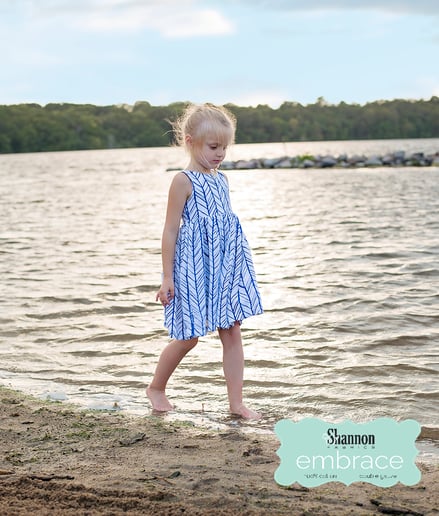 When I was at Quilt Market this past spring, I saw the Shannon Fabrics booth and it had all these amazing double gauze prints hanging up, every time I walked by I would snuggle it. It really is so soft and cuddly. The selection of prints they have in the Embrace collection is amazing too, making it a great choice for any project. I remember one print in particular, the Plumage in teal. These gorgeous feathers are so stunning. When Ellen asked me to pick some fabrics, I new that was at the top of my list. And of course I had to do a maxi dress with the double gauze. It draped and flowed so nicely! I used the "Emma's" maxi dress with the Plumage in teal and I used the "Molly" pattern for the Herringbone in royal. These dresses are perfect play dresses and my girls loved how soft and comfortable they are.
I love so many of the Embrace double gauze prints, it was hard to decide what to use. Some of the prints I used in the dresses include: Les Papillons Embrace® Royal and Queen Anne's Lace Embrace® Coral. I also used a few coordinating Embrace Cotton Solids such Solid Embrace Cobalt and Solid Embrace Aruba.
So, lets get to the sewing with double gauze part. I will share some tips and tricks to make everything sew up like a dream. First, you need to prewash since we are making garments and don't want it to shrink. Next, I found that running my iron over the gauze to flatten it a bit made cutting the bodice pieces easier. I used a quilting weight woven fabric for my lining. The gauze can be a bit sheer so I needed a solid white to go behind it and the woven helps stabilize the bodice.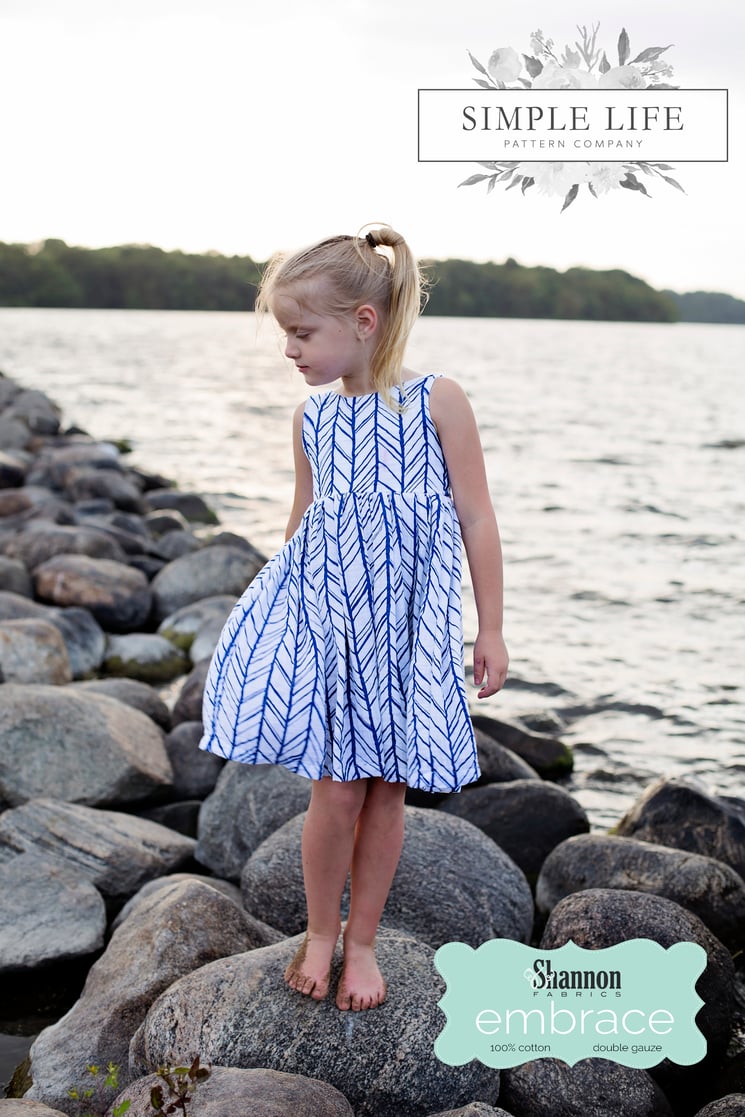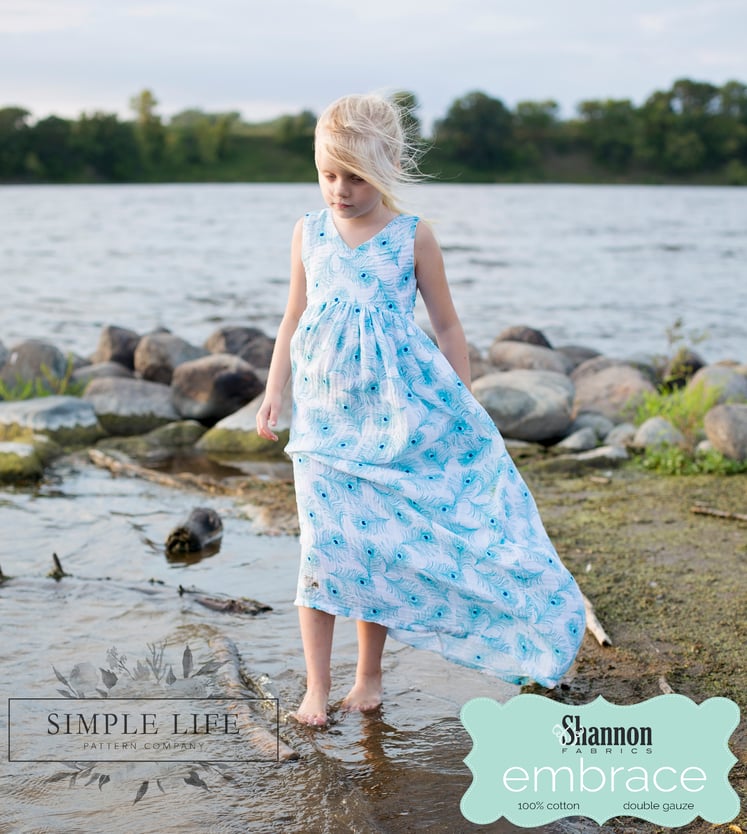 The Embrace gauze really is a fantastic fabric and I can not wait to use it more often. So next time you want to sew up a dress for someone special, grab some double gauze and she will be one happy (and comfy) little girl.
Hop on over to the Simple Life Pattern Company Blog to see Eleri's looks she created (so cute!!) Then come follow us on Instagram @SLPco to see how you can win a bunch of Embrace double gauze. You could win over 6 yards of various Embrace double gauze!!!! Want the latest news on SLPco, pattern releases, sales and all the other good stuff? Like me on Facebook.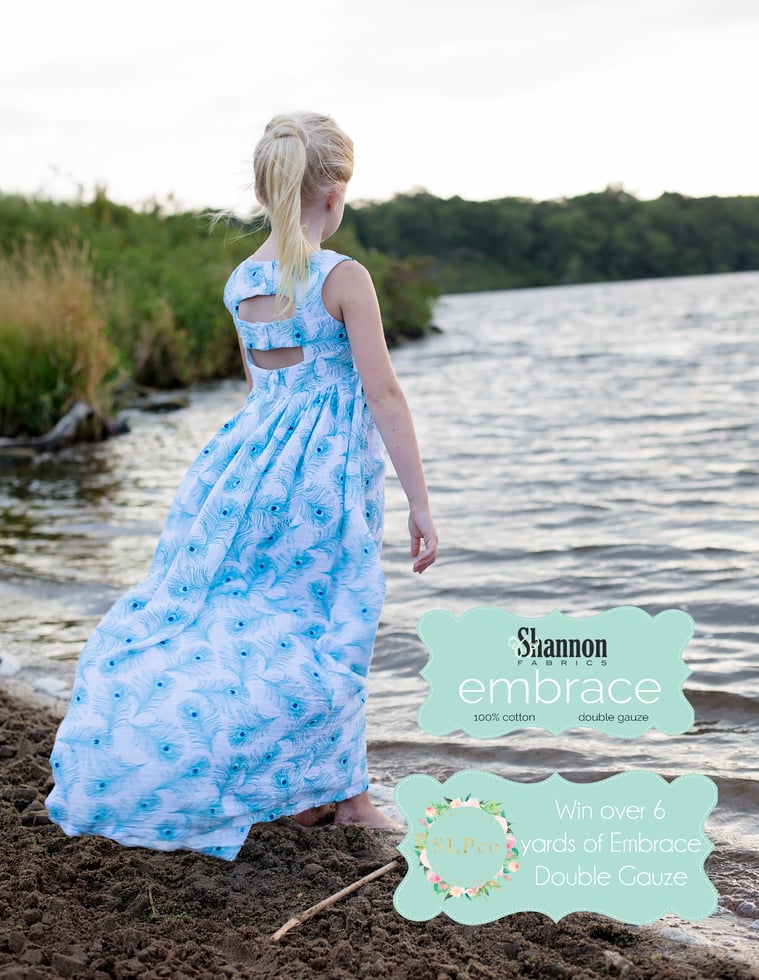 Happy sewing!
Katie Skoog