Hello Everyone! It's Remona from The Stitching Scientist. I am delighted to show you how to create this super soft, Cuddle™ baby blanket for that special little person in your life.
I haven't sewn much with Cuddle™ fabrics since I started my sewing journey. Now that I am getting acquainted with Cuddle fabric, I have to say, I am officially hooked! I can't imagine not having my quilts and blankets made with these soft textured fabrics.
This blanket features the stunning fabrics from Shannon Fabrics Fresh Picked Fabulous 5 Cuddle Kit. The kit includes Crazy for Daisies Cuddle by ADORNit. Whether you are new to sewing or a pro, Cuddle kits are an awesome way to get a pre-selected and pre-cut group of coordinated fabrics, ready for you to assemble into your masterpiece. This kit contains 6 strips of different Cuddle fabrics; 5 for a blanket and one for binding. I ended up not using binding so I used up all of my 6 strips for the blanket. The finished blanket measures 50" x 60" and calls for 2 Cuddle kits with lots of extra fabric, which I plan on using for a few more projects and tutorials!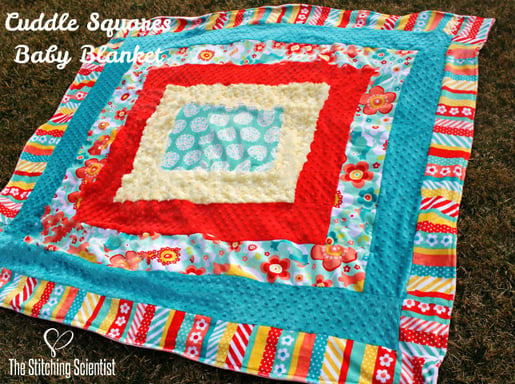 The blanket featured in this tutorial is made up of a group of 6 rectangles, not squares. I just thought the finished product looked more like squares than rectangles, hence the name Cuddle™ Squares. The pattern calls for 5 strips of fabric. If you follow the pattern, you will have one strip left over. You can either use the extra strip for your binding or create an extra layer like I did for mine. If you want yours to be like mine, simply shorten the dimensions of your 5th rectangle and add a smaller one in the center. Either way, it will be gorgeous when completed!
The backing for this blanket uses 1.5 yards of Cuddle Fleece Baby Pink. It is really soft and thick so I didn't find it necessary to add batting to the center of the blanket. I also decided to finish my blanket using a top stitch instead of binding. I think the top stitch really let the designs of the outer Cuddle fabric stand out. I just thought it was too pretty to cover up. If you want yours to have binding, you can use the extra strip included in the Cuddle kit.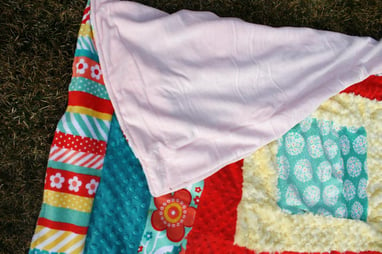 My favorite part of the Fresh Picked Fabulous 5 Cuddle Kit is the blend and variety of the different Cuddle fabrics. Combined, the blanket feels luxuriously soft.
Your Supplies:
2 Fresh Picked Fabulous 5 Cuddle Kits
1.5 yards of Cuddle Fleece Baby Pink
Instructions
You can download the pattern, dimensions and full instructions here CUDDLE SQUARES BABY BLANKET. The pattern calls for 4 layers of 4 rectangles and one separate center rectangle. You can chose to work outwards by sewing the center rectangle first and/or inwards by sewing the outer large rectangle first.
In finishing the blanket, you can use binding, or top stitch as I did mine. Either way, it will look stunning. You can also add batting to the blanket in between the top and the back. I personally think the blanket with the fleece backing is sufficient and doesn't need the batting, but it's a personal preference.
Thank you for visiting us for this tutorial and happy sewing! Stop on over to my blog to see my other tutorials! And, I will be back here soon with more Cuddle tutorials! Please leave a comment and let me know what Cuddle tutorial you would like me do next!