We are back from International Quilt Market in Houston. We had a wonderful time! It's always great to reconnect with everyone, as well as meet new friends too! We had 3 Take & Teach classes, 7 Schoolhouses and ongoing demos in our booth. Whew! We showed our newest release of Embrace double gauze, new colors of Cuddle 3®, new Cloud Spa Cuddle, new Embrace Bamboo, and so much more...Stay tuned for more details... In the meantime, here are a few photos for you to enjoy.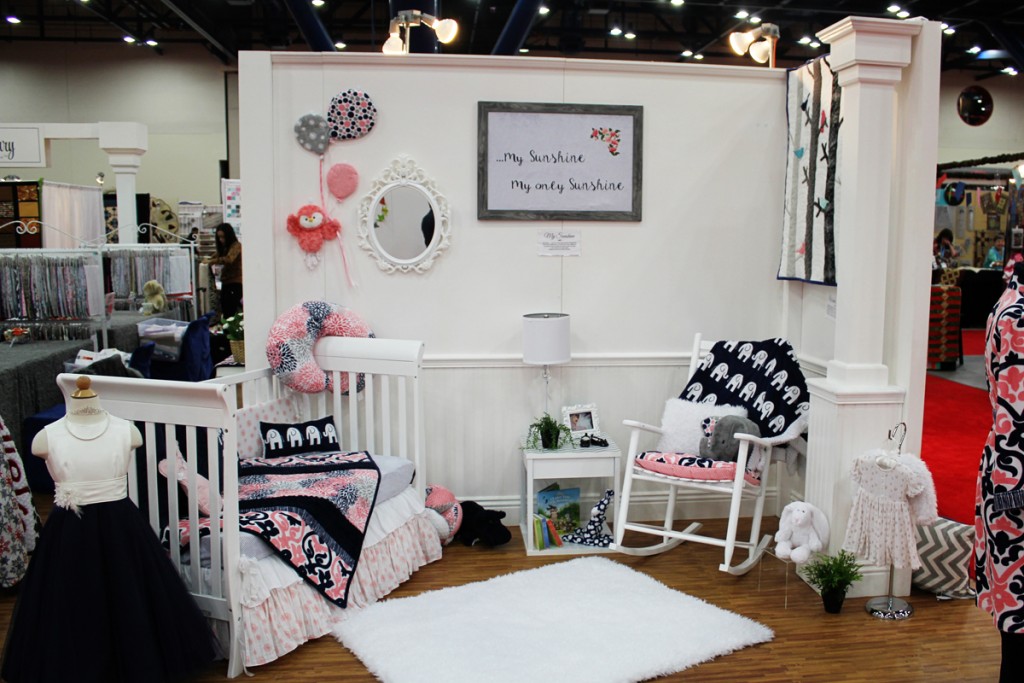 Coral/Navy Nursery
Hippo and Floppy Bunny patterns by Carol's Zoo, Giraffe by Simplicity Patterns; Elephant plush pattern on chair by Gayle Camargo; bird quilt on wall by Nancy Halverson from Table Please Part Two book; fabric collection highlighted: Mockingbird Cuddle Coral/Navy by Premier Prints
...and thanks to Bernina for the demo machine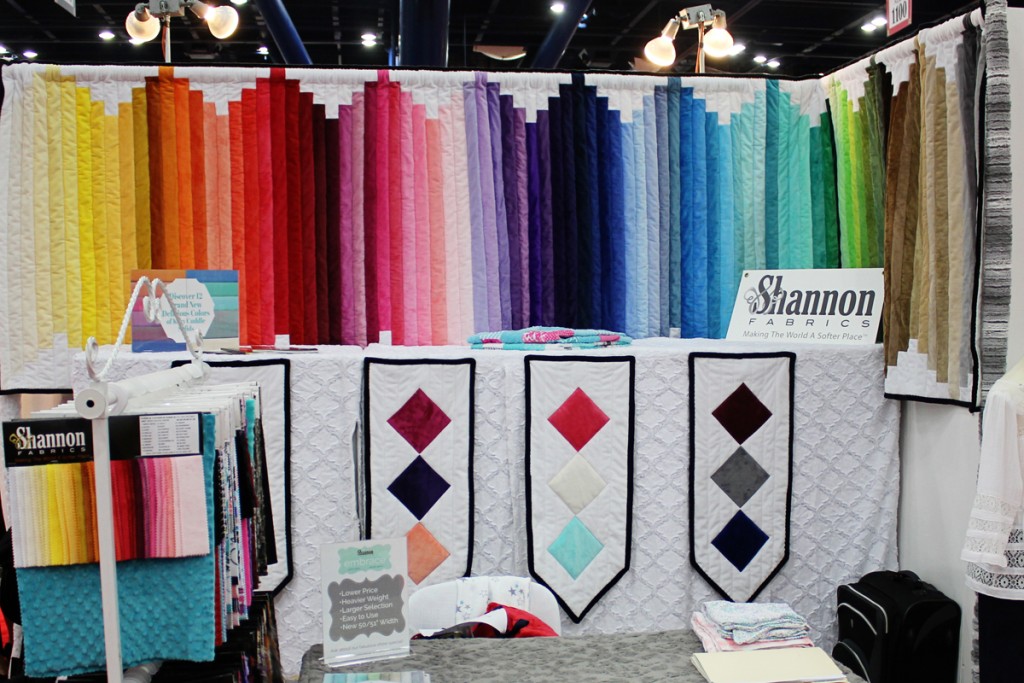 We now have almost 100 colors of Cuddle 3®!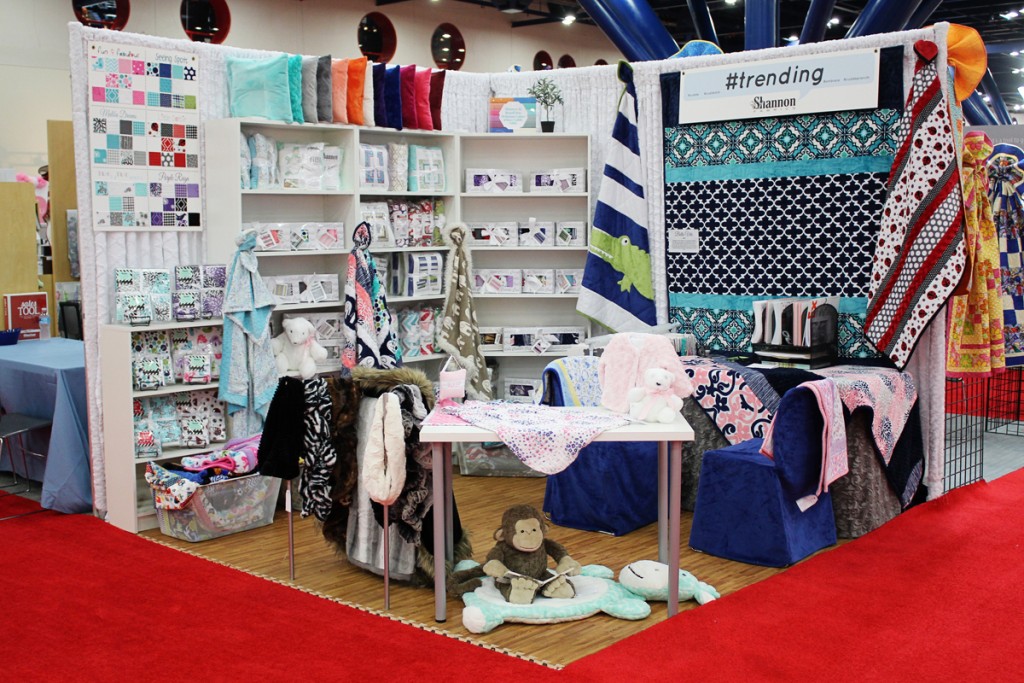 Our #Trending booth with new kits and precuts!
Polar Bear pattern in Faux Fur, pattern by Carol's Zoo; Mitch the Monkey on floor by Funky Friends Factory, enlarged with permission.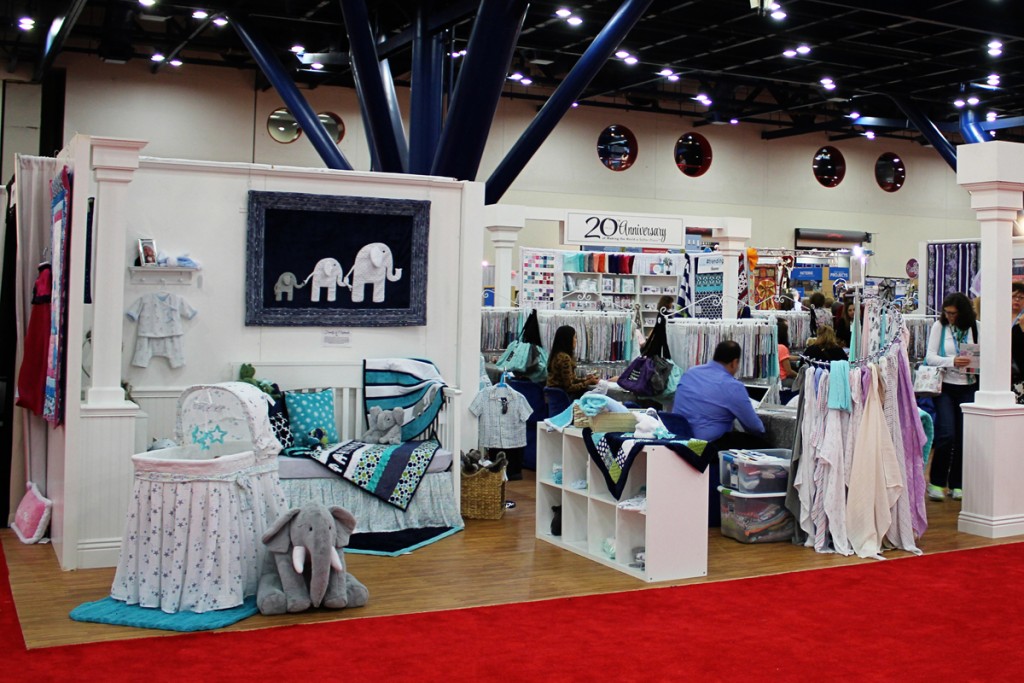 Silver/Aqua/Navy Nursery
left to right: Embrace double gauze bassinet skirt; Mobile in Cuddle and Embrace; designed by Gayle Camargo; Cuddle rug; Elephant pattern by Funky Friends Factory - enlarged with permission
back wall: Floppy Bunny on shelf by Simplicity patterns, Baby layette by Simplicity patterns- Baby layette pattern 1330 Babies' Separates, Booties & Blanket by Simplicity Patterns-- in Cuddle and Embrace double gauze; Elephant pattern by Gayle Camargo in Cuddle with applique
on crib: Embrace and Cuddle; crib skirt in Embrace double gauze; Frog and Elephant stuffed animals done in Cuddle- patterns by Carol's Zoo; pillow forms by Fairfield World; strip quilt in white and aqua with Elephant applique in Cuddle Suede
Some of our new Embrace double gauze- we have 34 new prints and 9 new solids!
And...we also have new Embrace Bamboo- coming soon!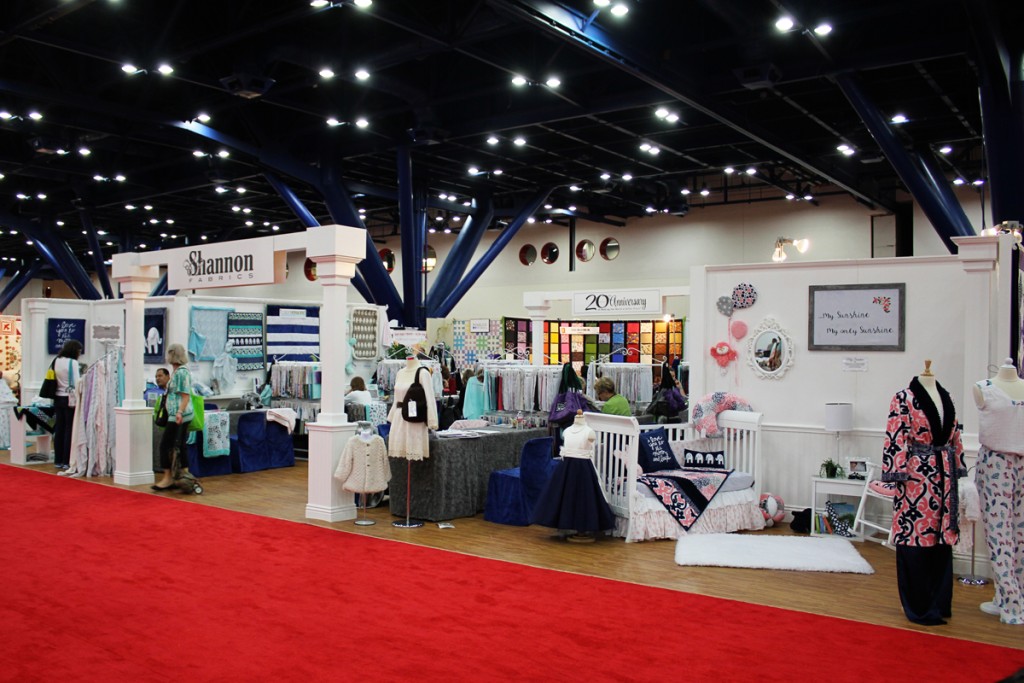 Our Booth #1032
Hope you enjoyed this quick peek. Let us know what you think! W'ell be sharing more soon...
PS You can find Shannon Fabrics at many local quilt shops and fabric stores, and online at fabric.com, theminkyboutique.com, and fabricdepot.com.
You can also use our NEW Store Locator to find shops near you! To use it, click here: Store Locator.
To stay up-to-date on what is happening, Join the Shannon Fabrics mailing list and Subscribe to the Shannon Fabrics blog, My Cuddle Corner. In addition, follow us on social media! Like us on Facebook, follow us on Pinterest, connect with us on Twitter, YouTube, Google +, Instagram, Flickr, and more…