Make this Cuddle™ hearts quilt for Valentine's Day, or for any other occasion...just because...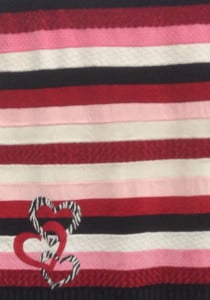 This pretty quilt with appliqued hearts was designed by Pat Wodskow of CuddlesoftKits. You can download the pattern for free from our site!
The quilt features Kozy Cuddle solids in red, black, white and pink. There are also 3 heart applique accents. For two of the hearts, we used Animal Print Cuddle Zebra in black and white; for the third heart, we used Cuddle Dimple™ in red. The finished quilt size is approximately 60" x 72".
This sweet quilt is very easy to make. Just follow our quick Sew and Flip Method. (For batting, we used Warm Bond Batting by The Warm Company. For adhesive spray, we used 505 Spray and Fix by ODIF.)
Download the Free Valentine Hearts quilt pattern here: Valentine Hearts Quilt. Kits for this pattern are available at CuddleSoftKits.
Happy Valentine's Day!
Cuddle Hearts and Hugs,
xoxo Ellen