It's officially fall! And fall means pumpkin time! You can make your own pumpkin display to use this year and next. Pat Wodskow, one of our Cuddle Consultants and owner of CuddleSoftKits.com, made this creative project with Cuddle.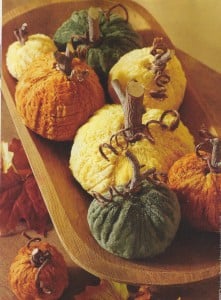 The project and pattern "Posh Pumpkins" appears in the Fall/Winter 2013 issue of Quilts and More magazine. If you don't have the magazine, you can purchase it on the CuddleSoftKits site. It's a great value as it includes so many fun fall patterns.
Posh Pumpkins is also available as a kit from CuddleSoftKits. The kit includes fabric to make all nine pumpkins. You just add batting, vines and stems. Finished sizes (excluding stems) are: Large- 5 x 3", medium- 3 1/2 x 2 1/2", and small- 2 1/2 x 1 3/4". The pumpkins are made using Kozy Cuddle solids in a rich variety of Ribbon Cuddle and Cuddle Dimple. To order your kit, click here: Posh Pumpkins Kit. You can even get 10% off the kit if you order by October 4. Use code #PoshKit.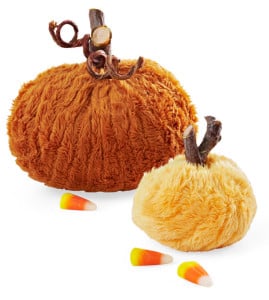 Cuddle is a knit fabric so it can stretch. These are a few tips from Pat on working with Cuddle:
A size 90 stretch needle works best.
A walking foot really helps.
Use lots of pins and sew slowly.
Use a longer stitch length.
Adjust the pressure of your presser foot so it isn't too tight.
Here is the project featured on the cover of the Fall/Winter 2013 issue of Quilts and More magazine: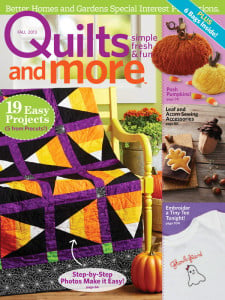 All images used with permission from Quilts and More® magazine. ©2013 Meredith Corporation. All rights reserved.
Make some posh pumpkins and enjoy the display year after year. And be sure to follow our blog by email to keep up with the latest posts. Click here: Follow blog by email.
Happy Fall!
Cuddle Hugs,
Ellen