Hello everyone ~ My name is Jackie Hillman and I am a Brand Ambassador for Shannon Fabrics. I LOVE to sew! It's my Zen place! I learned when I was very very young on my Grandma's old Singer Treadle machine. Every weekend I used to sew up and down all the material in her "rag bag". (That pretty much gives away my age too!!!) Anyway, here we go...........
The Embroidery Club that I belong to recently hosted a Trunk Show of the fabulous Anita Goodesign Embroidery Collection. Well I have been doing machine embroidery for about 30 years and thought I had seen most of what was on the market. Silly old ME! I have to honestly say these designs take it up more than a few notches from what I had used before. We had actual embroidered samples at Club, made by the shop owners to hold, inspect, and "WOW" over...and so much more.

I'm going to touch on these projects:
Dolls, 1, 2, 3 from the All Access Club
Butterflies Special Edition Collection
Nursery Rhymes designs, A, B, C's
Applique on Cuddle®
This Circle Town Centerpiece had been personalized to include the recipients' names, wedding date, and other important little memories they had around their town. Perfect gift for an older couple that had each been married before and had all the "typical wedding gifts"!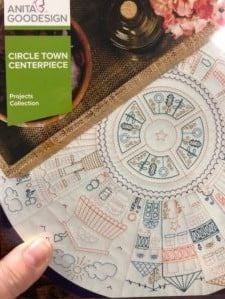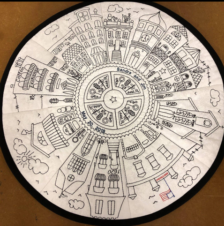 The most special one I saw was a doll that had been made from the Dolls, 1, 2, 3 from the All Access Club . A friend of the woman who sewed this was adopting a little girl and asked to have a skirt sewed for her. Well she got the skirt for her new daughter, but also a MATCHING skirt and little doll from the collection. The BEST part? The little girl being adopted was coming from China! She LOVED it!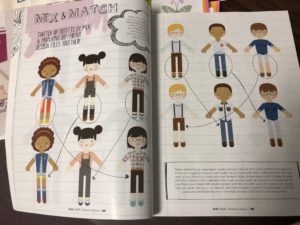 The Anita Goodesign little house is called Princess Dream House from Anita's Playhouse, and it was made in quilting cottons. And of course, this darling little house is also one of the Collections.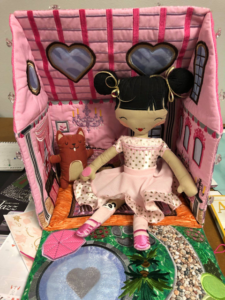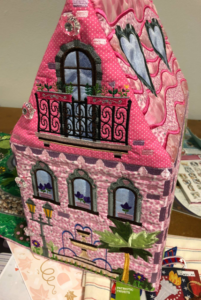 As a Brand Ambassador, we were given the opportunity to try out some of the Anita Goodesign embroidery collections on the Shannon Fabrics Embrace® double gauze and the Cuddle® 3 (like a minky, but ooohhh, so much more!) We were graciously given 4 Anita Goodesign embroidery files, including the Special Butterflies Collection.
Now I immediately jumped onto the Butterflies, not because I love butterflies so much, because let's face it, they're still bugs, but I truly appreciate and admire all of nature's artistry, and the colors and designs nature has bestowed on these little creatures.
So first I tried it on some Embrace® double gauze. Embrace® double gauze is so cool because it's two fine layers of gauze put together at the factory by tacking together the four corners of a one inch square; so if you want to cut something a certain number of inches, all you need to do is count that many squares and cut along that line. Easy Peasy. Well let's back up just a tick and talk about cutting. I have had a favorite Gingher sewing scissors that I treasure mostly because my daughter bought them for me one year at Christmas while she was in college, and could ill-afford to spend that much on a scissors. So basically it was more of an emotional attachment to these scissors than a practical one. I tried a new scissors with this project that I had never used before. They are called Famore Pro Cut 8" Fabric Shear Comfort Handle. Well to say these scissors cut like a dream is an immense understatement. They are now my new best friend!
I first hooped my Embrace® double gauze (I used solid Black) along with a sheet of Sulky Tear-Easy Stabilizer.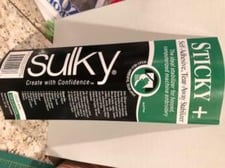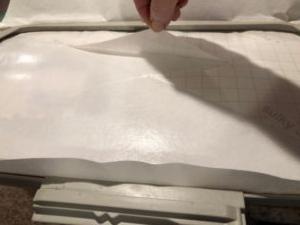 I slid an extra sheet under the hoop, but I probably didn't need to. I then threaded my machine with Floriani Spring/Summer embroidery thread in each color as required by the design.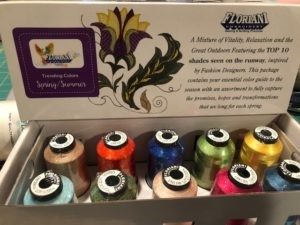 These designs turned out so pretty. I made a little jacket with the butterflies going along the top of each arm. Each butterfly was different and I was quite pleased with the end result. So after doing this, I moved onto playing with my super luxurious Cuddle® fabric. As I felt I was upping my game by using the Cuddle®, I also stepped up the embroidery pattern as well...... I bought a new Anita Goodesign pattern that uses Mylar under the design – Springtime Sparkle.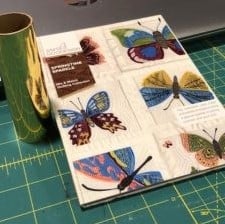 To accomplish this, I first hooped some Sulky Sticky + Embroidery Stabilizer. If you've never tried this, it's really nice to work with. You hoop the stabilizer, then lightly score the surface with something sharp. I usually just make a big "X." Then you start at the center of the X and simply peel back the topping of the stabilizer, exposing the sticky surface.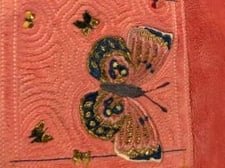 Then I added my Cuddle® on top of the Sulky Sticky + Embroidery Stabilizer. No need to pin! It stays...it really does! Then I added a layer of Floriani Water Soluble Topping on top of the Cuddle® fabric. (I used solid Cuddle® 3 Coral). I placed a few pieces of Scotch™ transparent tape along the edges just to ensure the water soluble topping didn't slip. Using this topping over the fabric allows the embroidery to stand out and not get buried in the plushness of the fabric.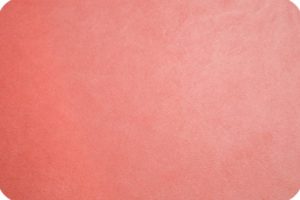 Then I placed a piece of Mylar down op the embroidery area. Again, my trusty transparent tape worked its magic on the edges.
This turned out so awesome. I know the pictures could never do it justice. The fact that it was embroidered on the luscious Cuddle® only enhanced the beauty of the design.
Next, I wanted to try embroidering on the Shannon Fabrics Terry Cloth 16 ounce. I followed the same steps as above until the addition of the Mylar. Instead of Butterflies this time, I accessed the Nursery Rhymes designs and chose the A, B, C's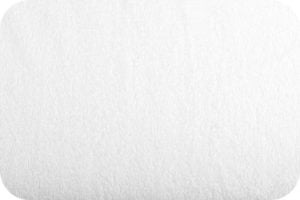 I used the Floriani thread once again, as their colors are so vivid, and embroidered these onto the 16 ounce Terry Cloth Snow White. This will look darling used in a burp cloth!
I had one more thing on my "To Do" List, and that was to applique Cuddle® Fabric. To accomplish this I used a Shannon Fabrics Cuddle® Quilt Kit named "Lullaby Cuddle® Kit Be Brave." There were a couple options in assembling, but I chose to add the applique option. I utilized the 505 Spray and Fix Temporary Fabric Adhesive from ODIF USA when I set my applique onto my Cuddle® and then simply sewed a blanket stitch around the edge. The outcome was cute as a bug's ear, as you can see from the pictures below: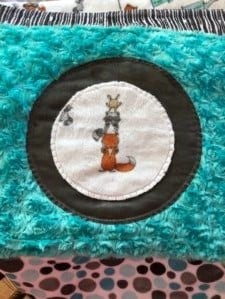 I hope this post gave you some inspiration to try something new and that you enjoy your finished products as much as I do mine.
You can find Shannon Fabrics at fine quilt and sewing stores nationwide and you can also check out their Store Locator. Their Brand Ambassadors are also available to retailers for educational events and shows. You can view the events page here.
Stay in the loop with all things Shannon Fabrics- follow them on Facebook, Instagram and Pinterest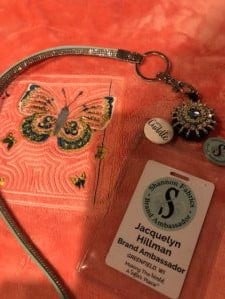 Enjoy and stay inspired!
Jackie Hillman
Shannon Fabrics Brand Ambassador