Hi! My name is Angela Walters and I am so excited to be guest blogging here at Shannon fabrics. Before I jump into the blog post, I would love to tell you a little more about myself. I am an author, blogger and speaker, but first and foremost, I am a machine quilter. I have been machine quilting for 10 years and I think that it's the funnest part!
Since I quilt for customers, I have machine quilted all kinds of fabric, from voile to linen. But recently, I have had the chance to quilt the cutest quilt for a friend made from Cuddle fabric. She chose this Cuddle Quarter kit in Kozy Bright so that she could make this quilt for her son....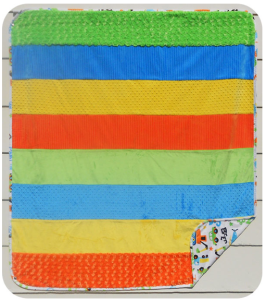 Isn't that the cutest thing ever?? Although she could have made a blanket, I felt that (as her friend) I had to quilt it for her! While it's not necessary to quilt Cuddle fabric, I just love the look quilting adds to the quilt. Not only does it hold the layers together (which is beneficial for larger quilts) it adds a beautiful texture to the quilt.
But what if you aren't sure how to go about quilting your Cuddle quilt?? If that's the case, I would love to share some tips for quilting Cuddle fabric. I am hoping by the end of this post, you will be ready to machine quilt your own Cuddle quilt!!
Loading the quilt:
If you are quilting with a longarm quilting machine, like me, the most important thing is loading it correctly. This is especially the case if you are using Cuddle for the quilt backing as well. Since it's stretchier than cotton fabric, pulling the back too tight can lead to problems. To keep the quilt in great shape, when I am pinning Cuddle to my longarm, I always make sure that the selvages run perpendicular to the leaders. Doing this helps keep me from stretching the back too taut.
Batting or Not?
One question that I get asked a lot is whether I use batting in my Cuddle quilts or not. Personally, I like to use batting, especially for bigger quilts. I like how the batting adds a little structure to the quilt and it definitely adds more weight to the quilt.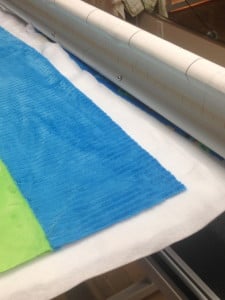 If you are quilting a smaller quilt, or don't want the extra weight that batting can add, feel free to leave it out. Cuddle fabric is thick and stable enough that it can be quilted without batting. All in all, it's a personal preference.
Ready, Set, Quilt!
Once you have the quilt loaded, you are ready for the fun part! The best part about quilting Cuddle quilts is that you don't need to use a different needle or thread. I just stick with the same supplies that I always use. But when it comes to the actual quilting designs, I do have a few opinions on that!
For the best results, I would recommend using larger, less dense designs. Not only will this help keep your Cuddle super soft, it also helps prevent those frustrating tucks in the top of your quilt.
Some of my favorite machine quilting designs to use include swirls and meanders.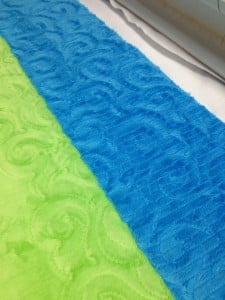 But I do have to warn you that quilting Cuddle fabric can be very distracting. It's hard to focus on the quilting when all I want to do is run my hands over the quilt.....it feels so soft!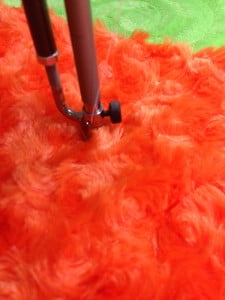 The same goes for the backing......it's so hard to keep my hands off!
Whether you prefer machine quilting your Cuddle quilts or leaving them unquilted, the result is the same, a super soft quilt! Are you interested in winning your very own Cuddle Quarter Kit? Head on over to my blog, Quilting Is My Therapy, for more pictures of my Cuddle quilt as well as an opportunity to win your own Cuddle fabric.
In the meantime, Happy Quilting!!