Hello, My name is Heidi Emmett and I am an "Art to Wear" sewing pattern designer. I was recently given the opportunity to work with some beautiful Embrace® Double Gauze from Shannon Fabrics. The version of my Whisper Blouse, below, features 10 different double gauze pieces from a full range of solids and prints in their Embrace® collection. I will list all the gauze prints used, at the end of this post.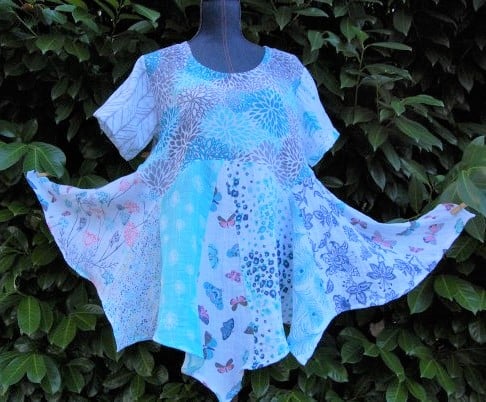 I have never sewn on Double Gauze, so I wasn't sure what to expect.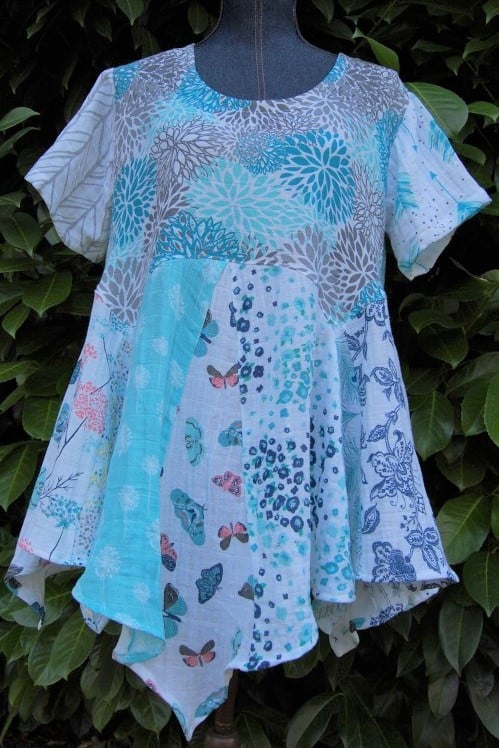 It was like sewing through "butter." Ha ha. Double gauze is a loosely woven cotton, two layers of it put together by a secret machining technique. And the result is one piece, light as a feather and whisper soft.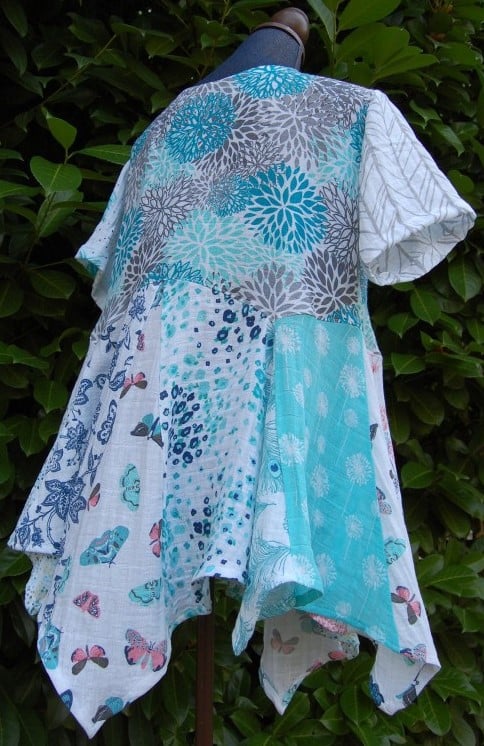 Below are the front and back covers of my Whisper Blouse pattern.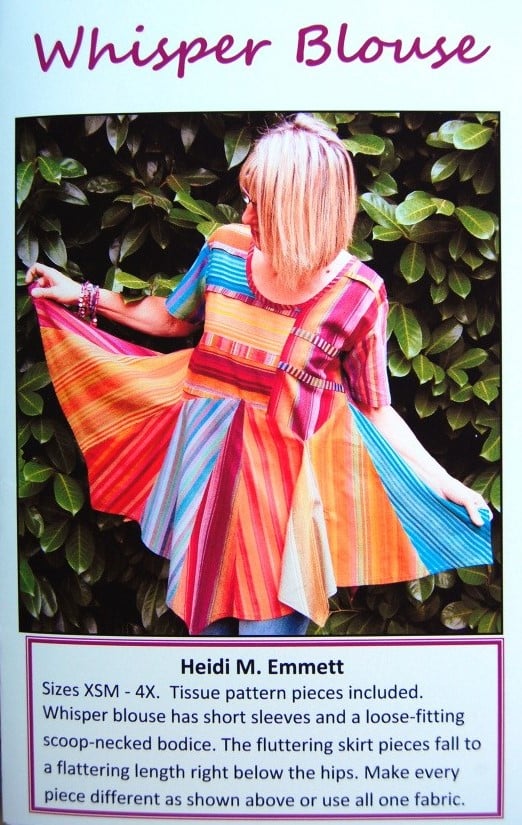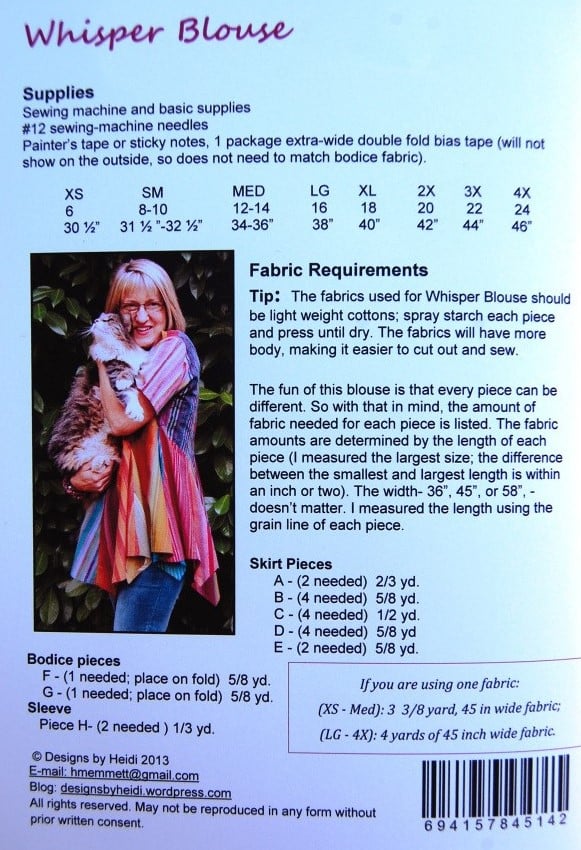 Ten different pieces, where do I place them? I literally lay out the pieces in a "quasai" Whisper Blouse look and audition the pieces for each spot. I'm showing this layout as it was the first one I tried, but clearly not the last. When in doubt, pick your favorite fabric for the bodice and then work out from there. Always take a picture of your work. It helps you visualize the finished blouse.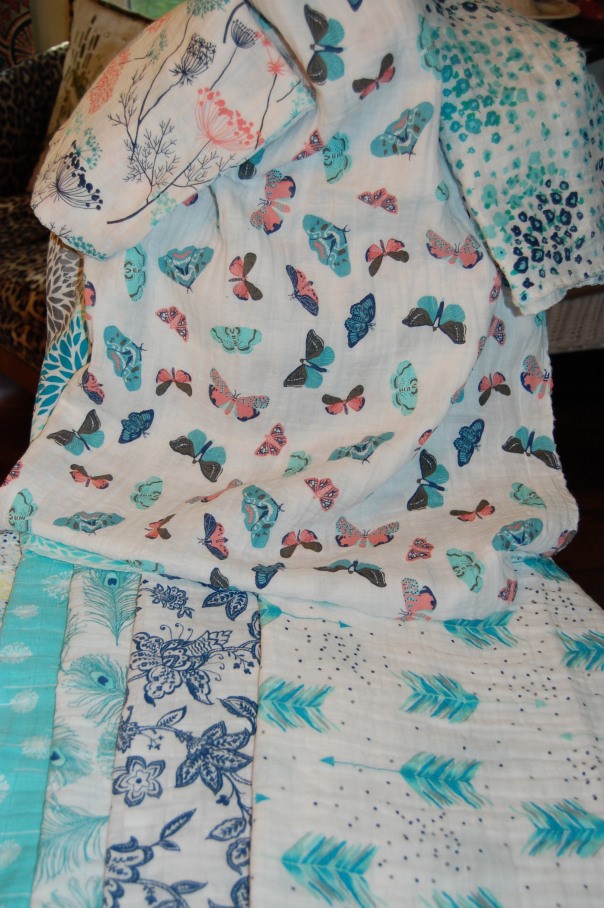 I wanted you to see the skirt pieces put together. It looks quite random, but there is a method. I chose the Mariposa Multi (butterflies) from the Embrace® Prints for the center panels and side panels. Pretend this is a clock face. 6 o'clock is the center front. 9 o'clock and 3 o'clock are the side panels. You will never see the whole skirt at once so placement isn't that crucial as you can see.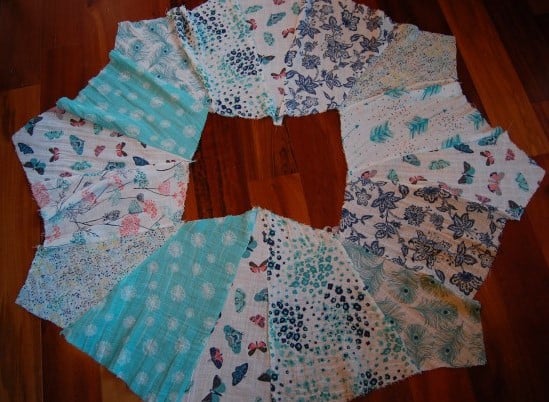 The picture below shows the inside neck edge. I am using a double folded bias tape to finish the neck edge. The super tightly woven bias tape is a perfect stabilizer for the loosely woven gauze. It makes for a beautifully flat neck edge. I give clear instructions in pattern on how to apply the bias tape.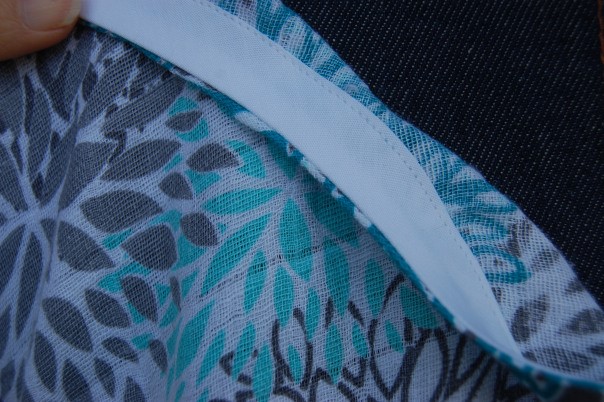 Below is a bottle of your new best friend, Terial Magic. Terial Magic is a unique liqud fabric stablilizer. Go to their website, TerialArts.com, to see all the uses it has. I spot spray it in regards to sewing. Works best on 100% cotton, which double gauze is. Lay a piece of muslin on your ironing board. Spray Terial Magic where you need stabilization of the fabric (hem of the skirt pieces in this picture). Iron it dry with a dry iron set on cotton. When it's dry it will feel like a piece of paper. Press up the hems and stitch in place. You can easily remove the stiffness by getting the stiff area wet, to rinse out the Terial Magic and squeeze out the excess and iron dry.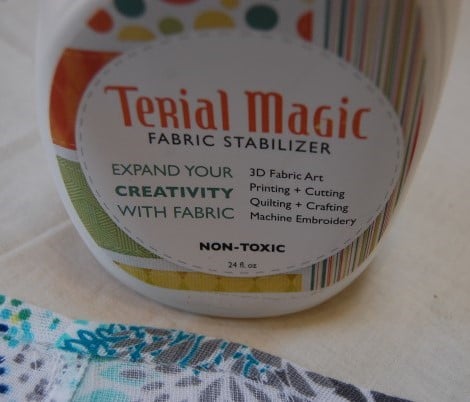 I can't wait to wear my new Whisper Blouse!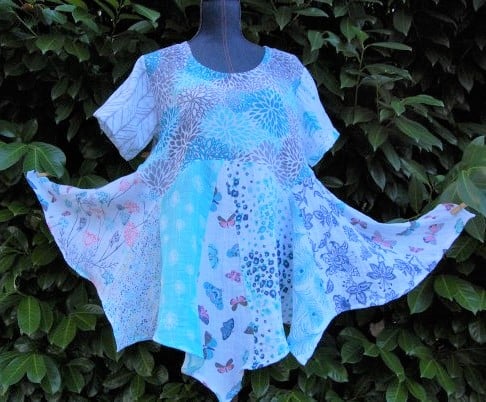 Twirling is a must with Shannon Fabrics Embrace®Double Gauze. I truly enjoyed working with this fabric so much that I have almost finished two more projects and am ready to cut out a third. I will bring those to you in a future post.
Here are the pieces I used from the Embrace® Double Gauze Cotton Prints collection: Queen Anne's Lace-Coral, Mariposa- Multi, Premier Garden Toile-Colbalt, Floral Fields-Teal, Premier Dandelion-Aruba, Plumage-Teal, Premier Blooms-Aruba, Herringbone-Steel, Fun Dot-Malibu, Aim High-Teal.
Thanks for stopping by. Please visit my personal blog: Designsbyheidi.wordpress.com for more creative sewing ideas.
And click on these links for Craftsy or Etsy to see my collection of "Art to Wear" sewing pattern.
Hugs, Heidi