by Michelle Hall
Does Halloween raise your spirits in the craft room? For some people, Halloween is a season that lasts throughout the year. For others, the tendency is last minute planning. No matter what the case, there is no doubt that the season is quickly approaching. Time to start thinking about pulling out the pumpkins, locating or creating spooky décor, finding the perfect costume, and stitching up some lasting memories.
Cuddle® minky is the perfect fabric to help get the creative juices flowing. The new Halloween prints, for example, are perfect for whipping up some quick Trick-or-Treat Gift Bags. Try using Luxe®, Faux Fur, and Silky Satin to cozy up those Halloween costumes, pumpkins, throws, pillows, and so much more.
Treat-or-Treat Cuddle® Sacks & Bags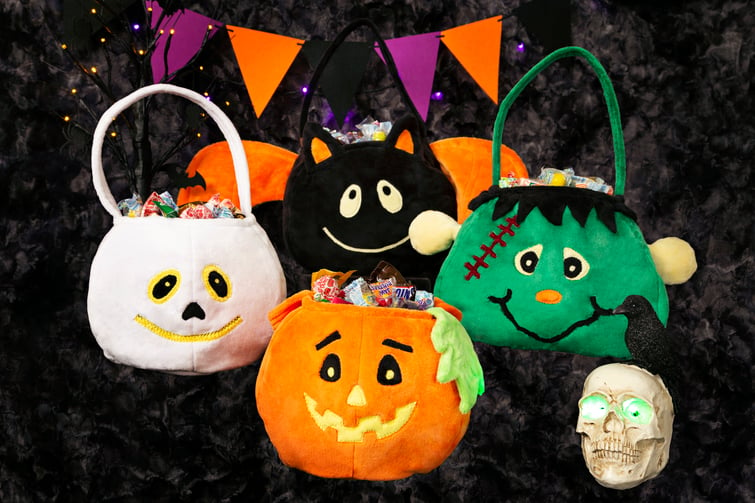 Kids love hunting for a haul of Halloween treats. It is often hard to find sturdy bags that are just the right size. Here are some cute Trick-Or-Treating bag options featuring Cuddle® that are perfect for collecting candy:
Pumpkin, Bat, Frankie and Ghost Halloween Baskets Made with Cuddle®
These baskets are the quintessential Halloween Trick-Or-Treat bag that comes to mind when you think of kids, dressed up in their costumes and excited to be out frolicking on Halloween night. For that traditional All Hallow's Eve look and feel, these baskets are the cutest! All 4 baskets feature different colors of Cuddle® 3.
Pumpkin Halloween Basket:

C390 Black, C3 Orange, C3 Yellow, C390 Dark Lime

Bat Halloween Basket:

C390 Black, C3 Orange, C3 Yellow

Frankie Halloween Basket:

C390 Kelly Green, C390 Black, C3 Orange, C390 Eggplant, C3 Yellow

Ghost Halloween Basket:

C390 White, C390 Black, C3 Yellow
*These adorable Halloween basket patterns were made by Sew Chroma Daily. While they are not currently live for purchase on the site, those interested in the patterns can send an inquiry here: https://sewchroma.com/contact and they will provide you more information on them.
Alternative Halloween Trick-or-Treating Bags and Sacks
Opt for some less traditional patterns that keep capacity, convenience and versatility at the forefront. These patterns were not necessarily created with Halloween in mind, but they make for some great alternatives to the usual Trick-or-Treat bag designs.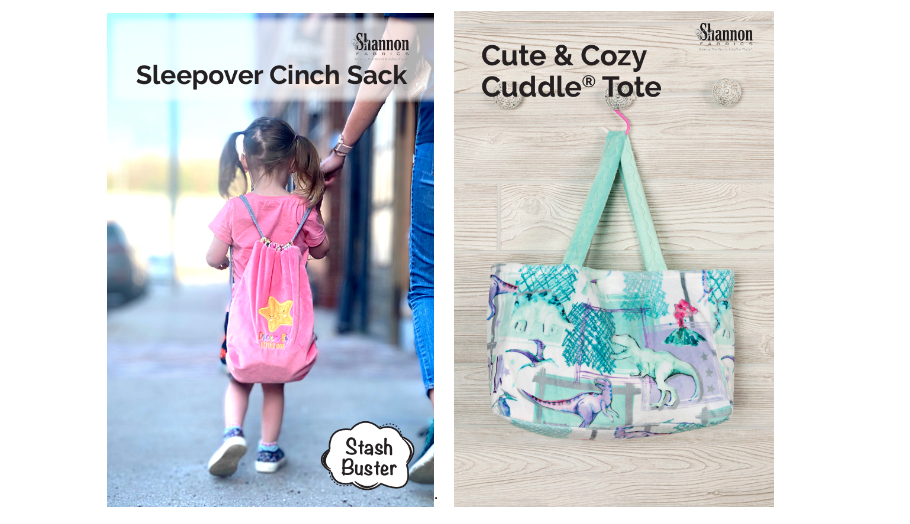 The Sleepover Cinch Sack
The Sleepover Cinch Sack is the perfect size for carrying all the sweet treats at 12" x 15". The features to love are versatility and the way the bag closes. It can go from Trick-or-Treating to the sleepover at grandma's house after the long stroll collecting treats. As the name mentions, the handles cinch or close tightly keeping contents from falling out. In addition to the tight closure, the bag quickly converts to a backpack. So, when the little one is getting tired, they can still carry their haul of goodies. The versatility and the way the bag closes make this project a win-win for the parent and the little one.
Don't forget that the adults also need a little storage space while walking around the neighborhoods! The Cuddle® Flag Tote and the Cute & Cozy Cuddle® Tote are the perfect size for taking snacks, flashlights, bug spray, drinks, etc. along for the stroll.
All of the projects mentioned would look amazing out of the new Halloween Digital Cuddle® and recommended coordinates.
Halloween Cuddle® Costumes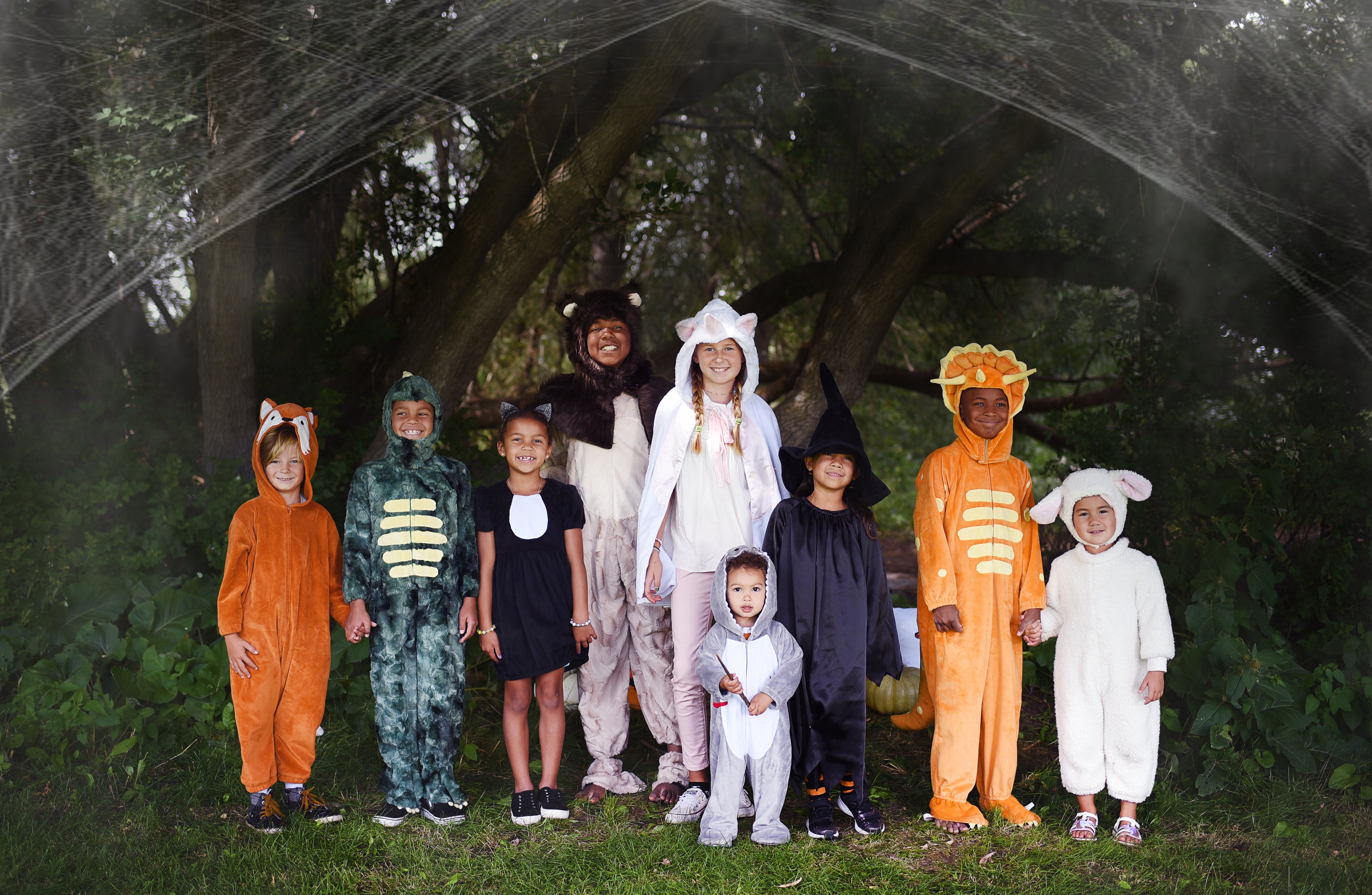 Cuddle® costumes and cosplay items created with Cuddle®, Luxe Cuddle®, and even faux fur will provide hours of fun. A search online will produce a wealth of patterns to satisfy any costume need or interest. For example, a quick search for animal costumes today returned the following list: Simplicity, Heather Handmade, Twig + Tale, and more.
Halloween Capes with Cuddle®
Sometimes a costume can be as simple as adding a cape or other accessories to a simple, everyday outfit. A simple black outfit can become a bat or a witch, a vampire, or a magician; a red outfit can become a devil costume, a superhero, Little Red Riding Hood and more - your only limit is your imagination. For example, McCall's M7224 is a quick easy 2 hour sewing project that gives you a cloak or cape that can be used for any number of costume concepts. Depending on the look you're going for, anything from Digital Cuddle® to Cloud Cuddle® will work perfectly for a lighter-weight Cuddle® cape. If you're going for a specific character or a fluffier, heavier pile, even some Luxe Cuddle® could work for a hefty cloak.
Beyond even Halloween costumes, cloaks and capes made of Cuddle® lend themselves perfectly for Cosplayer looks. Everything from sorceresses to wizards, witches to princesses, superheros to villains and everything in between - this might be the most versatile costume accessory yet! Making your cloak or cape out of Cuddle® adds an extra boost of comfort and luxury that capes and cloaks from the costume store definitely WON'T have! You've never felt a cloak or cape THIS comfy - so comfy, you and your kids will want to stay in costume forever!
Witch Hat Made with Cuddle®
Another quick accessory that can transform any outfit into a witch costume instantly is a classic, black, pointed witch hat! Make it with C3 Black for an extra soft yet structured look and feel.
Witch Costume Pictured:
Pattern: Simplicity S8729

Fabrics used: Silky Satin Solid Black, C3 Black



Animal Onesie Costumes Made with Cuddle®
There's nothing more adorable and comfortable than Cuddle® Onesie style animal costumes! On a crisp Autumn night, Cuddle® is a great way to keep warm as you're out collecting candy. Here are some Cuddle® animal one-sie costume ideas that are perfect for kids:
Lamb Cuddle® Costume:
Pattern: Simplicity 2788

Fabrics used: LC Lamb Snow, C3 Baby Pink
Lion Cuddle® Costume:
Pattern: Simplicity 2855

Fabrics used: C3 Beige, LC Hide Safari
Dinosaur Cuddle® Costumes:
Pattern: Simplicity 1765


Fabrics Pictured above:

Green dinosaur: LC Galaxy Camo, C3 Banana

Orange dinosaur: C3 Pumpkin, C3 Banana
Fox and Cat Cuddle® Costumes: Inspiration shots only, patterns not available.
Baby Shark Cuddle® Costume:
Pattern: Simplicity S9159

Fabrics: C3 Silver, C3 Snow, C3 Red
Caped Unicorn Cuddle® Costume:
Pattern: Simplicity 8483

Fabrics: C3Snow (cape), Silky Satin Solid Pink (front chest), C3 Blush (horns & inner ears), LC Marble Snow (hood front view)
Halloween Decor: Halloween Pillows & Stuffies Made with Cuddle®
Looking for some fun and possibly spooky home décor? Decorating with soft, plush Cuddle® Halloween pillows and stuffies is a fun way to get set a festive mood in your living room spaces, lounge areas, bedrooms and more.
Bat Pillow pictured above:
Pattern: #1274 Whistlepig Creek Productions

Fabrics used: LC Glacier Limeade, C3 Orange, LC Glacier Grape Jam, C3 Amethyst, C3 Snow, C3 Black

Monster Pillow pictured above:
Fabrics used: LC Galaxy Limeade, C3 Midnight Blue, C3 Snow, C3 Scarlet
Candy Corn pillow pictured above:
Pattern: Apron Strings Academy

Fabrics used: C3 Snow, C3 Lemon, C3 Orange



"Boo" Round Bolster pillow pictured above:
Pattern: Debbie Colgrove

Fabrics: LC Arctic Black, LC Marble Snow, C3 Black
Pumpkin Cuddle® pillows
Turn your home into a charming pumpkin patch with Cuddle Posh Pumpkins by Pat and How to Sew a Pumpkin with Cuddle® Minky Plush Fabric (& Video Tutorial)
Ghost Cuddle® pillows
Lil Ghost ITH Stuffie Machine Embroidery Design
Poison Apple pillow:
Pattern: Easy Pattern Craft

Fabrics: C3 Brown, C3 Jade, C3 Scarlet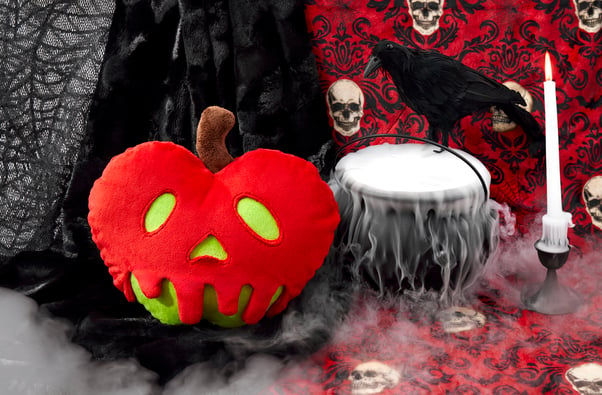 Halloween Quilts, Throws, Sheets & Blankets Made with Cuddle®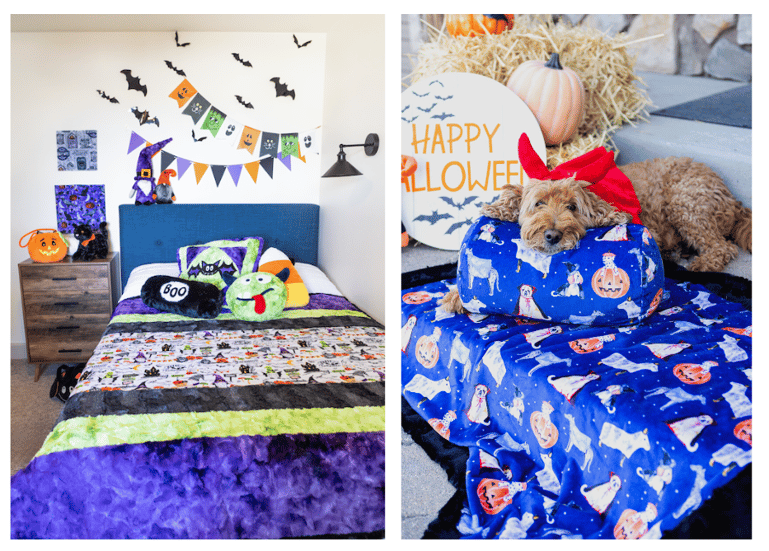 Consider using new Halloween Digital Cuddle® to create blankets, throws, and the Cuddle® Sac with one of the coordinating colors on the backside. All are great choices to help stay warm as trick-or-treaters visit the house or for covering up during a Halloween Bonfire or to give as a gift to a special person.
Halloween Blanket pictured above on the left:
Pattern currently not available (Ask our team for the Sensational Strips Pattern if interested.)

Fabrics used:

DCOhmygourd Multi, LC Galaxy Grape Jam, LC Galaxy Limeade, LC Hide Caviar, C3 Black, LC Heather Shadow
Halloween Dog Blanket on the right:
Fabrics used:

DCHowl-oween Midnight, LC Paws Black
Cuddle® Quillow: https://www.shannonfabrics.com/download_patterns/Quillow%20Pattern.pdf
Cuddle® Sac: https://www.shannonfabrics.com/download_patterns/Shannon_CuddleSac_21_0204.pdf
Sew Simple Blanket: https://www.shannonfabrics.com/download_patterns/SewSimpleBlanket.pdf
Check out all our festive Halloween Prints here!
View our selection of Hallloween-themed printed Cuddle® minky fabric: https://www.shannonfabrics.com/index.php?main_page=advanced_search_result&search_in_description=1&keyword=halloween