April is Autism Awareness Month, and it's an excellent opportunity to learn more about autism and how we can support individuals with autism. One tool that has gained popularity in recent years is the sensory box. A sensory box, also known as a sensory bin or sensory table, is a container filled with various sensory materials. These materials are designed to engage the senses, such as touch, sight, sound, and smell, and can be particularly beneficial for people with autism.
Autism, or autism spectrum disorder (ASD), refers to a broad range of conditions characterized by challenges with social skills, repetitive behaviors, speech and nonverbal communication. According to sources quoted on Autismspeaks.org, autism affects an estimated 1 in 36 children in the United States today.
Individuals with autism can have different sensory needs and sensitivities. They may find certain textures, sounds, or smells overwhelming or underwhelming. Sensory boxes can provide a safe and controlled environment for people with autism to explore and interact with different sensory materials.
Sensory boxes can be created using a wide range of materials, that help stimulate the senses. They typically include objects of various textures, shapes, and colors to provide more tactile and visual stimulation and are perfect for sensory play and development.
Kinetically Stimulating Items: Items that provide a tactile experience that can help improve fine motor skills and hand-eye coordination. Items like sand or play dough, soft fabrics and materials, bubble wrap, water beads, glass beads, and other items in kind.

Calming & Soothing Items: Glass beads and water beads can be used to create a calming and soothing sensory experience. They are also excellent for improving hand-eye coordination.

Crunchy or Textured Sensory Items: Dry rice or beans or similar materials can be used to create a crunchy or textured sensory experience. They can also be used to improve fine motor skills; scooping and pouring the rice or beans

Olfactory Stimulating Items : Certain soothing scents can stimulate individuals with autism. Specific scents such as essential oils like eucalyptus, frankincense, rose oils, lavender and more can have a positive effect on some people. Try adding a drop or two of essential oils to blankets, pillows or toys for a calming and pleasant experience.

Auditory Stimulating Objects: Sound-making objects can help individuals with autism regulate their emotions and provide a sense of calm.These objects can include musical instruments, chimes, crinkle paper, velcro, rattles, or even a small fan to create white noise.

Visually Stimulating Items: Items featuring plenty of colors and shapes are great for sensory boxes. Vibrant colors and shape play, like puzzles, nesting dolls or toys and geometrically crafted toys are a great addition to provide engaging activities.


Items that Spark Language & Social Development: Sensory boxes can also be used to promote language development, social skills, and imaginative play. For example, a sensory box filled with toy animals can be used to encourage imaginative play and language development.
When creating a sensory box, it's important to consider the individual's sensory needs and sensitivities. Some individuals may prefer certain textures or colors, while others may be sensitive to certain smells or sounds. It's also important to ensure that the materials used are safe and non-toxic.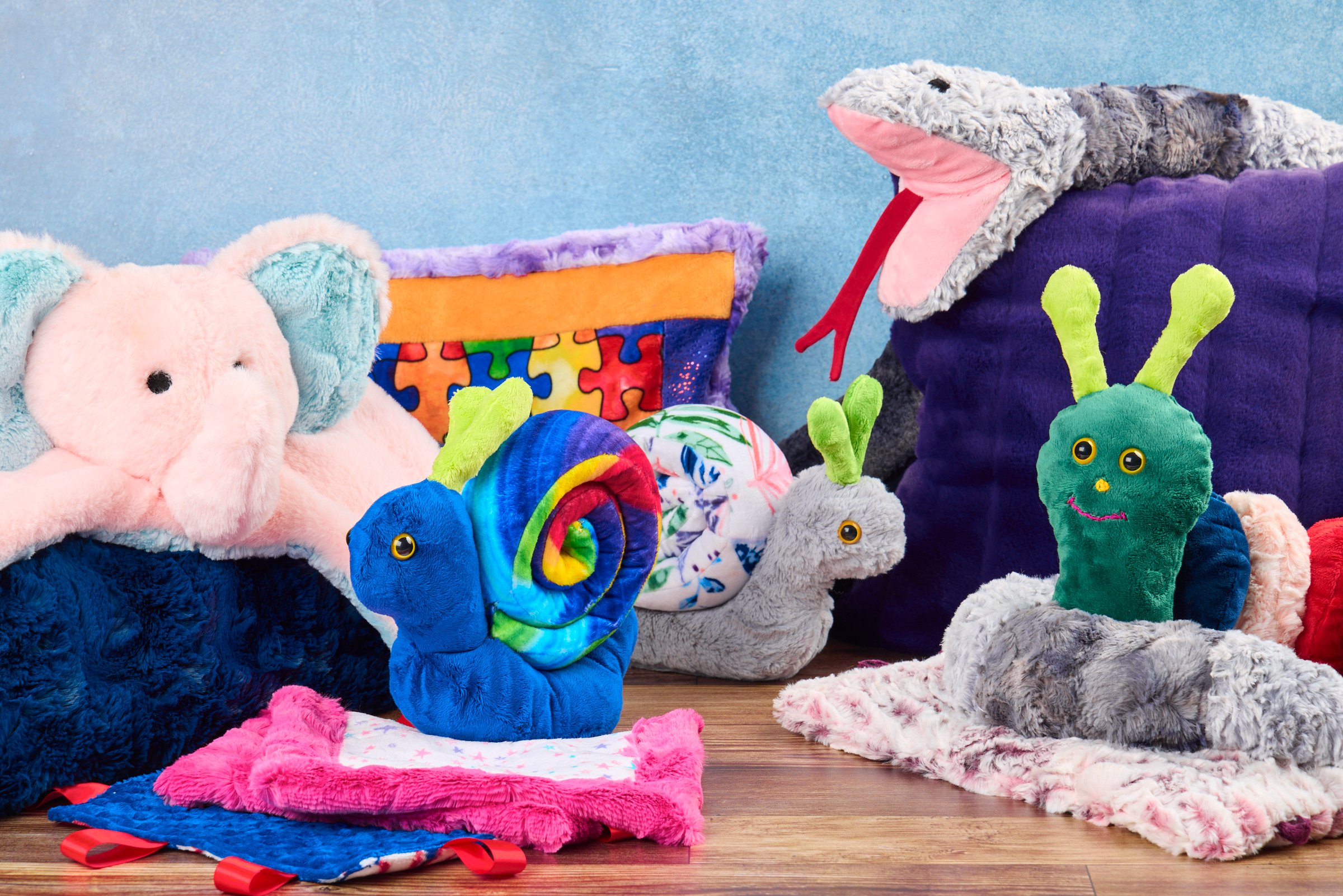 A Cuddle® Sensory Box
Incorporating Cuddle® Minky Fabrics Into a Sensory Box
Incorporating sewn items made of Cuddle® minky into a sensory box can be a great way to provide a tactile and comforting sensory experience for individuals with autism. Cuddle® minky is a plush and soft fabric that is often used for making blankets, stuffed animals, and other cuddly items.
Items like a stuffed animal made of Cuddle® minky can be included in a sensory box for snuggling and providing comfort as well as creative, imaginative play. Soft, plush materials like Cuddle® can be beneficial for promoting fine motor skills and hand-eye coordination. Sewing kit with pieces of Cuddle® minky and a needle and thread. Individuals can practice sewing the pieces together, improving their fine motor skills and hand-eye coordination while also experiencing the soft and plush texture of the fabric.
In honor of Autism Awareness Month, we collaborated with our team of brand ambassadors who made handmade sewn items for a Cuddle® sensory box. We partnered with Fairfield World, who provided filling materials like Poly-Fil and Poly-Pellets for the creations in this Cuddle® Sensory Box.
Here are some Cuddle® sensory box items.
Cuddle® Snails, Caterpillar, Dragon & Sweet 16 Pillow
by Patricia McCartney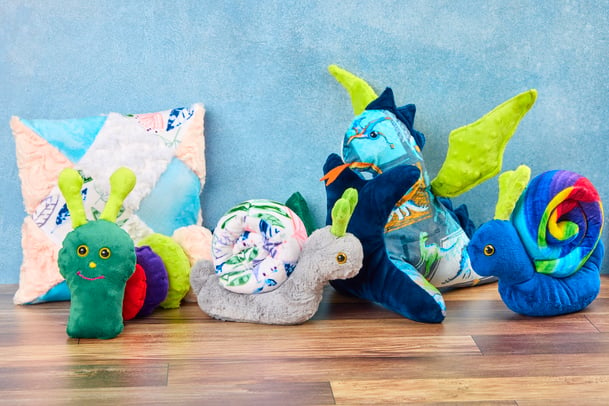 Featured here are 2 Cuddle® Snails, Caterpillar, dragon and sweet 16 pillow. All fabrics can be switched around and customized to create different colors and looks. The colorful fabric choices and softness of the fabrics provide comfort and visual stimulation as well as the interactive parts of the stuffies like the velcro detachable caterpillar segments and the coiling snail shells.
Caterpillar: features detachable segments that are attached with velcro for tactile play and an engaging sound as you attach and unattach.
Fabrics used: Cuddle® Dimple Dark Lime, Solid Cuddle® 3 Sea Foam, Solid Cuddle® 3 Red, Solid Cuddle® 3 Purple, & a pink Cuddle®.
Snails: The snails' shells uncoil and coil back up while staying attached to the snail's body.
Fabrics Used: Cuddle® Dimple Dark Lime, Spectrum Digital Cuddle® Bright, Modern Leaf Digital Cuddle® Blossom, Luxe Cuddle Arctic Rabbit Silver, Solid Cuddle® 3 Electric Blue
Dragon: Dragon Stuffie
Fabrics Used: T-Rex Digital Cuddle® Graphite, Cuddle® Dimple Dark Lime, Solid Cuddle® 3 Royal Blue
Pillow: Pattern - Sweet 16 Pillow
Fabrics Used: Modern Leaf Digital Cuddle® Blossom, Luxe Cuddle® Rose Snow, & a pink Cuddle®.
Cuddle® Play Cube
by Patricia McCartney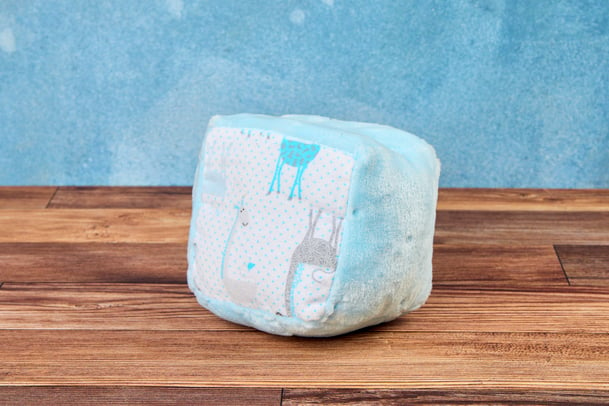 Featured here is a soft Cuddle® Cube, made with Cuddle® fabrics and filled with Fairfield's Poly-fil. A simple cube pattern was used and fabrics can be switched out for other Cuddle® fabrics of your choosing. This is a simple toy that offers visual comfort featuring soft, unintrusive colors and and kinetic comfort as well via the use of soft fabrics.
Fabrics: Solid Cuddle® 3 Baby Blue
Weighted Snake Plushie & Weighted Elephant Lap Pad
by Denise Davenport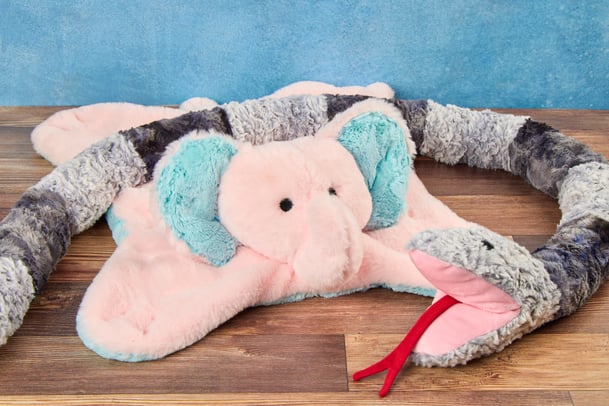 Both items done in soft muted colors to help avoid sensory overload triggers, are weighted to provide proprioceptive input to help people with autism regain composure, and have the silky softness of Cuddle® textures to aid in tactile soothing.
Weight is 2 lbs 6 oz with the weight evenly distributed through each segment.
5 feet long and can be wrapped over the shoulders or just held on the lap.
Weighted Rainbow Pillow and Weighted Eye Masks
by Ryn Baxter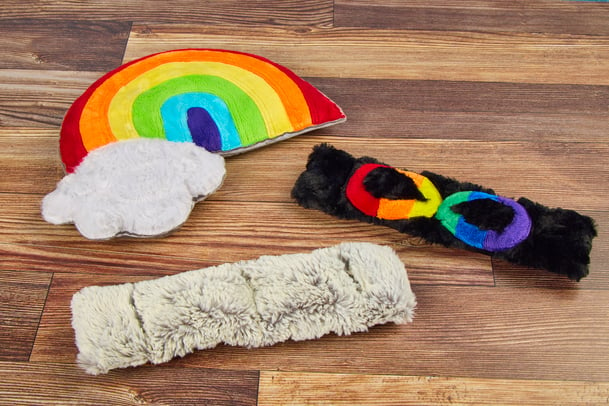 Filled with Poly-fil from Fairfield and glass beads from Fairfield.
Filled with Poly-fil from Fairfield
Cuddle® Crinkle Paper Squares
by Karen Fuchs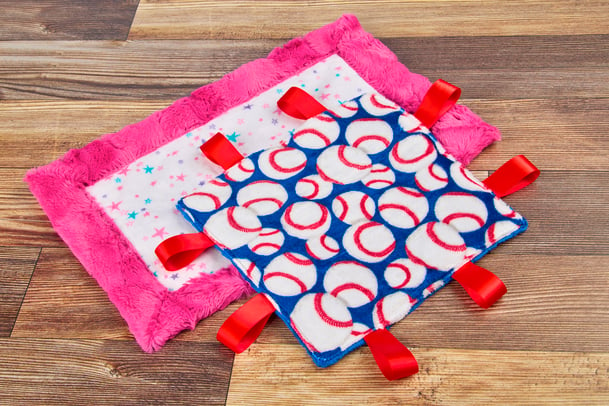 These crinkle squares were made with colorful Cuddle® Fabrics and include crinkle paper on the inside for fidgeting comfort and audial stimulation. They can be made with any Cuddle® fabric and consist of just square pieces that can be scaled up or down to any size. The idea is to make something that is small enough to be held in your hand for tactile play and comfort fidgeting.
Bean Bag Stuffies
by Sheila Ryan/ Designs by Babymoon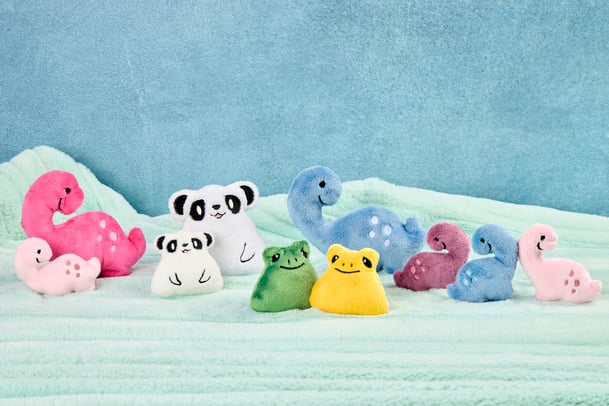 Fabrics Used: Cuddle® 3 Basil, Mango, Denim, Blush, Wild Rose and Fuchsia
Pattern: Designs by Babymoon
From the maker:
"My autistic kiddo reminded me that kids (people) with autism all love dinosaurs and frogs and pandas! One thing I noticed with the pellets plus the stuffing plus the crinkle material is that the crinkle "effect" gets muffled with all the pellets and filling. So I only did the crinkle fabric inside the green mini frog, the large hot pink dino, and the mini blue dino. Fairfield Pellets are in all of them except the green mini frog and all the mini dinos. All designs are done as machine embroidery stuffies from Designs by Babymoon."
Weighted Cuddle® Lap Pad
by Jackie Hillman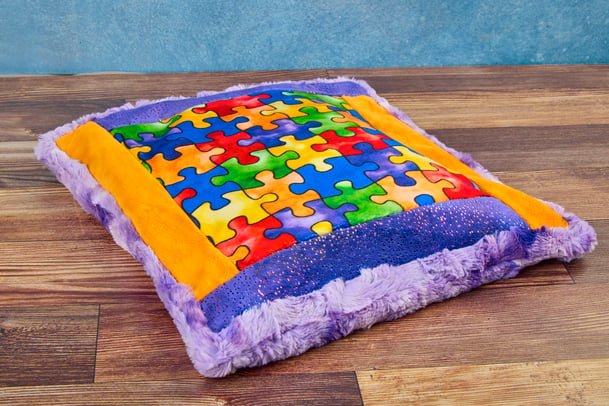 Fabrics Used: Puzzle Digital Cuddle Primary, Sparkle Cuddle® Glitter, Cuddle® 3 Mango, & Luxe Cuddle® Galaxy Bellflower
*Please note the shade of purple in the Sparkle Cuddle® Glitter is Viola and has been discontinue. A recommended substitution for the shade is Sparkle Cuddle® Glitter Midnight or Bellflower.
Weighted Lap Pad with Ties
by Linda Lingner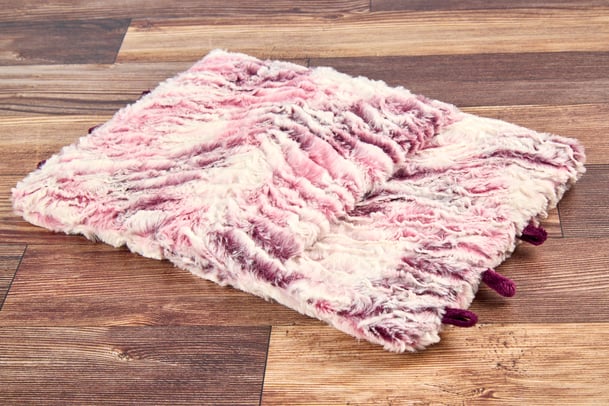 Fabrics Used: Luxe Cuddle® Prism Rosewine, Cuddle® 3 Merlot for loops
Additional Info: Weighted Lap Mat 12" textured Luxe Cuddle
This weighted lap pad with ties is something that provides a comfort in multiple ways; the weight, the soft texture and the tie loops that have been incorporated provide soothing comfort and a small interactive element with the tie loops that provide tactile stimulation. Outer cover is removable for washing.
From the maker: Based on personal experience I used a soft textured Cuddle. I chose an envelope back instead of velcro because the noise of velcro might be disturbing. I doubled up the inner pad that holds the pellets so there is less chance of breaking out of the shell. When I made the loop strip it is one piece so individual loops couldn't be pulled out.
I cut 30" 24" of plain cotton for inner shell 2lb bag of Fairfield Poly Pellets from 12" strip of Prism cut 3 rectangles 12" by 16". One is the front, the other two will be for the envelope back from the plain cotton cut 2 strips at 12" x width 44''.
I used Odif 505 to spray baste the 2 strips together. Trim strip to 32" ( 12" x 32"). This is the inner shell to hold the pellets and will be removable to wash the cover. Fold it in half so the fold is on the 12" edge.
Sew the 2 longer side seams, leaving about 1" open on each seam so there is room to fold it in on the next step. (The folded edge makes less areas for pellets to possibly escape)
Shorten the seam allowance to 1.5, again to make tough seams so pellets can't escape. Turn the fabric right side out. Mark the center line down the long length. Then divide the short width into 3 equal lines.( about 4 3/4" to 5") making 6 pocket areas.
Sew the center line, with shorten stitch length. Measure about 1 cup of pellets for a pocket and pour into one side of the center line. Repeat for the other pocket. The pocket can't be full because you need to sew down the pockets. Amount should be equal (ish). Pin the fabric to contain the pellets in the pocket and out of the way of the line to be sewn. YOU DO NOT WANT TO ACCIDENTALLY HIT A PELLET. Sew across the whole line, closing that first pair of pockets. Repeat for the middle pocket. For the last pocket, fold over the outer edges towards the inside. This is where the 1" opening helps. Sew closed several times. I used a zig zag then several rows of straight stitch.
Side Loops: The side loops are for added fidget or comfort items. One of the reasons cut Cuddle strips are handled carefully is because they can curl and stretch if tugged. In this case it works in our favor, Trim the 1/2" strip to 30", and pull, run hand along it like curling ribbon. The Cuddle will curl right into itself making almost a tube. Shake off loose dust and cut in half. On one Prism rectangle pin and loop the strip to form 3 loops. Repeat on the other short edge. The other two rectangles are for the envelope back. Have wrong sides up. Think of them as left and right, and fold in about 5" of the front towards the back towards the left, and 5" to the the right on the other. Place over the front rectangle, right sides together, matching outer edges. Pin all the way around, then sew all the way around, reinforcing the loops so they won't pull out. Trim corner points and turn right side out. Slide the pellet shell in through the back opening.
Weighted Pillow and Sensory Blankets
by Linda White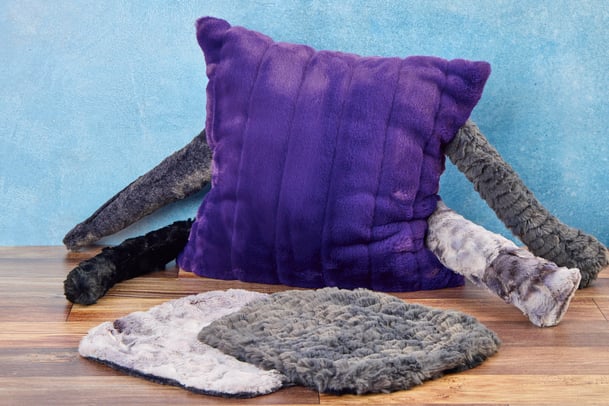 Weighted Pillow and Cuddle® Fabric Squares
Fabric used: Luxe Cuddle® Eggplant, Luxe Cuddle® Florence Castlerock, Luxe Cuddle® Galaxy Cloud, Luxe Cuddle® Glacier Black, Luxe Cuddle® Heather Shadow
Cuddle® Squares: Luxe Cuddle® Florence Castlerock, Luxe Cuddle® Galaxy Cloud
Cuddle Pillows, Cuddle® Taggie Blankets and Weighted Blanket
by Lisa Lueck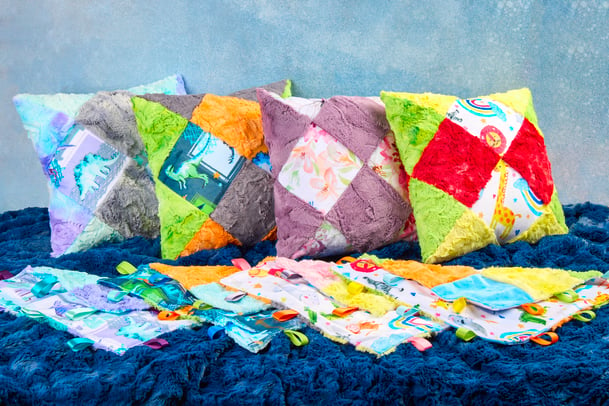 Digital Storybook - Multi
Luxe Cuddle Galaxy - limeade, salsa, and lemon drop
Digital Dragonfly - Elderberry
Luxe Cuddle Hide - Elderberry
T-Rex Digital Cuddle - Graphite
Luxe Cuddle Galaxy - Limeade and Lava
Luxe Cuddle Marble - Graphite
T-Rex Digital Cuddle - Bellflower
Luxe Cuddle Galaxy - Saltwater
Luxe Cuddle Sorbet - Mystic
Luxe Cuddle Wild Rabbit - Silver Lining (I think)
Luxe Cuddle Marble - Graphite
T-Rex Digital Cuddle - Bellflower
Luxe Cuddle Marble - Belize and Saltwater
Luxe Cuddle Sorbet - Mystic
Luxe Cuddle Glacier - Iris
Cuddle® Mazes
by Lisa Lueck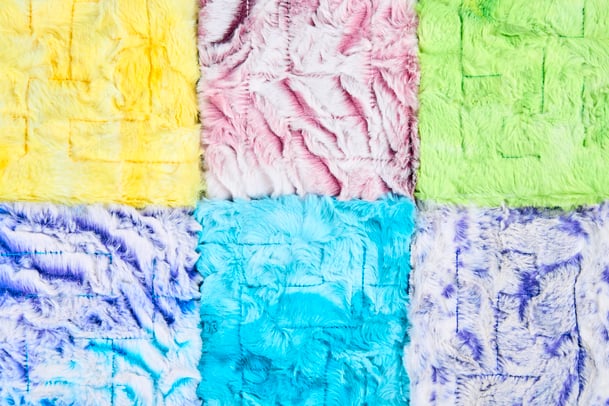 These Cuddle® Mazes are soft to the touch featuring Cuddle® Fabrics but also provide a tactile activity through the maze feature. There is an embroidered pathway built into each square and a small ball sewn into it each one that you can move along the maze pathway. This offers a small activity to focus on while that keeps the mind engaged in a comforting way.