by Shannon Fabrics
The leaves are changing colors and the air is getting crisp - a telltale sign that college football season is upon us! For college students, this means more than just cheering on their school's team; it's a time to be immersed in the vibrant spirit of an alma mater. Whether you've got kids or grandkids away at college who want to deck out their dorm in their school colors or whether you want to decorate the living room for a college football watch party, what better way to show off school pride than by decorating a dorm room with a school's colors and emblem? In this article, we'll explore how you can use Cuddle Minky fabric to infuse warmth, comfort, and a sense of school spirit into a college dorm decor, just in time for the kickoff of football season.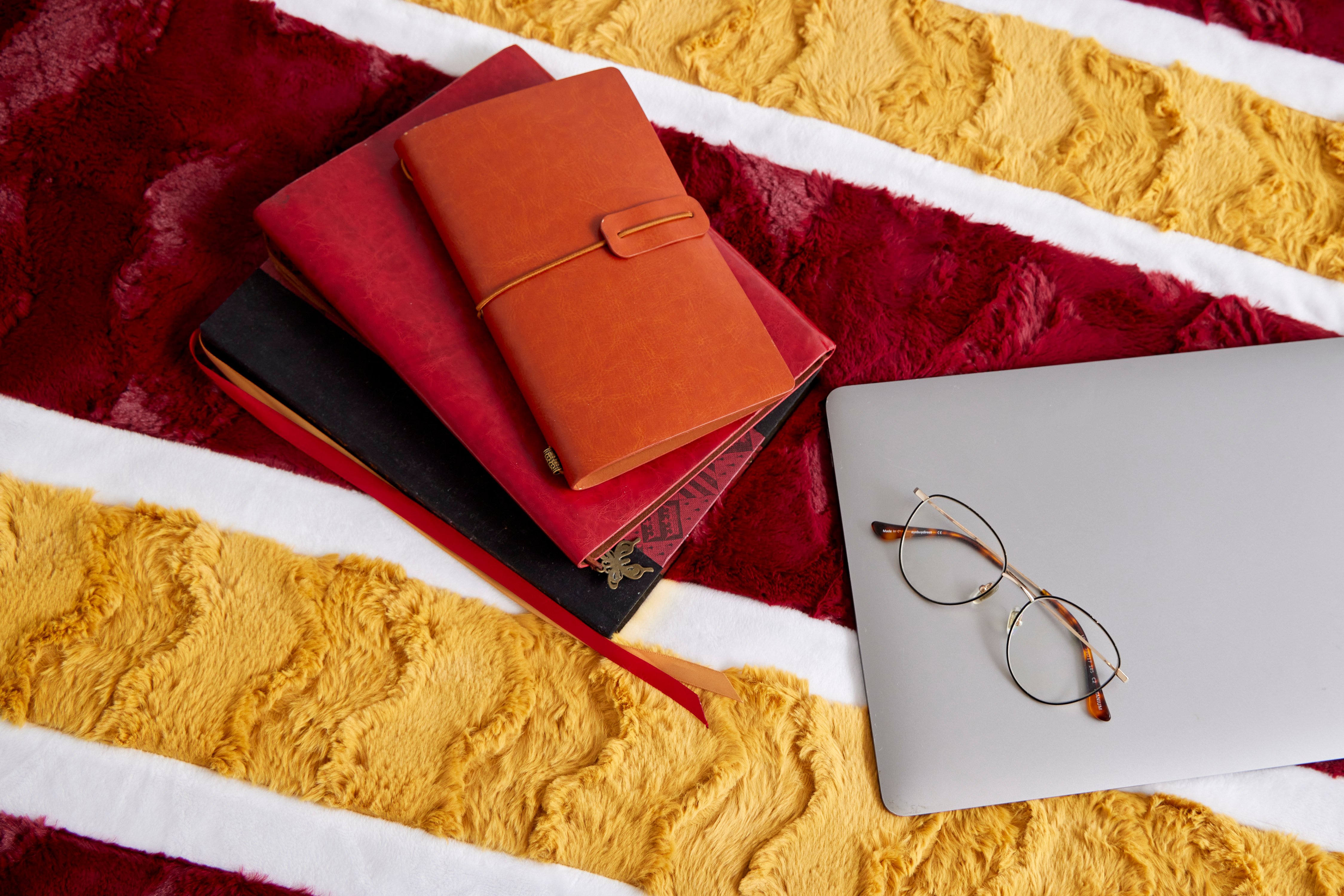 Before we get into all the inspo projects, let's talk about why Cuddle® Minky fabric is the perfect choice for college dorm decor. This plush and ultra-soft fabric is known for its luxurious feel, making it the best choice for creating a cozy and inviting atmosphere in your kids' or grandkids' new home away from home. Our recommended filling for the decor items is Polyfil by Fairfield. They carry a wide array of Polyfil options that will help give your projects their softness and shape. This inspo project features items made with a variety of Polyfil products!
College is often a young adult's first time away from home and while they may be excited to embark on their newfound independence, we know that deep down, they'll want to have a feeling of safety and the warmth of home when they're spending time in their new space. Also, new college students normally love to dive into their school's culture by decorating with some school spirit. That's where they'll be studying, hanging out with roomates and friends and settling in to their newfound independence at a new school. Whatever their alma mater is, we have Cuddle® minky fabric that matches. Let's pair school spirit with the look, feel and coziness of home - so they can truly experience the best of both worlds in their safe space.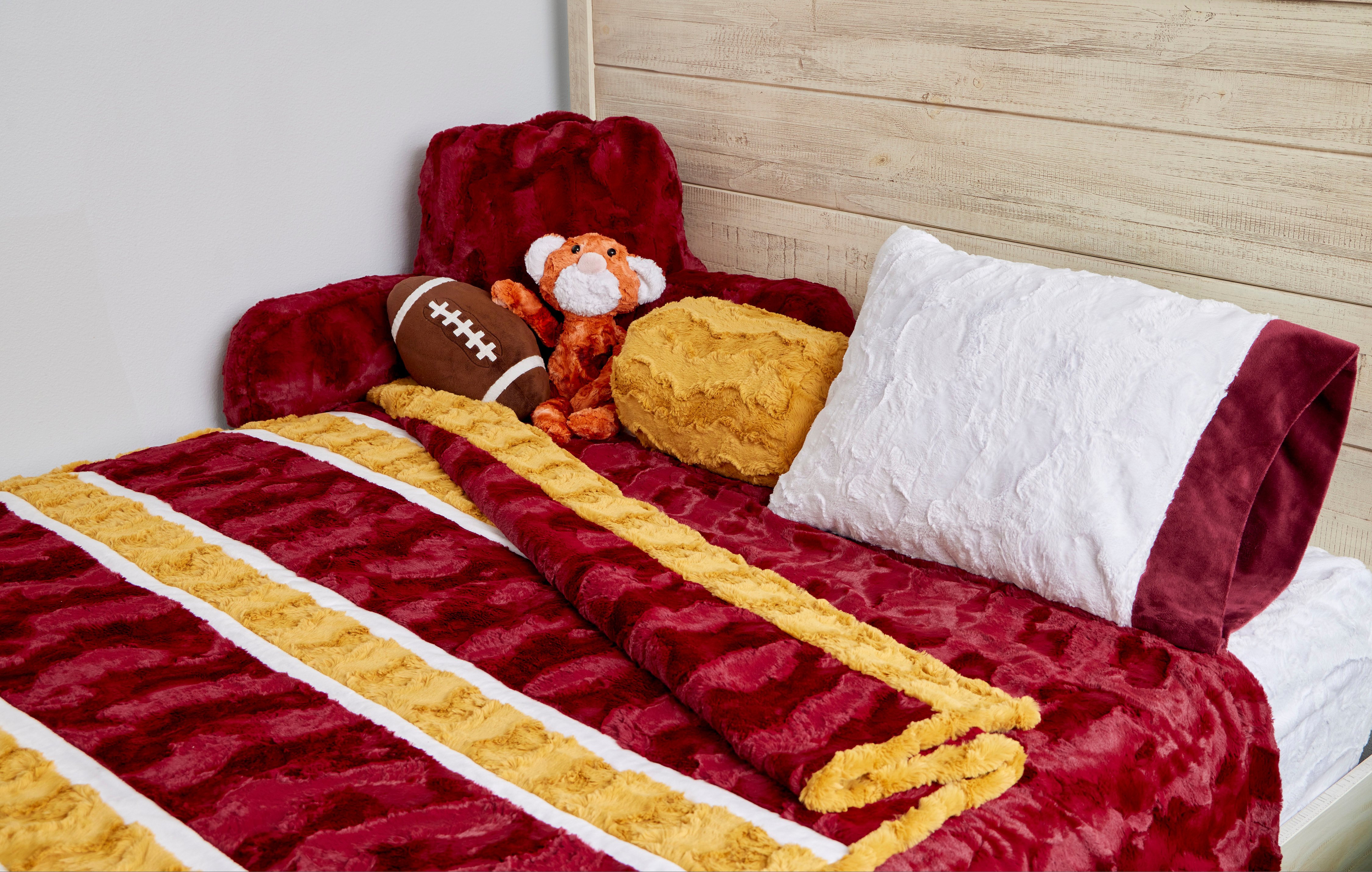 Decorating a College Dorm with School Spirit Colors
Bedding and Throws: Start by choosing a Cuddle Minky fabric in any school's colors. Use this fabric to create a custom-made bedspread, throw blankets, school spirit quilts or duvet covers. Add matching pillow covers or cushions for extra comfort. To incorporate the football theme, consider getting a throw blanket with a school's logo or mascot. Polyfil is a wonderful choice for getting just the right softness and shape for those throw pillows, back pillows and ottomans.

Wall Art: Create eye-catching wall art using Cuddle Minky fabric. You can stretch the fabric over canvas frames and create a school's logo or initials. Pennant flags are a classic choice for collegiate decor; they're the perfect way to use the school's colors and emblem to hang on the wall. Whether the school's colors are crimson and yellow, royal blue and white, green and white, purple and gold or any combination, you'll be sure to find Cuddle® minky in a matching shade.

Curtains and Drapes: Transform any dorm room with curtains or drapes made from school spirit colors. Cuddle® Minky fabric can provide both style and functionality, helping to keep the room warm and cozy during those chilly fall evenings. The thickness of the pile will also allow for extra weight and blackout curtain capability for light control and privacy.

Accent and Throw Pillows: Accent Pillows, Throw pillows and Ottomans are small touches that can make a big difference in setting the right mood and ambience in a space. Throw pillows covered in Cuddle® Minky fabric will upgrade the look and feel while decking out the space with the school's logo and school colors.

Cuddle® Fitted Sheets:

As if cozying up with Cuddle® pillows, blankets and quilts isn't comfortable enough, here come Cuddle® fitted sheets. This brings the softness and luxurious minky feel to a whole new level. Fitted sheets made of Cuddle® sound like they might be too hot for those hot sleepers - but after being tried and tested, the results are in: Cuddle® fitted sheets don't make sleeping hot - they just make sleeping in your bed extremely soft and comfortable. You'd be pleasantly surprised!
If you enjoyed this tutorial, be sure to tune in every Tuesday for our Sew Together Tuesday series on our Youtube and Facebook page. Follow along as our National Educator Teresa Coates walks you through sewing different Cuddle® projects each week.
DIY Dorm Decor Projects
Get creative with some DIY projects to add a personal touch to any college dorm room:
Customized Throw Pillows: Sew customized throw pillows using Cuddle® Minky fabric in those festive school's colors. Add the school's logo or football-themed images using fabric paint or iron-on transfers.

Cuddle® Spirit Banner: Create a spirited banner to hang above a study desk or on the dorm room door. Cut out the school's initials or mascot from Cuddle® Minky fabric and attach them to a ribbon for a festive look.

Decorative Pennant Garland: Make a pennant garland by cutting triangular flags out of Cuddle® Minky fabric in alternating school spirit colors. String them together to create a decorative garland for dorm room walls.

Stuffies: Every college has a mascot, right? College students might be young adults but no one is too old to cuddle® with a stuffie that represents their school mascot!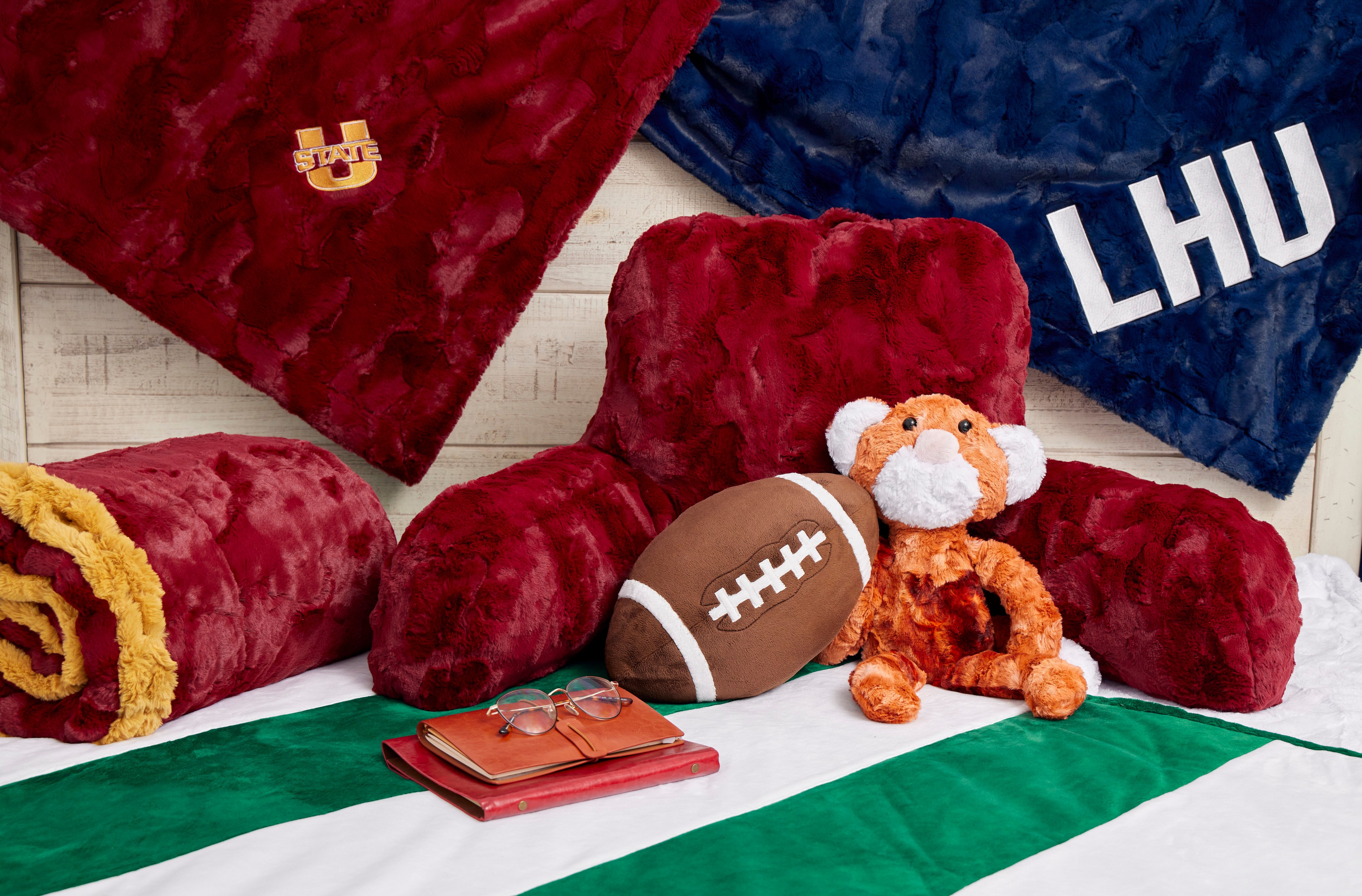 Decorating a college dorm with school spirit colors using Cuddle® Minky fabric is an excellent way to infuse the living space with warmth, comfort, and a sense of school pride, especially during the exciting college football season. Whether you're creating custom bedding, wall art, Cuddle® sweaters and hoodies, mascot stuffies or DIY projects, Cuddle Minky fabric offers endless possibilities. So, get creative and transform your kids or grandkids' dorm room into a cozy and spirited sanctuary for the season ahead!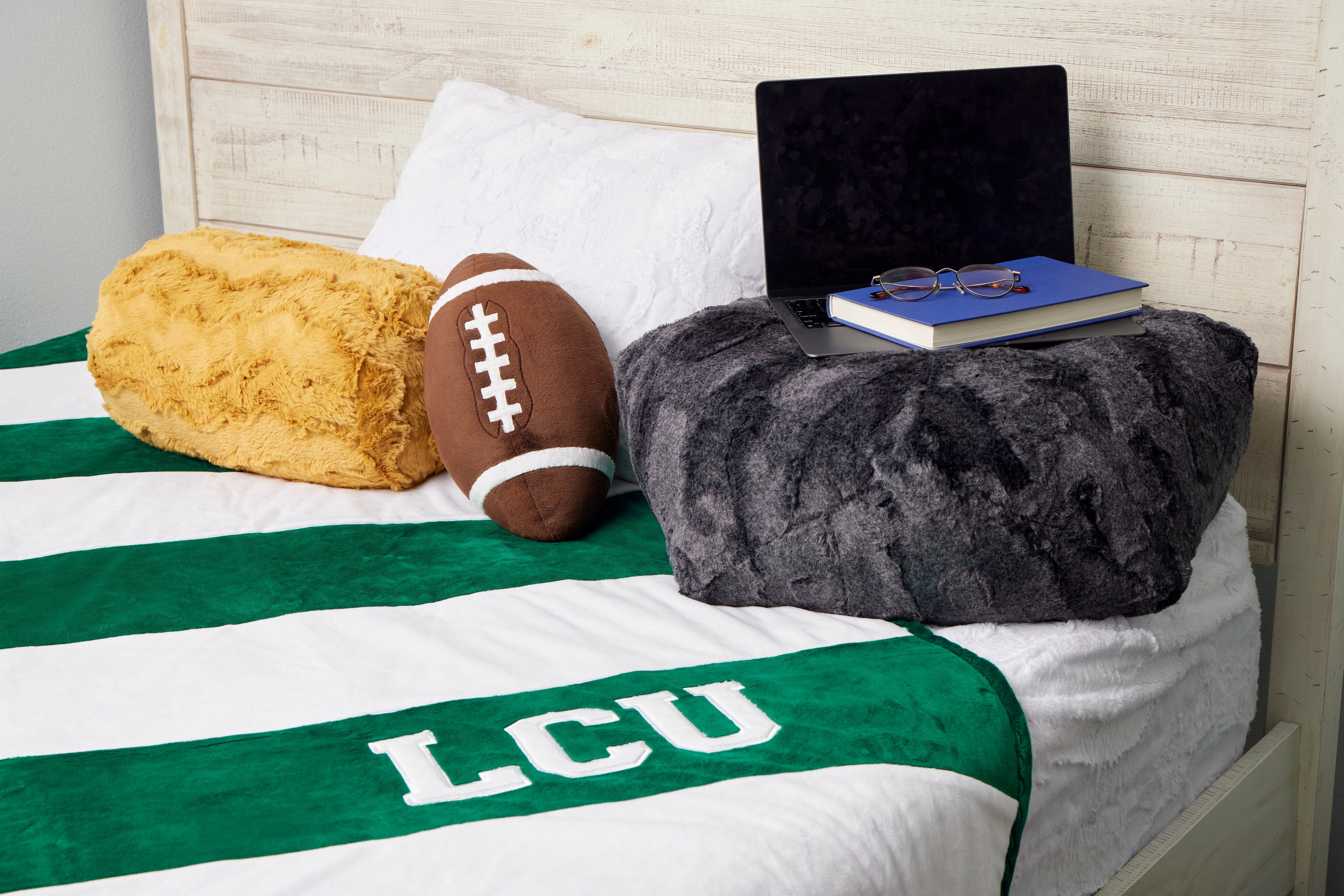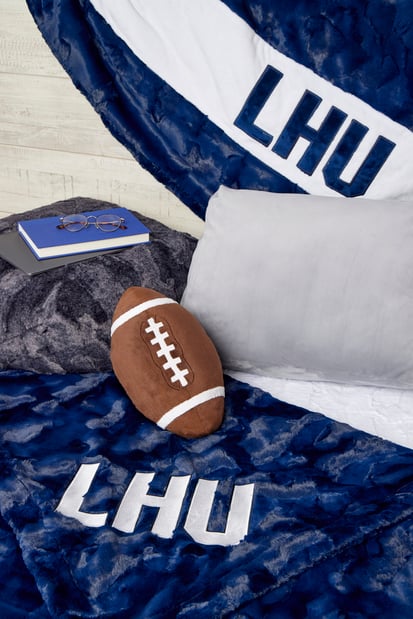 Details about the Cuddle® projects in the photos above:
*Note: None of the colors selected or letters represent or are affiliated with actual schools or universities. Samples are meant to showcase inspiration for customized projects.
Plush Tiger
Pattern from IrunToys
Fabrics used: Luxe Cuddle® Galaxy Ginger, Luxe Cuddle® Marble Snow, Cuddle® 3 Blush
Michelle Hall
Plush Cuddle® Football Stuffie
Fabrics used: Cuddle® 3 Brown, Cuddle® 3 Snow

Sewing by Gayle Camargo
Golden Round Bolster Pillow
Pattern from Debbie Colgrove

Fabrics used:

Luxe Cuddle® Glacier Golden
Green and White Cuddle® Blanket
Pattern: Shannon Fabrics Crazy 8

Fabrics used:

Cuddle® 3 Emerald, Cuddle® 3 Snow
Sewing by Karen Fuchs
Crimson and Gold Blanket
Pattern: Shannon Fabrics Crazy 8

Fabrics used:

Luxe Cuddle® Hide Merlot, Cuddle® 3 Snow, Luxe Cuddle® Glacier Gold
Sewing by Karen Fuchs
Navy Blanket
Fabrics used:

Luxe Cuddle® Hide Navy
Sewing by Karen Fuchs
Navy and White Blanket
Pattern: Shannon Fabrics Crazy 8
Luxe Cuddle® Hide Navy, Cuddle® 3 Snow
Sewing by Karen Fuchs


Solid Crimson Throw
Fabrics used:

Luxe Cuddle® Hide Merlot
Sewing by Karen Fuchs