In the bustling city of Los Angeles where you'll find the Shannon Fabrics headquarters, heroes wear uniforms of courage and selflessness. Firefighters, the brave souls who battle fierce flames and save lives, stand as pillars of strength in our communities. When the flames of adversity threaten our homes, neighborhoods, and our lives, it is these brave and selfless men and women who run towards the dangers we all instinctively run from in order to protect the community. Being a firefighter in LA County in particular is no small feat; last year alone, the LA Fire Department responded to over 505,000 emergency calls for service. They're on the frontlines when there are residential fires and commercial fires, brush fires to massive wildfires; when there are disastrous accidents and life-saving rescuers are desperately needed - the fire department is on the scene. Their heroic efforts make our world a safer place and ultimately, a softer place - which is why we were inspired to meet with the crew at one of our local stations, Station 52 in Vernon, led by Fire Captain Josh Nessa.
Meeting with Our Local Fire Station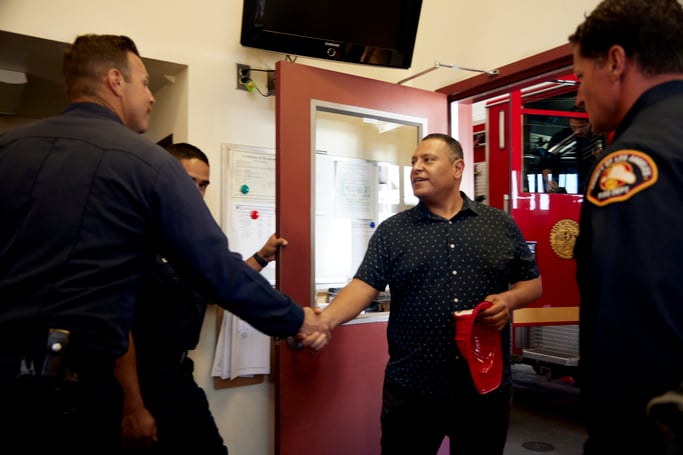 Our mission as a company has always been Making the World a Softer Place, one Cuddle® yard at a time. We were inspired by a movement called "Random Acts of Kindness" and decided to gift a local fire station their own firefighter printed Cuddle® blankets for each firefighter. We were greeted warmly by Fire Captain Josh Nessa, Engineer Berry, Firefighter Paramedic Rice, and Firefighter Steffensen who walked us through their fire station, gave us an up-close look at the fire truck, the equipment and even let us try on their suits! (Surprisingly heavy - so the fact that they can suit up within seconds AND head straight into a blaze is beyond impressive!)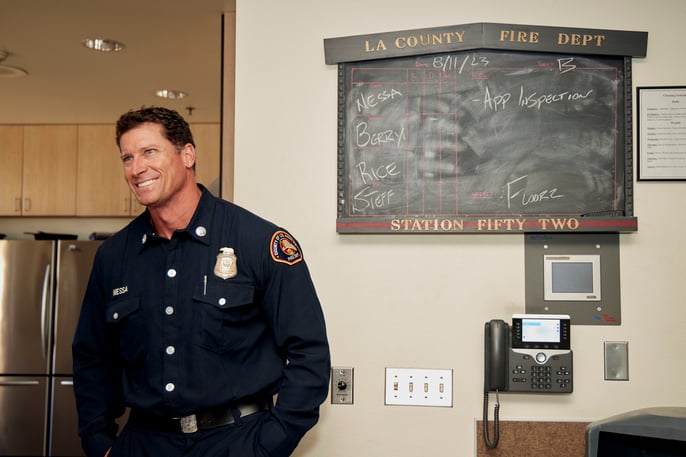 Pictured here: Fire Captain Josh Nessa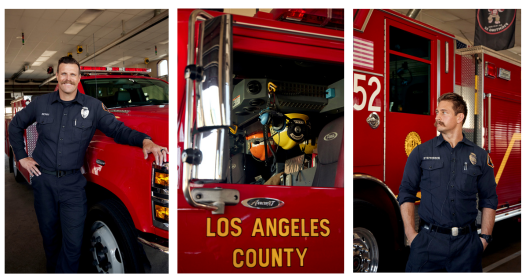 Pictured here: Engineer Berry, Firefighter Steffensen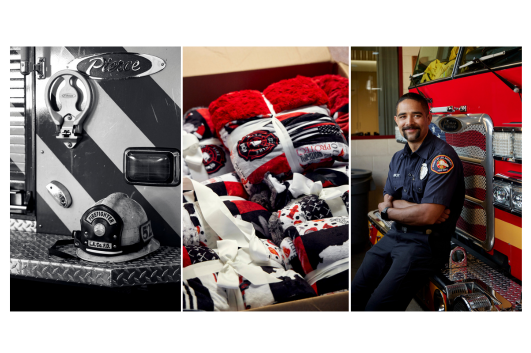 Pictured here: Firefighter Paramedic Rice
During our visit, we were deeply inspired by the bravery, camaraderie, and professionalism displayed by the firefighters. They gave us some insight into the rigorous training, the sacrifices made in the line of duty, and the deep bond that exists within the fire station. We learned so much about their day to day and talked at length about the lifelong bonds they develop with one another. Many firefighters spend several days, 24 hour shifts back to back, actually living at the station. Their home families may not see them for many days and nights as they fulfill their duties - eat, sleep and spend their days staying ready and on call for any emergencies that arise. That means their co-workers are their family and the station is their second home! It was an honor to see our Firefighter Cuddle® Blankets spread out on their in-station couches and chairs! It was a wonderful feeling knowing our team was making a small difference and providing a comfortable addition to the spaces where they spend their days and nights - when they're not out fighting fires and protecting the community.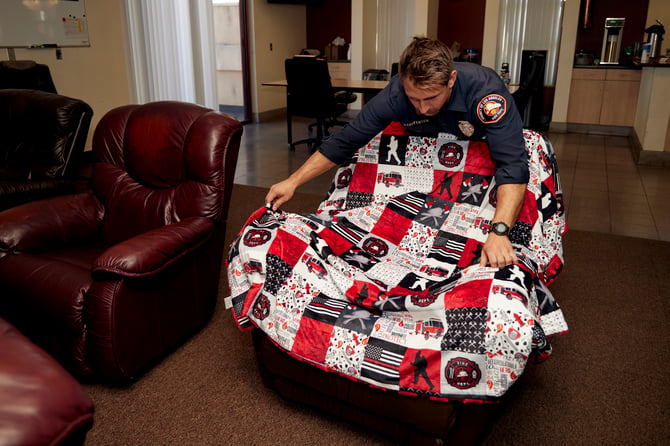 Firefighter Cuddle® Blankets made using the Cuddle® Self Binding Pattern; featuring the Firefighter Digital Cuddle® Scarlet and backed with one of three variations; Luxe Cuddle® Galaxy Cloudly , Luxe Cuddle® Hide Caviar and Luxe Cuddle® Glacier Cardinal. Made using our Self Binding Blanket pattern.
The Impact of Giving Back: Support Your Local Heroes!
One thing we learned while speaking with our local fire department was that the firefighters work 24-hour shifts so they can serve the community when they are needed, no matter what time of day or night. With this schedule, the stations become their home away from home. Due to the 24 hour nature of the stations, appliances, tools, and equipment are used around the clock. The frequent use of these items creates a shorter life span for these everyday essential items. All are necessities for a functional and efficient fire station, but many stations are struggling to replace these needs.
Approximately 97% of the Los Angeles Fire Department's budget is allocated to personnel expenses, leaving just 3% to cover the departments basic needs. Budget constraints and limited resources result in firefighters frequently shouldering the cost for repairs or replacement of basic items.
We learned about the LAFD Foundation and the Adopt-a-Fire Station Program that gives the community the opportunity to give back by directly supporting the firefighters who protect the local residences and businesses in the city. This is a direct way to say thank you for your selfless service and help contribute for basic needs. Learn more about this amazing foundation here: https://supportlafd.org/
We were honored to meet with our local firefighters and taken aback by the warm welcome we received! At Shannon Fabrics, our team wholeheartedly admires and thanks our firefighters for the amazing work they do and we hope this initiative will inspire others to think about their own community and their own local fire department.